Ready For Your Personal Evolution & Peak Performance?
I provide high-level neuroscience-based coaching to help ambitious high-achievers build their empires without sacrificing their health, relationships or happiness along the way.
Book Your Free Strategy Session Here
Authentic Leadership
The basis for authentic leadership is not power or dominance – it's self-awareness.
When you understand what drives your own motivation and behavior, you are able to speak your truth, show up as your authentic self, communicate your ideas effectively, create top-performing teams that actually enjoy working for you, and lead from the heart.
If you want to become a leader who is loved and respected instead of feared and distrusted, this is your way.
Winning Mindset
Our experiences, environment & culture shape our beliefs and what we think is good, bad, possible & impossible.
Those beliefs don't represent an objective truth though. They are just your brain's way of trying to predict new experiences on the basis of your past experiences – so in a way you're programmed to relive your past. But your past doesn't have to dictate your future.
Get rid of limiting beliefs & subconscious blocks so that you can make create the change you'd like to see in your life.
Productivity
Let's just call it out: Most people are busy, not that many are productive…
Why? Great question!
1. Because we live in a world of constant distraction and we get bored easily.
2. Because we keep ourselves busy in order to avoid facing the real issues.
3. We don't have a clear vision of what we want to achieve & how to get there.
I'll show you how to eliminate procrastination & distractions, face your demons & create a crystal clear vision of your goals.
High-Performance
"We first make our habits, and then our habits make us." John Dryden
Scientist believe that 40-95% of our daily actions are driven by habits. Meaning you don't consciously think about what you do, you just follow your programming.
Luckily, you can change that programming and replace bad habits with high-performance habits that allow you to stay happy, healthy, and productive without a ton of effort.
As you know: Once you've created a habit, it's not hard anymore & you perform it on autopilot…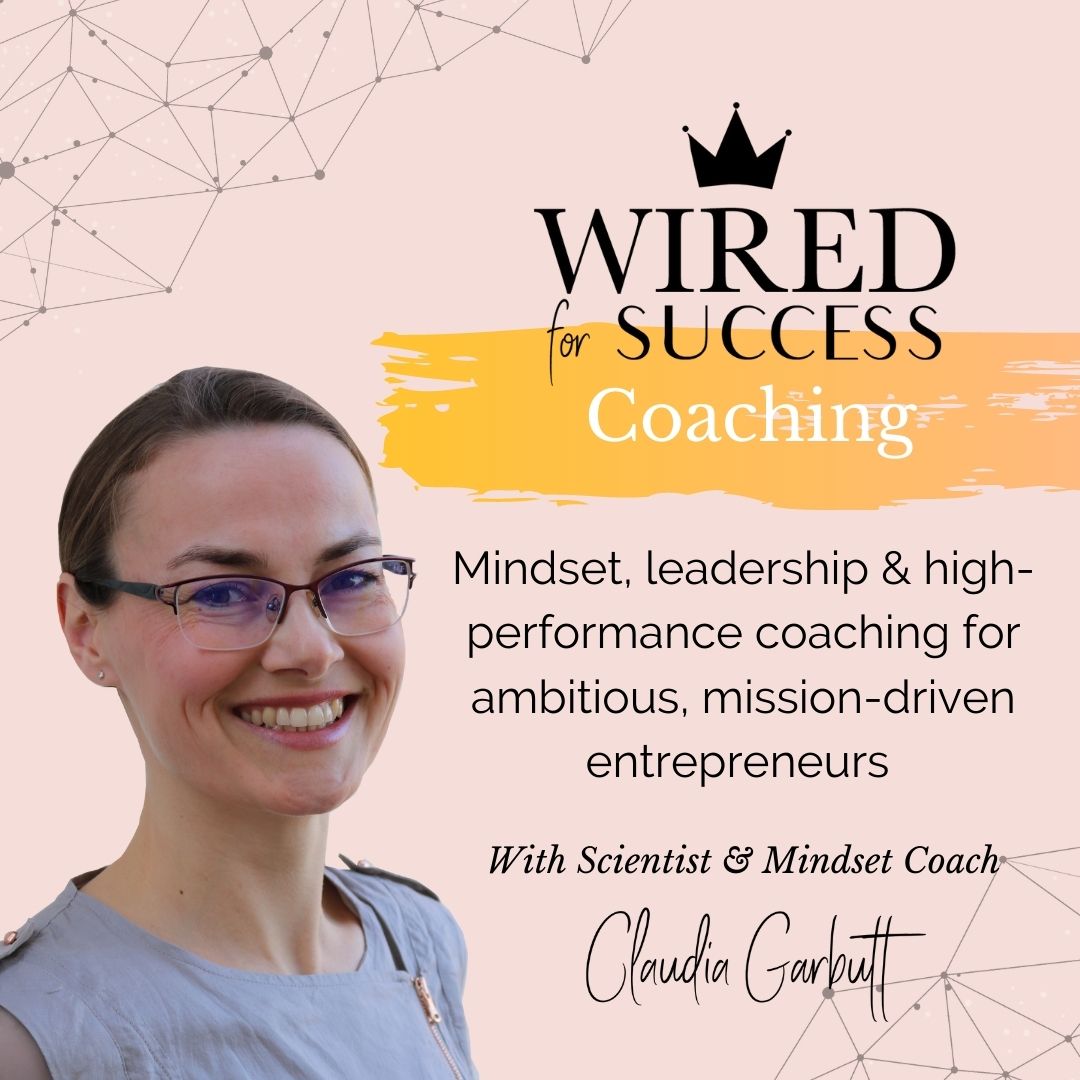 Wired For Success Coaching
Do you want to unlock the next level and create more inner peace, joy, meaning, impact, and income?
You have built something amazing – now it's time to slay the next-level devil and become legendary!
Stop playing small
Throughout your life, you've been conditioned to dim your light, to fit in, to worry about what others will think of you, to avoid mistakes like the plague, and to conform to other people's standards and expectations – this has created some powerful subconscious programming that's limiting your personal growth.
It's time to take your power back.
It's time for your personal evolution so that you can overwrite that old programming and set yourself free! 
I use proven science-based techniques and strategies to help you go from overwhelmed & overworked hustler to empowered & confident leader so that you can build your empire without burning out, alienating your loved ones, or chasing a goal that's not aligned with your highest self.
I help you create your vision & your road map to success
Together we define what success looks like for you and I help you create your personal action plan plus a set of high-performance habits that help you reach your goals while staying happy, healthy, and relaxed.
How I can help you get unstuck
I help you see your blind spots
We all have blind spots that we aren't aware of. That's why it's always so much easier to know what everybody else should be doing and why it's so hard to figure out what WE could be doing… I help you see what you haven't been able to see about yourself and what you've been running away from.
I hold you accountable
According to studies, accountability improves your chances of achieving your goal by up to 95%! How often have you set yourself goals and didn't follow through in the end because you encountered unforeseeable challenges or lost your motivation, or simply because nobody checked in on you? I support you all the way and hold you accountable for the promises you give to yourself.
I help you turn your mess into your success
Personal growth is usually NOT smooth sailing… True transformation can get mighty uncomfortable. Growing pains are absolutely normal, because to heal old wounds, we have to rip those bandaids off… You'll have to deal with the things you've been avoiding and hiding in your own mind. 
There will be times when you'll want to give up. There will be times when you'll fall back into old patterns. That's ok. We all mess up from time to time. Here's my promise: I don't judge you. I don't blame or shame you. Instead, I hold massive space for you to become the person you want to become. I see you at your highest potential and help you bring your vision to life.
I help you break old self-sabotaging patterns
When you start your personal evolution, you learn WHY you think & behave the way you do. Once you understand your patterns and what they do for you, you'll be able to spot them more easily and train your brain to change those patterns to more supportive ones.
You can't fix what you don't understand
When you understand how your body & mind work together to create your experiences, you can start to control the state you're in. You're not a slave to your mood, thoughts, or emotions anymore. You consciously create your dream life.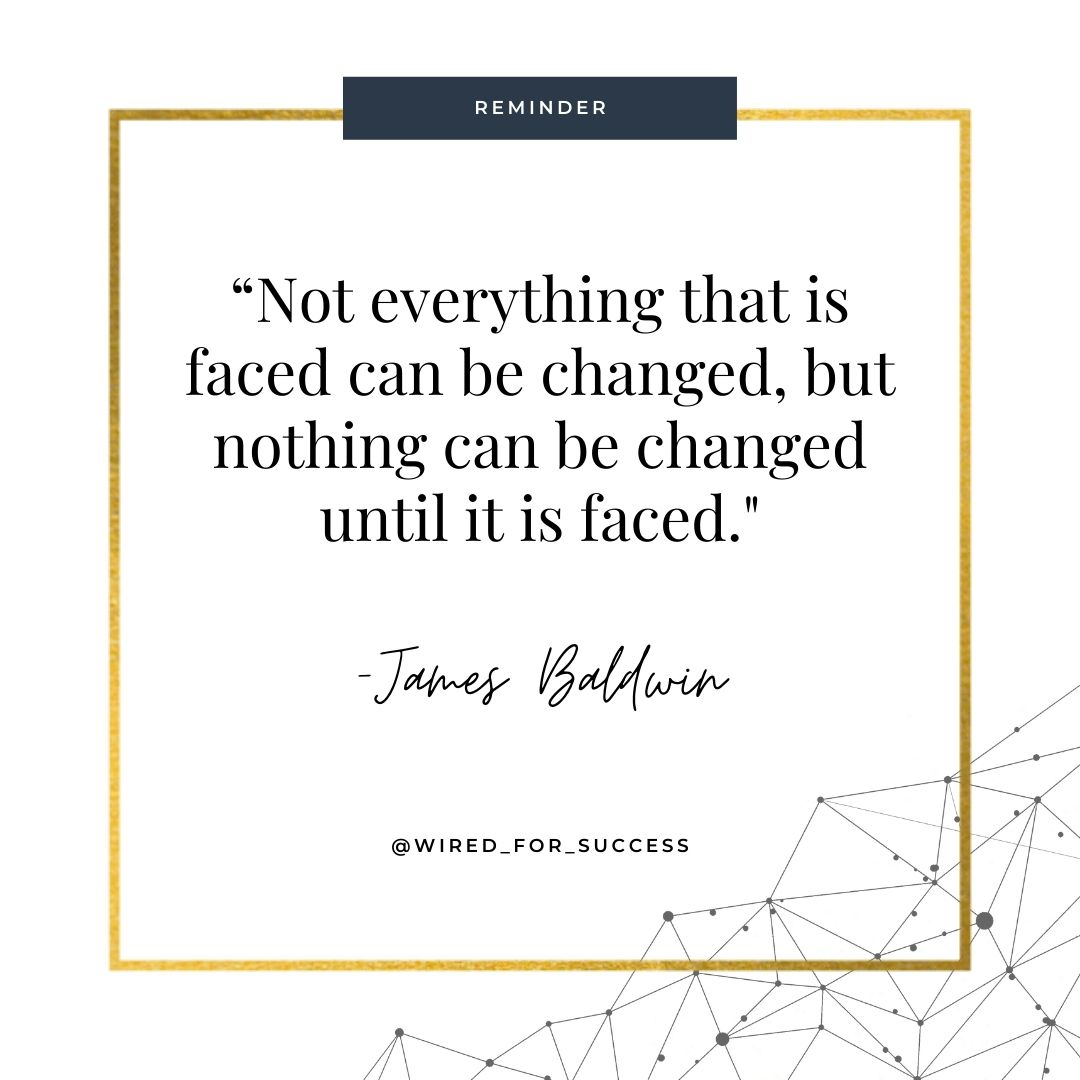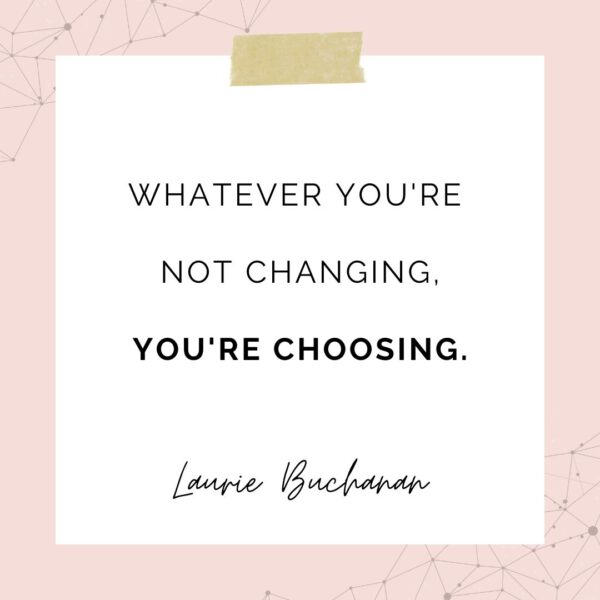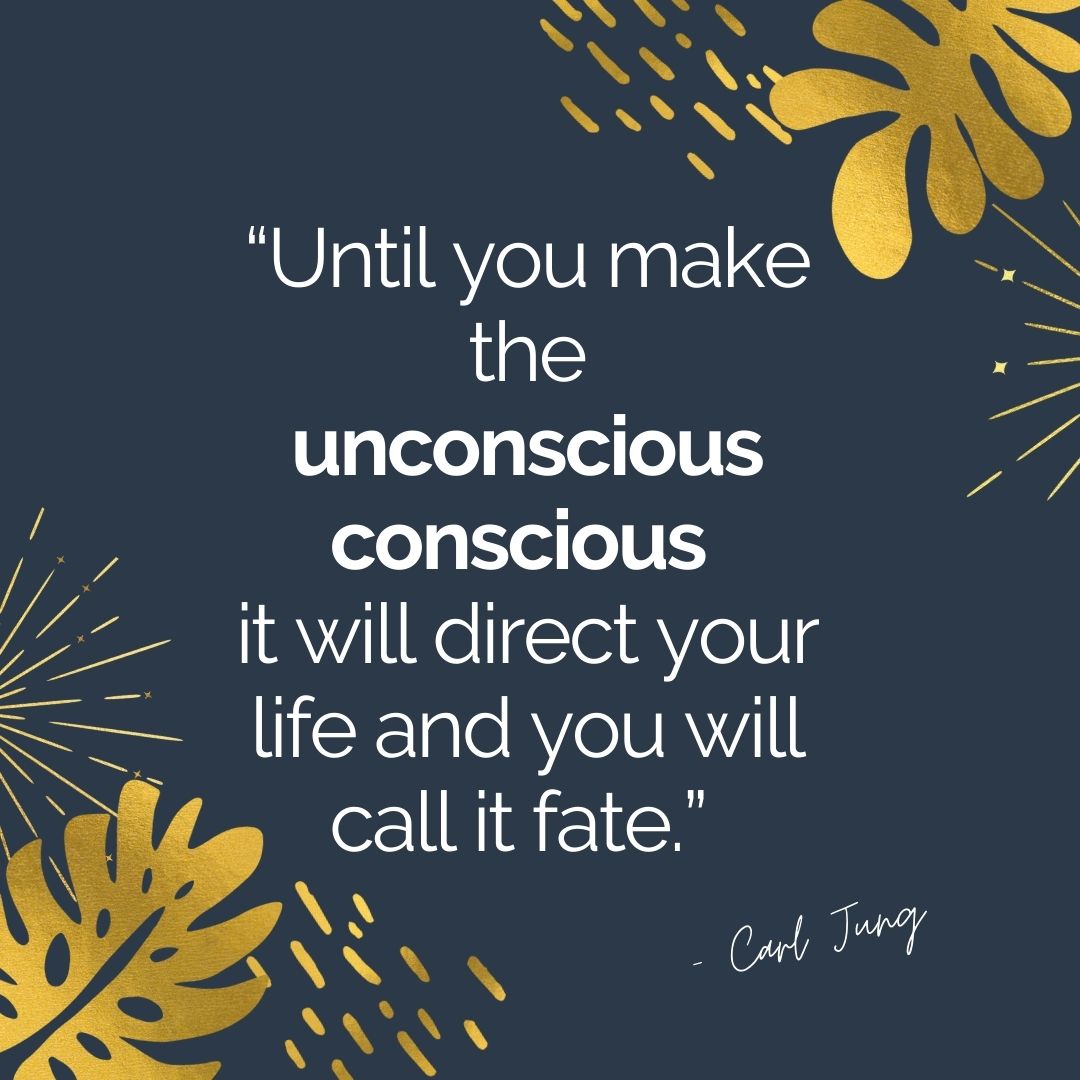 What's Your Focus Right Now?
Productivity, 
Balance &

Time Management
"I need more time, balance & headspace. I want to work smarter, not harder, and win back 1-2h/day to do all the things that light me up!"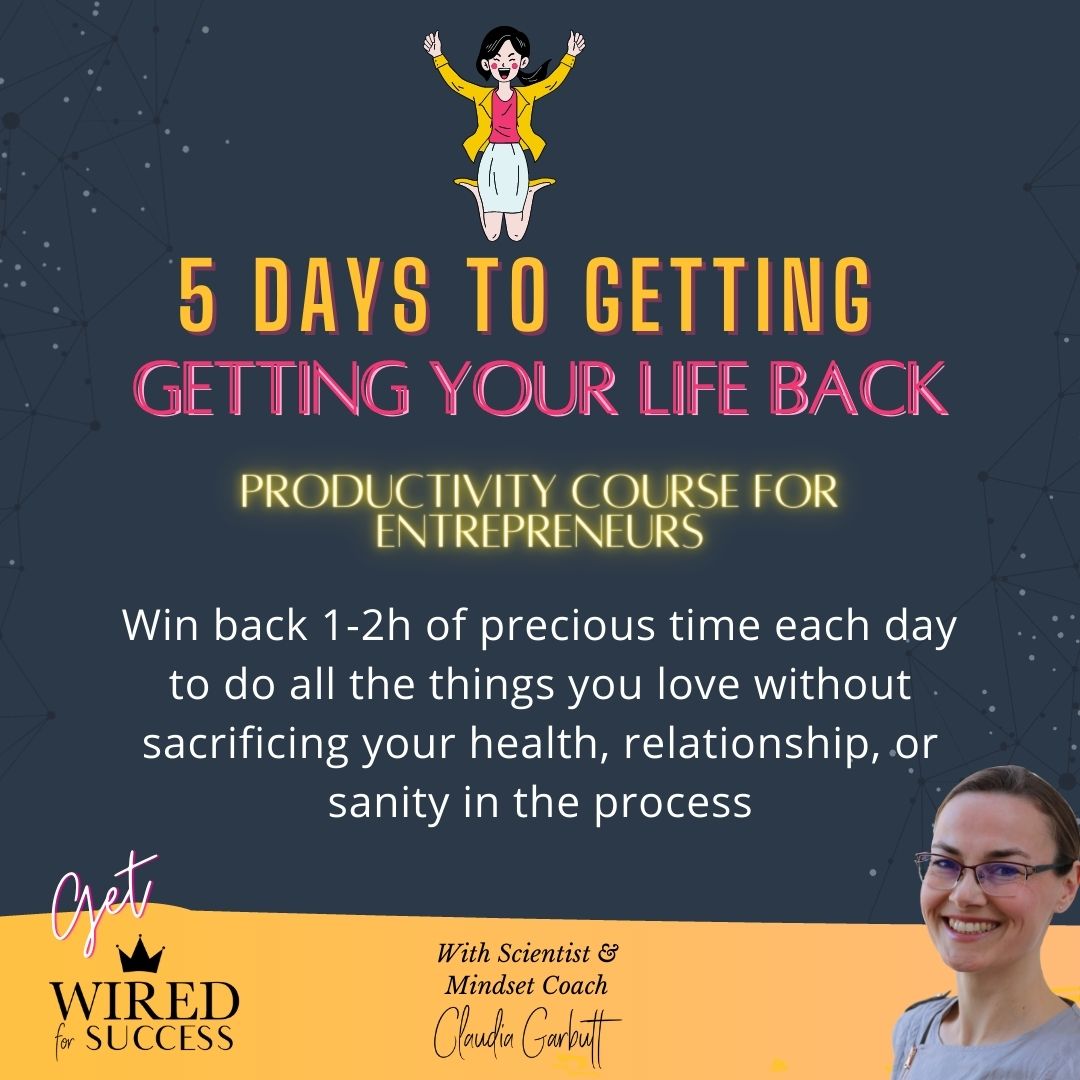 Mindset,
High-Performance &

Authentic Leadership
"I need more confidence. I want to ditch worry, overwhelm & busywork so that I can become the empowered, confident & authentic leader I'm meant to be!"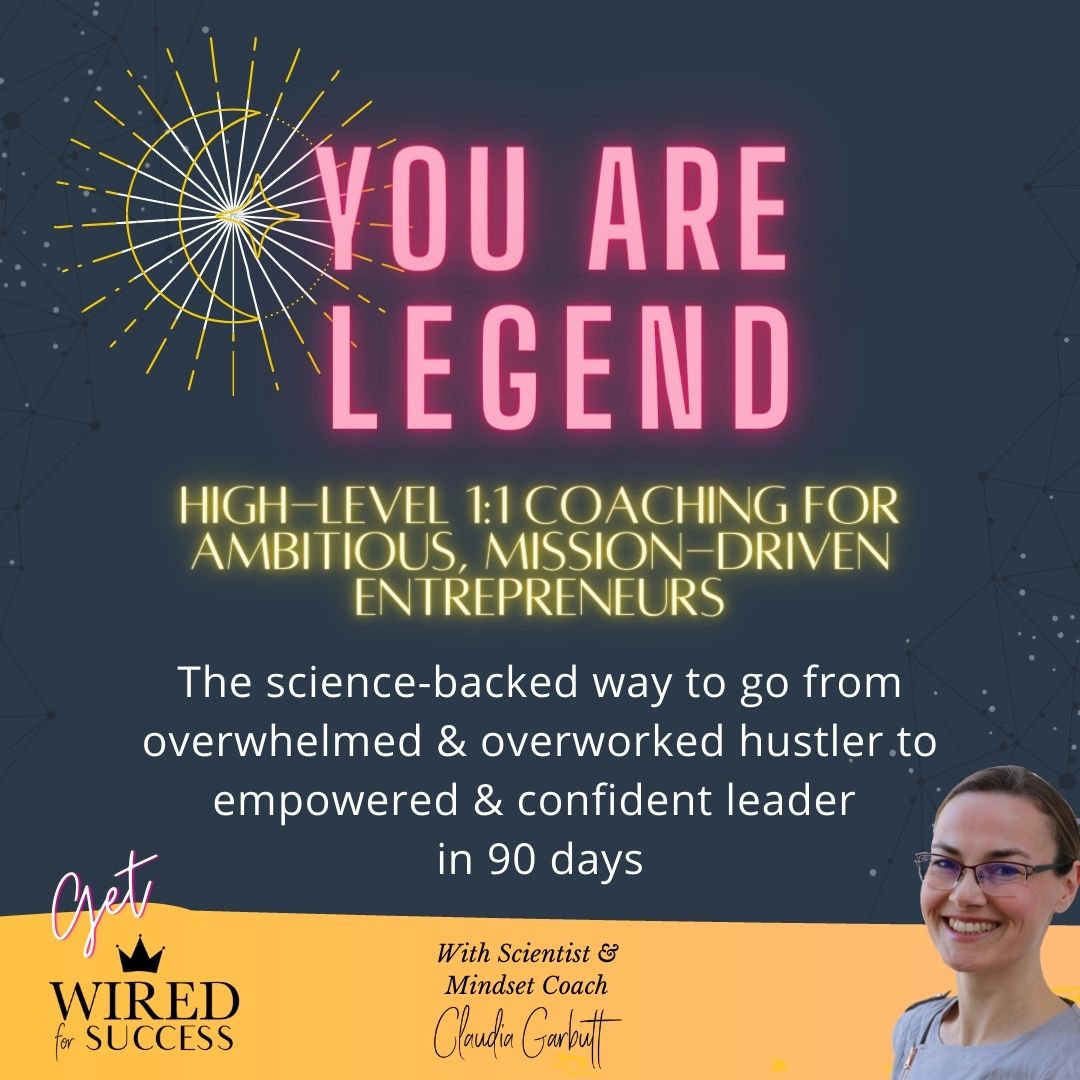 Authority,
Visibility &

Impact
"I need more consistent sales. I want to increase my authority & visibility to become the go-to expert in my industry - without spending more time, money & energy on social media!"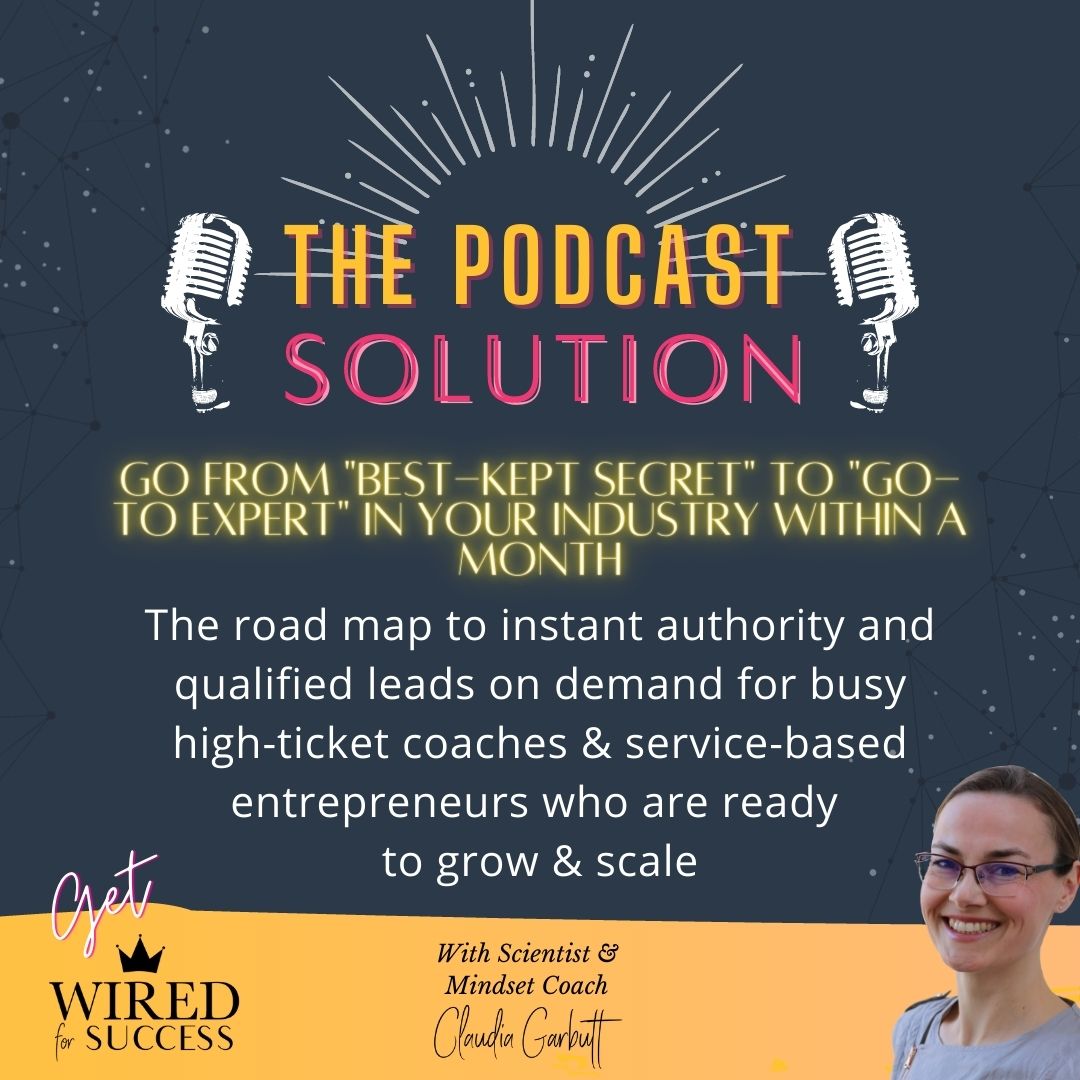 My Approach
I'm a molecular biologist turned mindset & high-performance coach who helps ambitious, mission-driven entrepreneurs ditch the hustle, overwhelm & busywork so that they can show up as authentic & confident leaders and build their legacy.
I'm also a certified life coach, certified Neurolinguistic Programming- and Cognitive Behavioural Therapy practitioner and I've got a certification in Hypnotherapy. 
In a nutshell: I'm your success catalyst who will help you re-wire your brain and tap into the wisdom of your body so that you can become the conscious creator of your dream life & business.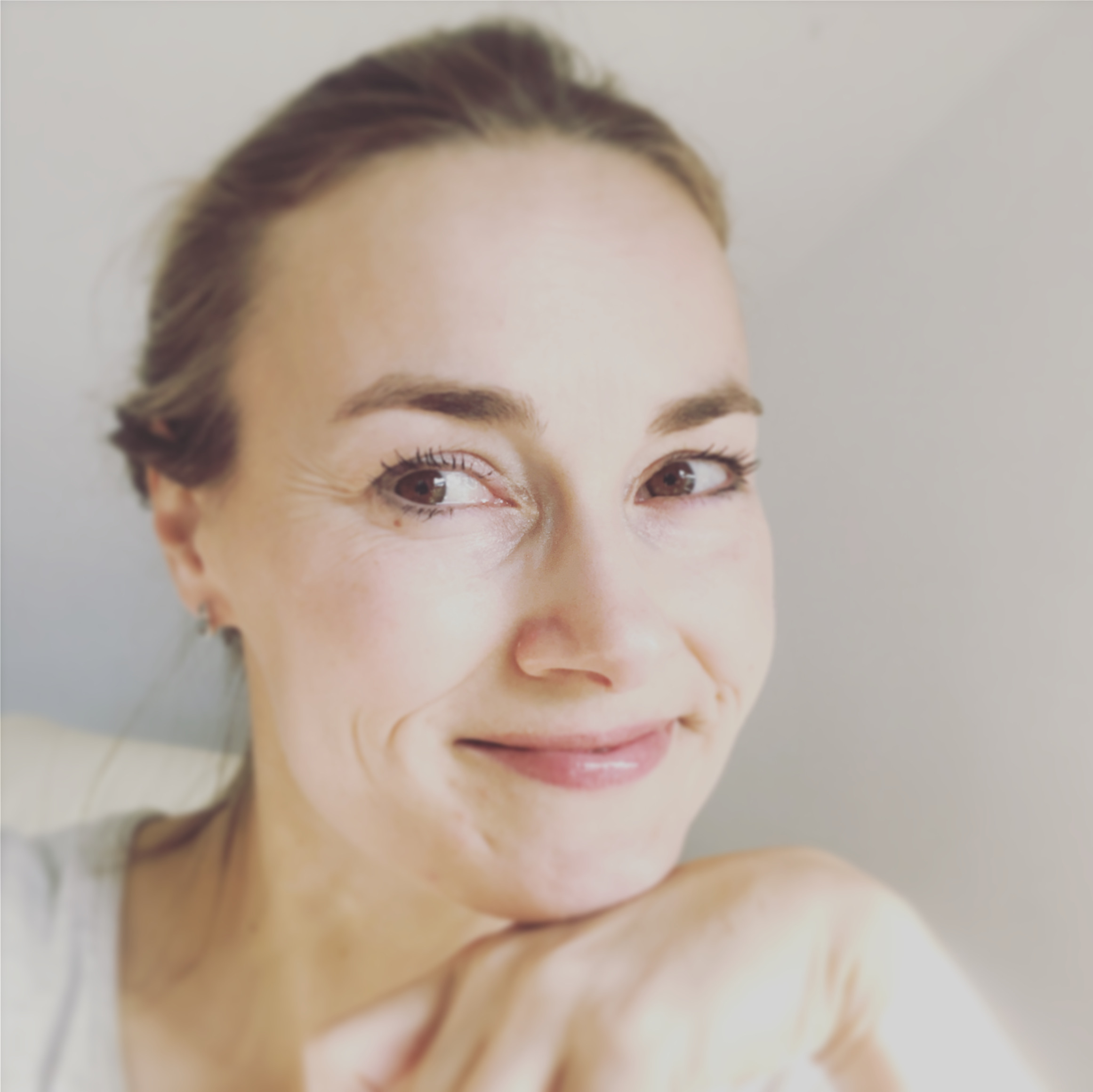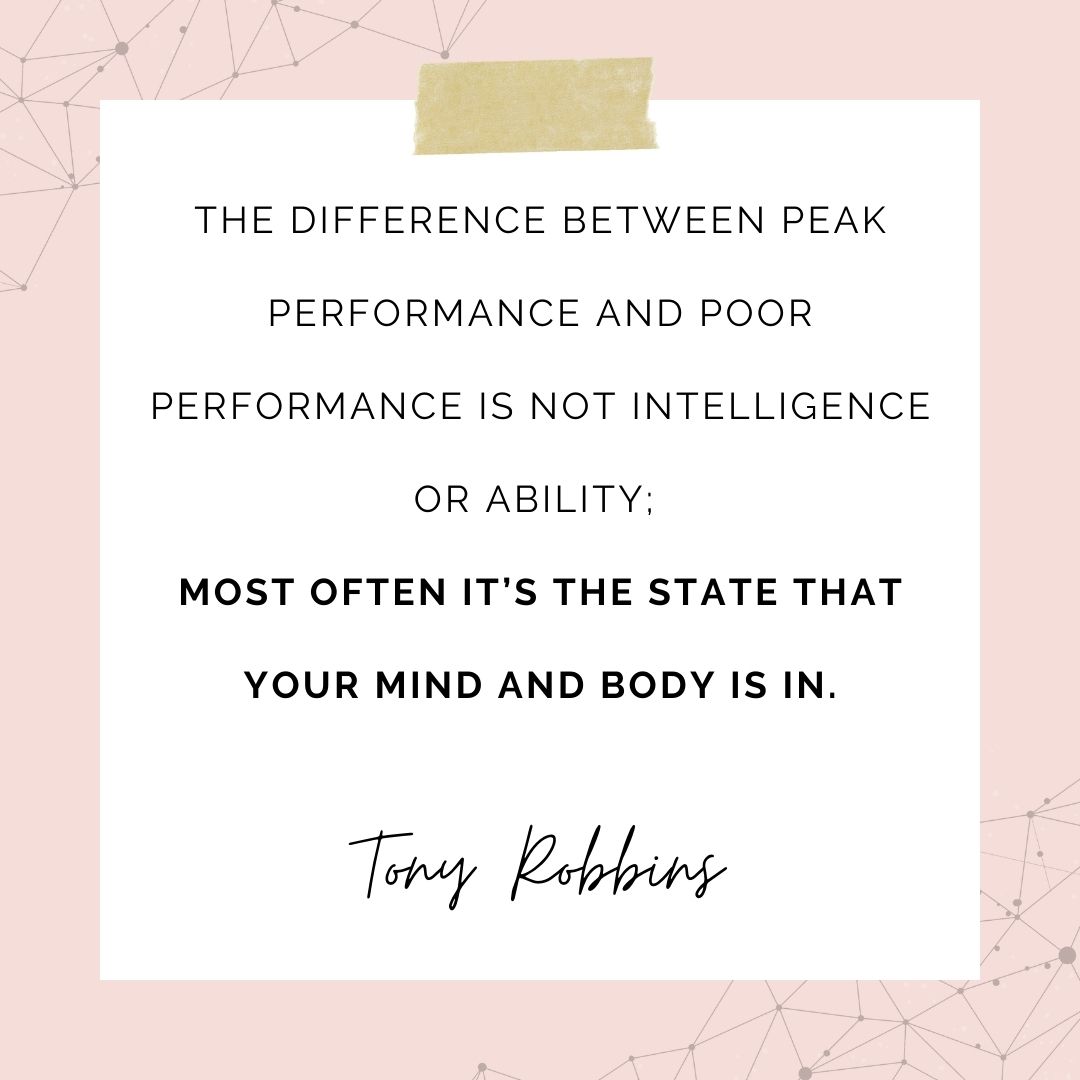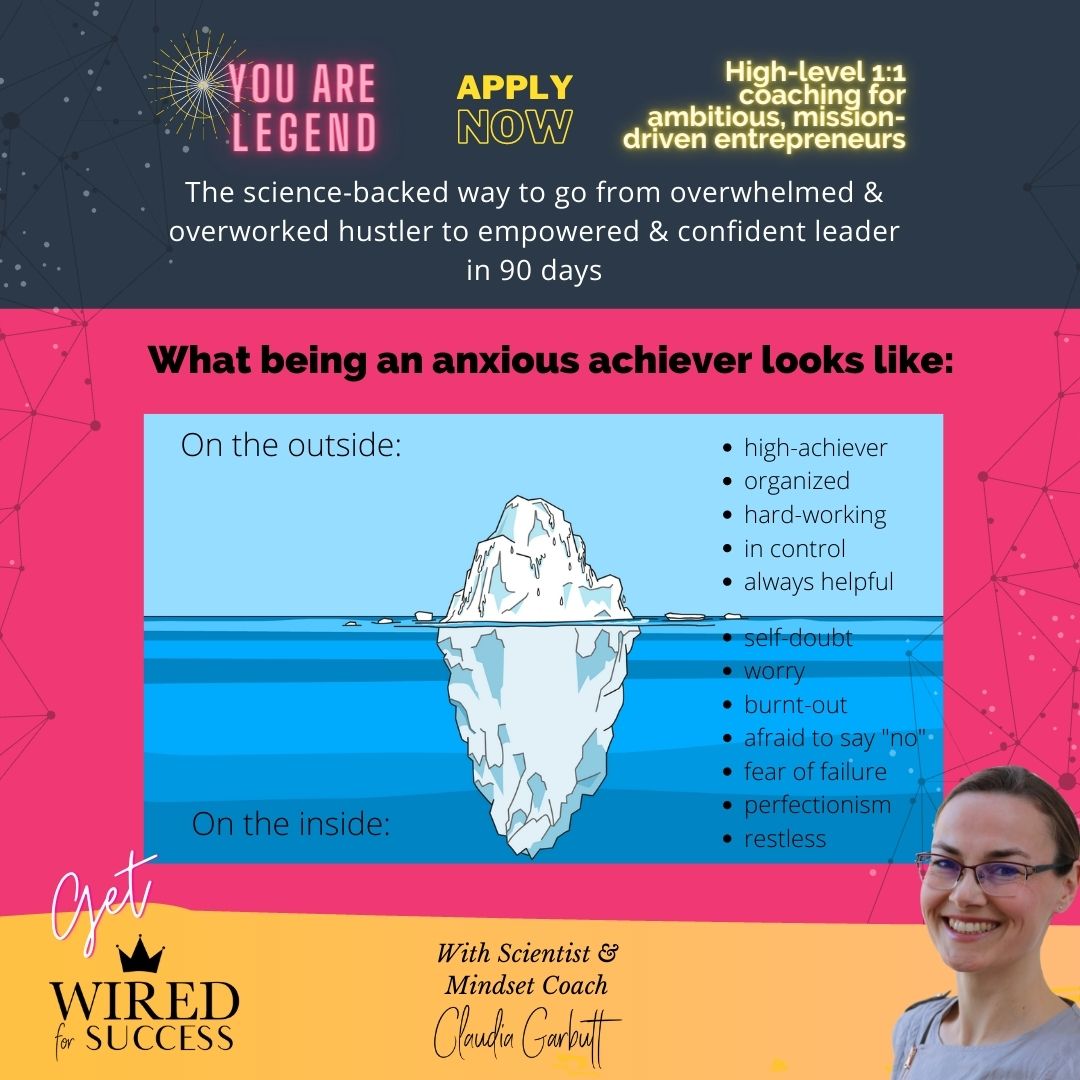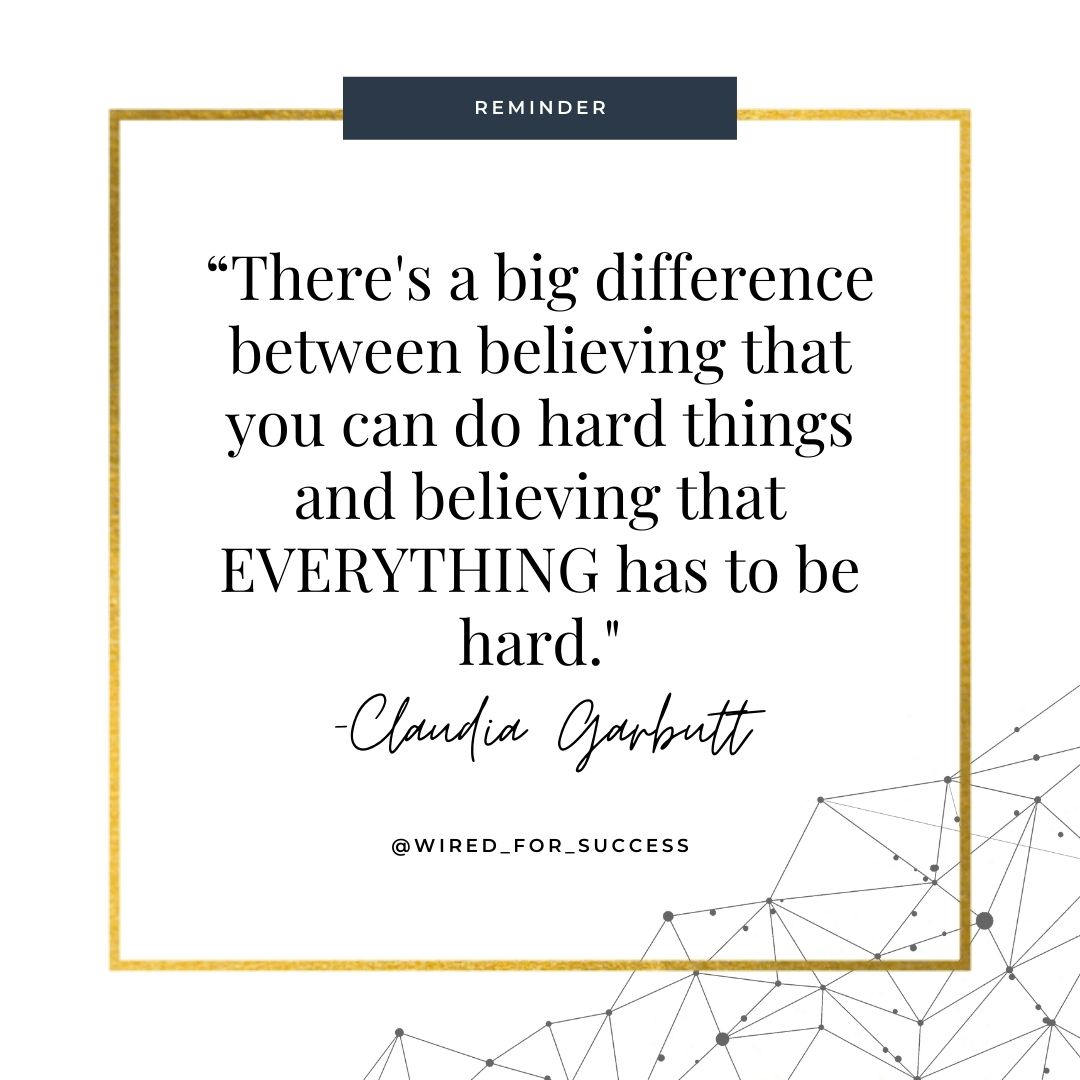 Schedule a Free 1:1 Strategy Call
On that call we'll assess your current situation, what you want to achieve, what you're struggling with, and if I can help you achieve those goals.
If we are a good fit, we discuss the best coaching option(s) for you.
Onboarding
Once you've chosen a coaching option, we outline the goal & strategy, set up your preferred payment option, and schedule our (first) call.
If your coaching package includes premium membership content or any other bonus material, we'll set everything up so that you can get immediate access. 
Reach Your Goals
On our calls, we follow the strategy we've outlined in the beginning and take inspired action that brings you closer to your goals.
I know everyone is different and what works well for one person does not necessarily work equally well for someone else. So if we find the chosen strategy is not working well for you, we tweak and adjust as we go. 
Looking for a different solution, want me to be a guest expert for your podcast, summit, program, or mastermind, or to run a workshop and/or coach your team? Use the contact form at the bottom of this page to get in touch and talk about individual options.
Tailored Solutions for Individuals & Teams:
Productivity & Time-Management
Deconstructing
Self-Sabotaging
Patterns
Neuroscience of Manifesting
Boosting Energy & Motivation
When I first met Claudia, I knew my life was about to significantly improve, and what a joyful experience it's been! In just two months, I have become aware of so many little limiting beliefs that were subconsciously holding me back from reaching my goals. She provided me with everything I needed to open my mind to my potential, reframe my experiences, and charge forward with courage and confidence in my business.
Mindset is essential in any entrepreneurship, and Claudia knows how the human brain works. She helps me to understand how my brain processes information and then guides me to exercise it to build my mind to success. Claudia is a great coach!
Mid-year of 2020 I found Claudia's WIRED FOR SUCCESS FOR ENTREPRENEURS website. 
I thought "Oh well, I'm pushing 70 but why not?" and downloaded her free brain priming recording and also booked a free 20 min Strategy Session.  
Even before the end of our session, I knew I wanted to work with Claudia.  Her presence and wisdom intrigued me.
I knew as a songwriter and singer I wanted to learn more about Facebook and other platforms to market myself.  Claudia helped me ease into this.  She also has patience and techniques to help shift mindsets, habits, and old patterns. 
It really is possible to change old ways and I began to work and experience the subtle changes mostly in my self-confidence and what I had to offer to others.   
The encouragement, support, and belief in my potential are now helping me expand my business in a new exciting direction.
I enjoy and value our sessions and see the progress I've made. Thank you for believing in me and motivating me through all the hurdles.  It has all been worth it!
Claudia has been a joy to work with in our Accelerator program. She consistently supports our ladies and provides invaluable trainings to help overcome those internal blocks that tend to pop up when building and scaling an online business.  
Having her expertise in our group to help rewire and work through the subconscious beliefs that many don't know exist has been invaluable and provided breakthroughs to many in our program.
 I highly recommend Claudia to work within your programs or even with you if you are feeling held back in your business and want support moving forward and hitting your goals.