Are you ready to create more inner peace, income & impact?
Start Building Your Dream Life Today
Holistic Health
Understand the different life dimensions that affect your overall health & wellbeing.
Winning Mindset
Get rid of limiting beliefs & subconscious blocks so that you can make create the change you'd like to see in your life.
Productivity
Stop procrastination & distractions, and work smarter, not harder to achieve more with ease & flow.
High-Performance Habits
Create your personal action plan & set of high-performance habits as the foundation for your sustainable success.
Helping You Find Success With Personalized Coaching
Feel Like It's Time to Make an Important Change in Your Life, But Can't Seem to Find a Way?
It's NOT your fault!
Throughout our life, we've been conditioned to dim our light, to fit in, to worry about what others will think of us, to avoid mistakes like the plague, and to conform to other people's standards and expectations.
It's time to take your power back because you deserve to live a life you love! 
How coaching can help you get unstuck
Helps you see your blind spots
We all have blind spots that we aren't aware of. That's why it's always so much easier to know what everybody else should be doing and why it's so hard to figure out what WE should be doing. As a coach, I help you see what you haven't been able to see about yourself.
Holds you accountable
According to studies, accountability improves your chances of achieving your goal by up to 95%! How often have you set yourself goals and didn't follow through in the end because nobody checked in on you? As a coach, I hold you accountable for the promises you give to yourself. 
Encourages you to play BIG
As a coach I hold massive space for you to become the person you want to become. I see you at your highest potential and help you bring your vision to life.
Helps you change the way you think & approach challenges
By changing your mindset, you'll start to see challenges in a different light and you'll learn to face whatever life throws at you without feeling constantly overwhelmed & hijacked by your emotions. 
My Approach
My approach is very holistic and science-based.
I'll teach you proven methods and strategies that help you stay healthy and relaxed, deal with strong emotions, avoid distractions, and be more creative and productive, so that you can stay motivated, energised & focused while building your empire.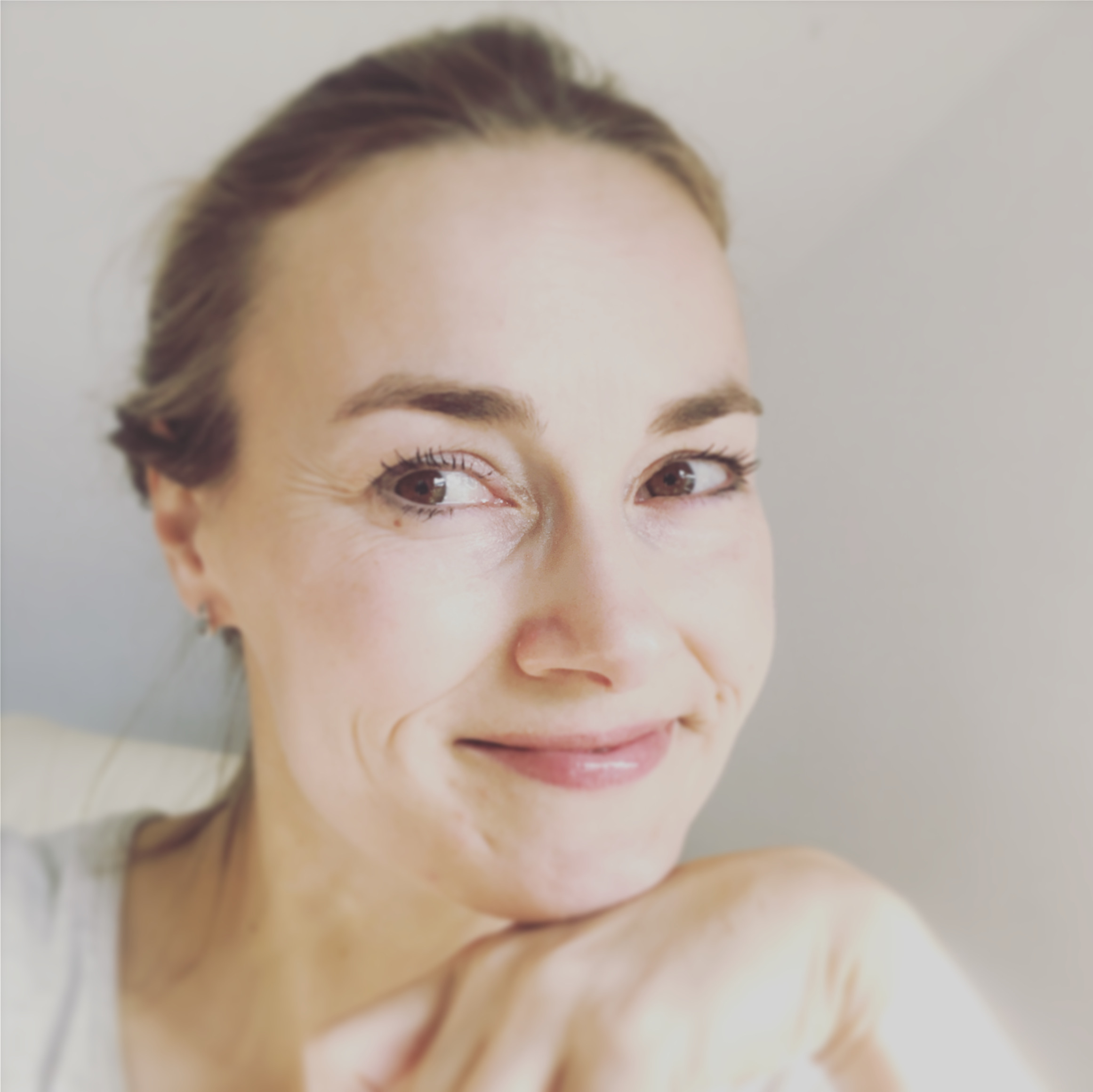 Schedule a Free 1:1 Strategy Call
On that call we'll assess your current situation, what you want to achieve, what you're struggling with, and if I can help you achieve those goals.
If we are a good fit, we discuss the best coaching option(s) for you.
Onboarding
Once you've chosen a coaching option, we outline the goal & strategy, set up your preferred payment option, and schedule our (first) call.
If your coaching package includes premium membership content or any other bonus material, we'll set everything up so that you can get immediate access. 
Reach Your Goals
On our calls, we follow the strategy we've outlined in the beginning and take inspired action that brings you closer to your goals.
I know everyone is different and what works well for one person does not necessarily work equally well for someone else. So if we find the chosen strategy is not working well for you, we tweak and adjust as we go. 
VIP Day Package
This is a 1:1 intensive workshop were we focus on one particular problem that you'd like to work on and we spend 2-3h together figuring out what's going on, what options you have, and we map out a detailed action plan.
Hypnotherapy: Immediate Relief (Single Session)
Clinical hypnotherapy is a great tool that can bring quick results in a variety of different situations.
For instance, it has been proven to work really well…
… to reduce stress & anxiety & depression,
…. to release suppressed emotions,
… to tap into your intuition to find new insights, inspiration & surprising solutions,
… to improve your sleep, 
… to deal with chronic pain,
… or to overcome eating disorders
What's included:
Initial Assessment
Individualised hypnotherapy script 
1x 30-45min hypnotherapy session
access to the recording
Follow-up via email
More Details
If you haven't done anything like that before, here's what to expect from a typical session.

First off, it's NOT like stage hypnosis where people do weird things on stage – during our session you are entirely in control and only do what you're comfortable with.

Before we meet, we discuss what you'd like to focus on during the session and I'll write a customised script for your specific situation and preferences. If you decide to buy a package instead of just one session, I'll also create a customised treatment plan for you.

On the session(s), you sit down or lie down, close your eyes and I'll use relaxation techniques to guide you from your normal conscious state of mind to a light meditative alpha-state. From there we will deepen the trance to go into a deep meditative theta-state that allows us to get through to your subconscious mind. Then we'll release the difficult emotion we're working on and replace it with a positive one. Before I bring you out of the trance, we anchor that positive emotion in your mind and body. 

While one session can have great and lasting effects, the general rule of thumb (everyone is different!) is that you should definitely feel positive shifts after 3 sessions, you can usually expect some sort of emotional breakthrough after about 5 sessions (when we've used different techniques to go deeper into your subconscious mind and started to work on the root causes that create the problems in the first place), and after 10+ sessions you're working toward true transformation and spiritual awakening.
Hypnotherapy: Positive Shift Package (3 Sessions)
What's included:
Initial Assessment
Individualised treatment plan
3x 30-45min hypnotherapy session
access to the recordings
Follow-up via email
Hypnotherapy: Emotional Breakthrough Package (5 Sessions)
What's included:
Initial Assessment
Individualised treatment plan
5x 30-45min hypnotherapy session
access to the recordings
Follow-up via email
Hypnotherapy: Spiritual Awakening Package (10 Sessions)
What's included:
Initial Assessment
Individualised treatment plan
10x 30-45min hypnotherapy session
access to the recordings
Follow-up via email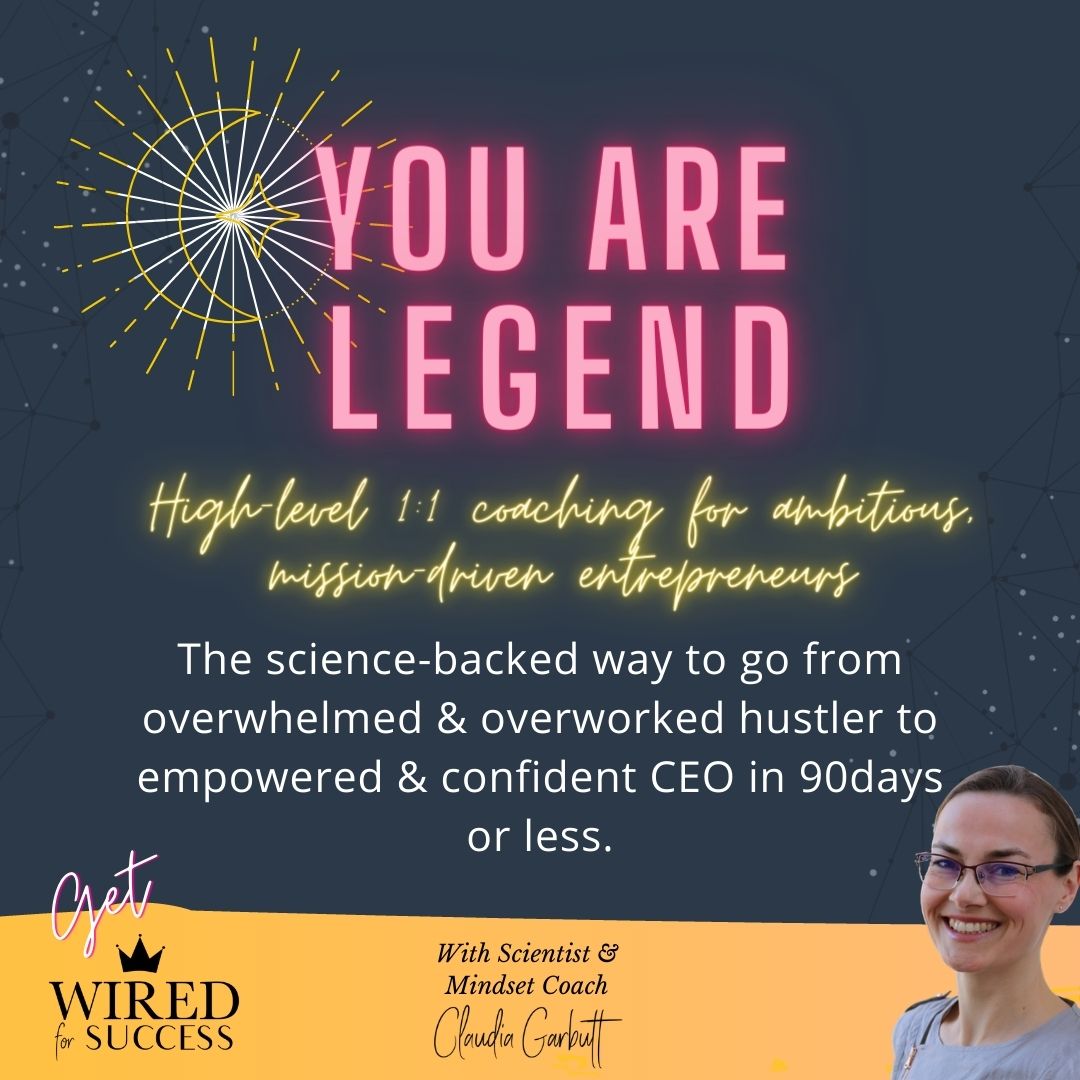 "You Are Legend" – Premium Coaching Packages
I offer high-level customised coaching packages that are based on my "Sustainable Growth" framework and make sure that you are fully supported and have everything you need to get to that next level of success in your life and business.
Who this is for:
Ambitious entrepreneurs & high-achievers who feel drained and burnt out from working 24/7.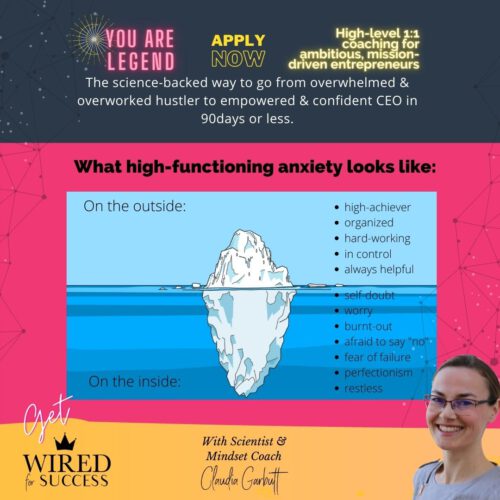 Is this you?
Does life feel like a treadmill and all you ever do is run?
You are successful, you are accomplished, you have every right to pat yourself on the back and give yourself a break.
Yet you don't. Because you are restless, worried, and afraid that as soon as you step off the gas, you'll lose your competitive edge and everything you've worked so hard for will start to fall apart…
You know you "should" be happy, but you aren't. You feel guilty and ungrateful for not being able to enjoy your success and you're wondering what's wrong with you…
It feels like somewhere along the way you lost something. Something important. And now there's a hole in your soul that you don't know how to fix.
You get your hopes up every time you reach a new milestone, thinking "THIS will finally make me happy!". And for a short moment, you might enjoy that achievement, but very soon, you'll grow restless again and the only thing that helps is chase the next goal.
When things don't work out the way you want, you get irritable, and frustrated and your inner critic gets louder and louder and highlights all your flaws and shortcomings.
Your strategy is to double down and work twice as hard as before.
You know you are way too busy, yet you don't take time off regularly because you feel guilty, lazy, and unproductive when you don't work. 
Your work is your number one priority and you often skip meals, or grab a quick bite on the go, you pull all nighters to get things done, and your busy lifestyle has negatively impacted your relationships.
This is your way out!
If that's your reality right now and you'd like to get out of that constant hustle and busyness so that you can
... stop being preoccupied all the time and start to enjoy the moment,
… build stronger relationships and spend real quality time with your loved ones,
… improve your physical, mental, emotion & spiritual health,
… reconnect to your intuition & the wisdom of your body,
… recharge & get your mojo back,
… skyrocket your motivation & inspiration,
… release shame, guilt & judgment,
… love, accept & forgive yourself and others,
… work smarter not harder
… become 10x more productive with less effort…
Well, then this program is for you! 🙂
What's included:
– Initial Assessment & Gap-Finder Session to assess where you're at right now and what's the fastest, easiest & most enjoyable way to get you where you want to go
– Access to all Membership Content
– Access to all LIVE workshops
– Weekly goal-setting & accountability check-ins via email
– Weekly 1:1 calls
– Unlimited email support between coaching calls
– Templates, checklists, worksheets as needed
– FB community
Interested? Hop on a call to learn more and see if you're a good fit!
When I first met Claudia, I knew my life was about to significantly improve, and what a joyful experience it's been! In just two months, I have become aware of so many little limiting beliefs that were subconsciously holding me back from reaching my goals. She provided me with everything I needed to open my mind to my potential, reframe my experiences, and charge forward with courage and confidence in my business.
Mindset is essential in any entrepreneurship, and Claudia knows how the human brain works. She helps me to understand how my brain processes information and then guides me to exercise it to build my mind to success. Claudia is a great coach!
Mid-year of 2020 I found Claudia's WIRED FOR SUCCESS FOR ENTREPRENEURS website. 
I thought "Oh well, I'm pushing 70 but why not?" and downloaded her free brain priming recording and also booked a free 20 min Strategy Session.  
Even before the end of our session, I knew I wanted to work with Claudia.  Her presence and wisdom intrigued me.
I knew as a songwriter and singer I wanted to learn more about Facebook and other platforms to market myself.  Claudia helped me ease into this.  She also has patience and techniques to help shift mindsets, habits, and old patterns. 
It really is possible to change old ways and I began to work and experience the subtle changes mostly in my self-confidence and what I had to offer to others.   
The encouragement, support, and belief in my potential are now helping me expand my business in a new exciting direction.
I enjoy and value our sessions and see the progress I've made. Thank you for believing in me and motivating me through all the hurdles.  It has all been worth it!
Claudia has been a joy to work with in our Accelerator program. She consistently supports our ladies and provides invaluable trainings to help overcome those internal blocks that tend to pop up when building and scaling an online business.  
Having her expertise in our group to help rewire and work through the subconscious beliefs that many don't know exist has been invaluable and provided breakthroughs to many in our program.
 I highly recommend Claudia to work within your programs or even with you if you are feeling held back in your business and want support moving forward and hitting your goals.