EPISODE SUMMARY
Join scientist and mindset & high-performance coach Claudia Garbutt and business and life coach Brett Baughman as they discuss how to uplevel your life and business.
In this episode, we talk about:
– Important mindset shifts for more peace of mind
– Designing powerful transformational retreats
– Creating an impactful coaching app
EPISODE NOTES
Brett Baughman is business and life coach who specializes in helping his client become The Ideal You. He will help you discover your passions so you can level up your performance in all areas of life from career to relationships.
He's a best-selling author and was voted the Top Business Coach to work with in 2023 by Apple News. If you're ready to experience peak performance, you can join him for an immersive adventure at his new Action Mastery Retreat in Tulum this November where he will personally coach you one-on-one and take you on a powerful journey of mind, body and spirit that will teach you how to make a greater positive impact in your life and the world around you!
Upcoming retreat in Tulum November 5 – 11th, 2023: Action Mastery Retreats
If you're a high-performing executive or entrepreneur who's ready to ignite your passion, quantum leap your thinking and skills to the next level and forge a path to abundance that makes a positive impact in your life and the world around you – then you will want to join Brett Baughman in breathtaking Tulum for his powerful and transformational adventure!
Guests of Action Mastery will enjoy a 7-day immersion of mind, body, and spirit as well as receive 2 months of life and business coaching prior to the retreat. If you're ready to advance to the next level in your life then this is the event for you!
Links:
Free Breathwork Journey online event:
https://bookings.bybrettbaughman.com/bw-journey
IG: @bybrettbaughman
LinkedIn: https://www.linkedin.com/in/brettbaughman/
Twitter/X: https://twitter.com/brettbaughman
Facebook: https://www.facebook.com/thebrettbaughmancompanies/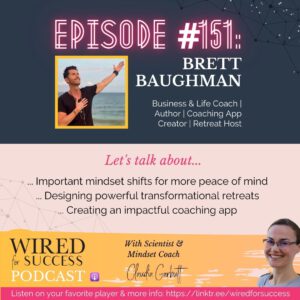 To listen to the episode on your favorite podcast player, find all links here:
https://linktr.ee/wiredforsuccess
Want more? From quick tips & insights to guided meditations and a side of biohacking – if you'd like to join my inner circle and get access to exclusive subscriber-only content: Hit subscribe and join the tribe! THANK YOU for your support! 🙂
https://podcasters.spotify.com/pod/show/wiredforsuccess/subscribe
And don't forget to click the "Rate this podcast" button below to leave a review & rating. This is the easiest way to support the show & I really appreciate it. THANK YOU! 🙂
And if you're interested in working with me, you can book a free 20min strategy session to figure out what your current success blockers are and how I can best help you.
Looking for great podcast guests for your own show or great shows to guest on?
Try PodMatch, the platform that automatically matches ideal podcast hosts and guests for interviews. Like Tinder for podcasters.
Or Guestio, the app that helps content creators interview high-level guests. Gives you access to those busy, hard-to-reach, next-level guests that you want to have on your show.
Recent Posts: