EPISODE SUMMARY
Join scientist and mindset & high-performance coach Claudia Garbutt and Andrew Herr, the founder and CEO of Fount, as they discuss new ways to optimize health & performance.
In this episode, we talk about:
– A data-driven, personalized approach to human performance & longevity
– Dopamine management for focus & productivity
– The future of health
EPISODE NOTES
Andrew Herr is the Founder & CEO of Fount. Fount runs the most comprehensive and customized health and performance programs in the world. Previously, Andrew led human performance and biotech strategy efforts for the U.S. military, from running R&D strategy efforts to getting Navy SEALs ready to deploy.
Andrew's work has been profiled and published by Wired, Joint Force Quarterly, Defense News, and others, and he has been honored as a Mad Scientist by the U.S. Army (twice), as a Fellow by the Synthetic Biology Leadership Excellence Accelerator Program, and as an Emerging Leader in Biosecurity.
Andrew also serves as an Adjunct Assistant Professor at Georgetown University, where he teaches about human performance and advanced military technology.
Links:
https://twitter.com/andrewherrbio
https://www.linkedin.com/in/andrew-herr/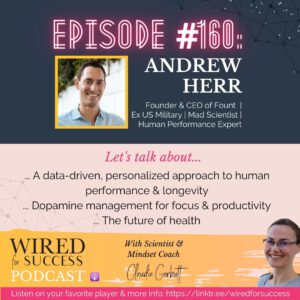 To listen to the full episode on your favorite podcast player, find all links here:
https://linktr.ee/wiredforsuccess
Help me keep this show ad-free and awesome: Hit subscribe and join the tribe! THANK YOU for your support! 🙂
https://podcasters.spotify.com/pod/show/wiredforsuccess/subscribe
And don't forget to click the "Rate this podcast" button below to leave a review & rating. This is the easiest way to support the show & I really appreciate it. THANK YOU! 🙂
And if you're interested in working with me, you can book a free 20min strategy session to figure out what your current success blockers are and how I can best help you.
Looking for great podcast guests for your own show or great shows to guest on?
Try PodMatch, the platform that automatically matches ideal podcast hosts and guests for interviews. Like Tinder for podcasters.
Or Guestio, the app that helps content creators interview high-level guests. Gives you access to those busy, hard-to-reach, next-level guests that you want to have on your show.
Recent Posts: