EPISODE SUMMARY
Join scientist and mindset & high-performance coach Claudia Garbutt and as they discuss the best messaging and sales advice for coaches.
In this episode we talk about:
– Common messaging & sales mistakes to avoid
– Best messaging tips for coaches to attract their dream clients effortlessly
– Controlling your emotions & energy
EPISODE NOTES
Coaches hire Kevin to help them nail down their avatar psychology from their beliefs to how they make buying decisions and implement it into a messaging and sales system.
He's been in the trenches writing over 30 different email funnels and sales pages for influencers in the health, wellness, and personal development industry increasing their program sales between 150% to 300%.
Kevin was also the main copy and offers coach for two, multi-million dollar online coaching and consulting companies where he helped their clients craft their high-ticket offers and positioned their content to convert for their clients.
Today, he shares his in-the-trenches wisdom as a mentor helping coaches get the foundational messaging and sales systems down so they can grow without burning out.
Links:
https://www.facebook.com/groups/clientsthroughconnection
https://www.facebook.com/kevinkwanmentor
https://www.instagram.com/thekevinkwan_/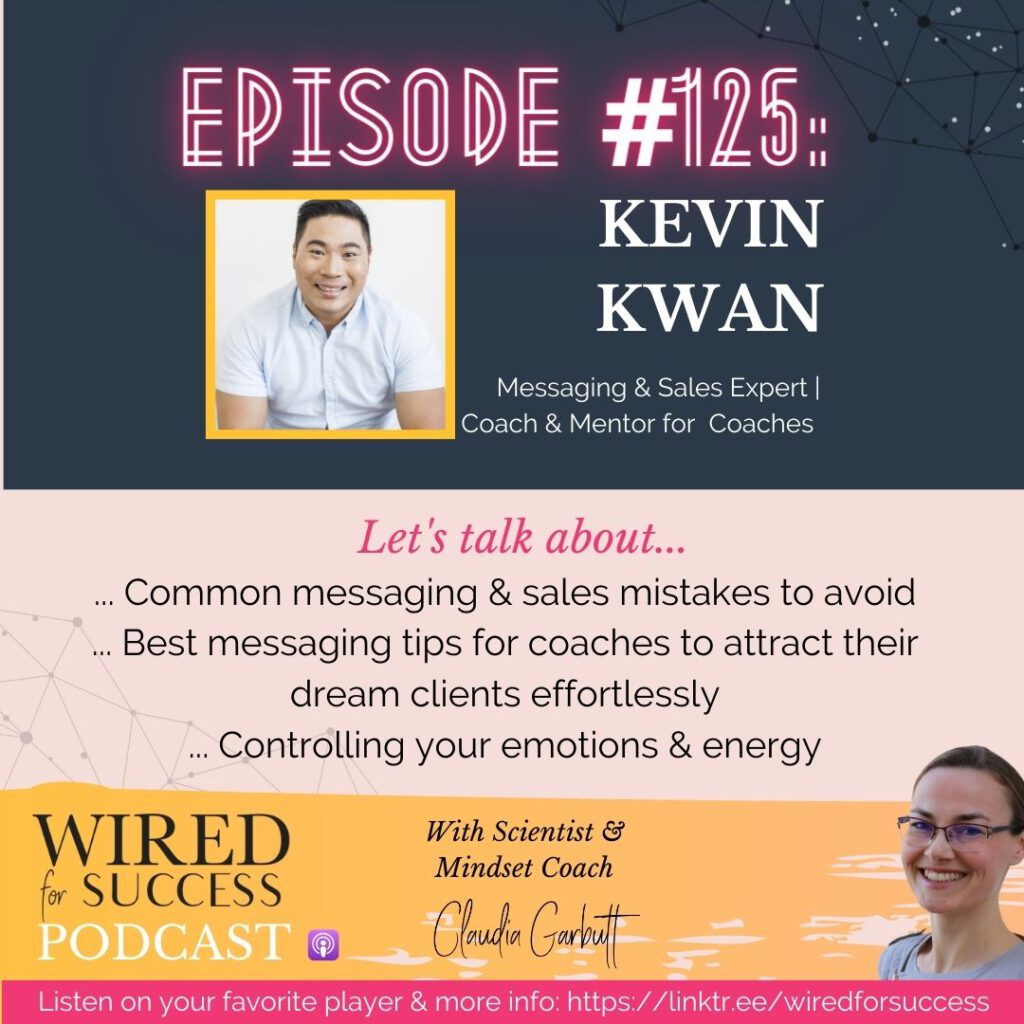 To listen to the episode on your favorite podcast player, find all links here:
https://linktr.ee/wiredforsuccess
If you enjoyed this episode, learned something new, had an epiphany moment – or were reminded about a simple truth that you had forgotten, please click the "Rate this podcast" button below and leave a review & rating. This is the easiest way to support the show & I really appreciate it.
Become a supporter of the show:
https://glow.fm/wiredforsuccesspodcast/
And if you're interested in working with me, you can book a free 20min strategy session to figure out what your current success blockers are and how I can best help you.
Looking for great podcast guests for your own show or great shows to guest on?
Try PodMatch, the platform that automatically matches ideal podcast hosts and guests for interviews. Like Tinder for podcasters.
Or Guestio, the app that helps content creators interview high-level guests. Gives you access to those busy, hard-to-reach, next-level guests that you want to have on your show.
Recent Posts: