EPISODE SUMMARY
Join scientist and mindset & high-performance coach Claudia Garbutt and AI & startup expert Manuj Aggarwal as they discuss what it takes to build a successful business and how AI is going to impact different industries.
In this episode, we talk about:
– How AI is going to disrupt different industries in the next few years
– Exciting advancements facilitated by AI technologies
– The potential risks, drawbacks, and ethical implications associated with AI technologies
EPISODE NOTES
Manuj Aggarwal is a thought leader in AI, and startups who has impacted over 10 million lives and generated over $500M in value. With experience working with clients like Microsoft and IBM, he's spoken at the UN alongside the Secretary-General and Noble Peace prize winner and his work has been mentioned by former President Obama and Bill Gates. With 4 patents in AI, he's the perfect person to learn from about how AI can benefit you all.
Links:
https://www.linkedin.com/in/manujaggarwal/
https://www.facebook.com/manuj.aggarwal
https://www.instagram.com/manujagro/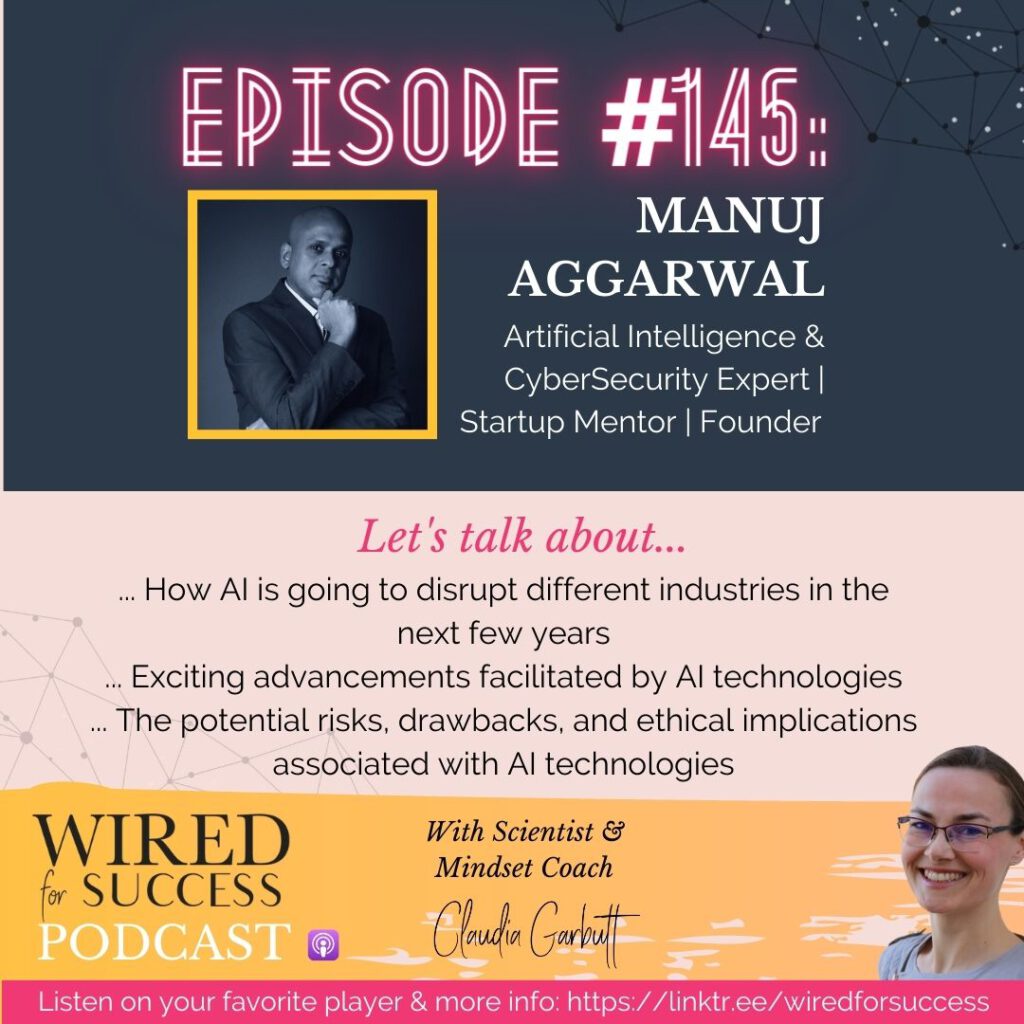 To listen to the episode on your favorite podcast player, find all links here:
https://linktr.ee/wiredforsuccess
Want more? From quick tips & insights to guided meditations and a side of biohacking – if you'd like to join my inner circle and get access to exclusive subscriber-only content: Hit subscribe and join the tribe! THANK YOU for your support! 🙂
https://podcasters.spotify.com/pod/show/wiredforsuccess/subscribe
And don't forget to click the "Rate this podcast" button below to leave a review & rating. This is the easiest way to support the show & I really appreciate it. THANK YOU! 🙂
And if you're interested in working with me, you can book a free 20min strategy session to figure out what your current success blockers are and how I can best help you.
Looking for great podcast guests for your own show or great shows to guest on?
Try PodMatch, the platform that automatically matches ideal podcast hosts and guests for interviews. Like Tinder for podcasters.
Or Guestio, the app that helps content creators interview high-level guests. Gives you access to those busy, hard-to-reach, next-level guests that you want to have on your show.
Recent Posts: