EPISODE SUMMARY
Join scientist and mindset & high-performance coach Claudia Garbutt and Chief Burnout Officer at the Breakfast Leadership Network Michael D. Levitt as they discuss burnout prevention.
In this episode we talk about:
– Lessons from surviving a heart attack
– The top 3 stressors that lead people to burn out
– Best tips for preventing burnout
EPISODE NOTES
Michael Levitt is the founder & Chief Burnout Officer of The Breakfast Leadership Network, a San Diego and Toronto-based burnout consulting firm. He is a Keynote speaker, host of the Breakfast Leadership show, a Certified NLP and CBT Therapist, a Fortune 500 consultant, and author of his latest book BURNOUT PROOF.
Website:
https://BreakfastLeadership.com
LinkedIn: https://www.linkedin.com/in/bfastleadership/
Instagram: https://www.instagram.com/bfastleadership/
Facebook: https://Facebook.com/bfastleadership
Breakfast Leadership Podcast:
https://podcasts.apple.com/ca/podcast/breakfast-leadership-show/id1207338410
Burnout-Proof Your Life Course: 90% Discount:
https://breakfastleadership.teachable.com/p/burnout-proof-your-life
Enter code NINETY at checkout to get 90% off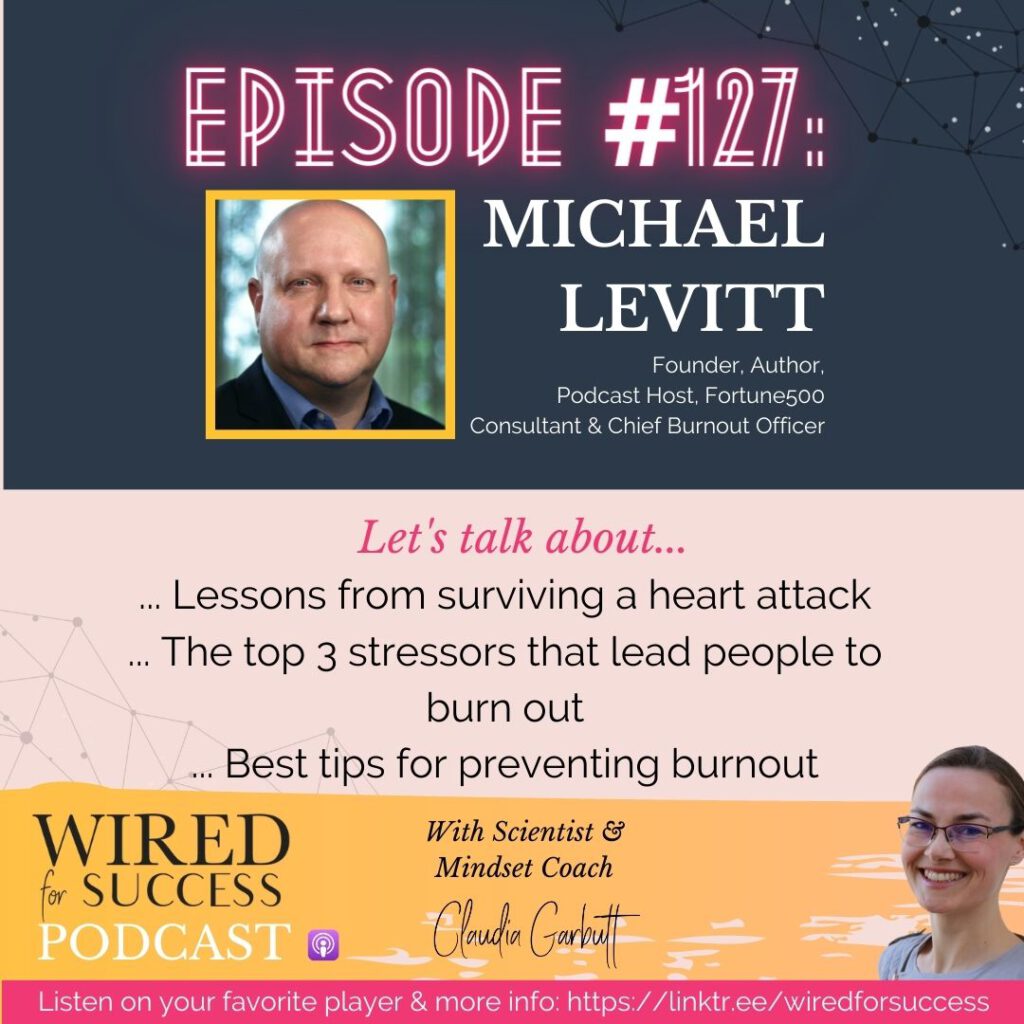 To listen to the episode on your favorite podcast player, find all links here:
https://linktr.ee/wiredforsuccess
If you enjoyed this episode, learned something new, had an epiphany moment – or were reminded about a simple truth that you had forgotten, please click the "Rate this podcast" button below and leave a review & rating. This is the easiest way to support the show & I really appreciate it.
Become a supporter of the show:
https://glow.fm/wiredforsuccesspodcast/
And if you're interested in working with me, you can book a free 20min strategy session to figure out what your current success blockers are and how I can best help you.
Looking for great podcast guests for your own show or great shows to guest on?
Try PodMatch, the platform that automatically matches ideal podcast hosts and guests for interviews. Like Tinder for podcasters.
Or Guestio, the app that helps content creators interview high-level guests. Gives you access to those busy, hard-to-reach, next-level guests that you want to have on your show.
Recent Posts: