EPISODE SUMMARY
Join scientist and mindset & high-performance coach Claudia Garbutt and consumer behavior expert and marketing professor Michael Solomon as they discuss how you can use what we know about consumer behavior to build more effective marketing strategies, grow your brand, and increase customer engagement.
In this episode, we talk about:
– Consumer behavior for dummies: What is consumer behavior and how can it guide our marketing strategy?
– What are the most important factors affecting consumer behavior
– Consumer behavior trends to pay attention to
EPISODE NOTES
Michael "wrote the book" on understanding consumers. Literally. Hundreds of thousands of business students have learned about Marketing from his books including Consumer Behavior: Buying, Having, and Being — the most widely used book on the subject in the world.
Michael's mantra: We don't buy products because of what they do. We buy them because of what they mean.
He advises global clients in leading industries such as apparel and footwear (Calvin Klein, Levi Strauss, Under Armour, Timberland), financial services and e-commerce (eBay, Progressive), CPG (Procter & Gamble, Campbell's), retailing (H&M), sports (Philadelphia Eagles), manufacturing (DuPont, PP&G) and transportation (BMW, United Airlines) on marketing strategies to make them more consumer-centric.
He regularly appears on television shows including The Today Show, Good Morning America and CNN to comment on consumer issues, and he is frequently quoted in major media outlets such as The New York Times, USA Today, Adweek and Time.
His latest book – The New Chameleons: How to Connect with Consumers Who Defy Categorization (– won the NYC Big Book Award in the Marketing/Sales category. As a Professor of Marketing (in the Haub School of Business at Saint Joseph's University in Philadelphia) and an industry consultant, Michael combines cutting-edge academic theory with actionable real-world strategies.
He helps managers get inside the heads of their customers so they can anticipate and satisfy their deepest and most pressing needs – today and tomorrow. An executive at Subaru said it best: "The man is a scholar who is current and street-wise."
Links:
https://www.linkedin.com/in/michaelsolomon/
Customer Engagement Course:
ENGAGE! How to Turn Your (Bored) Customers into Brand Fanatics
This course is designed primarily for owners/operators of small to medium-size companies that need to compete for customers' precious attention against the "big guys" who have the luxury of huge marketing budgets to reach their targets.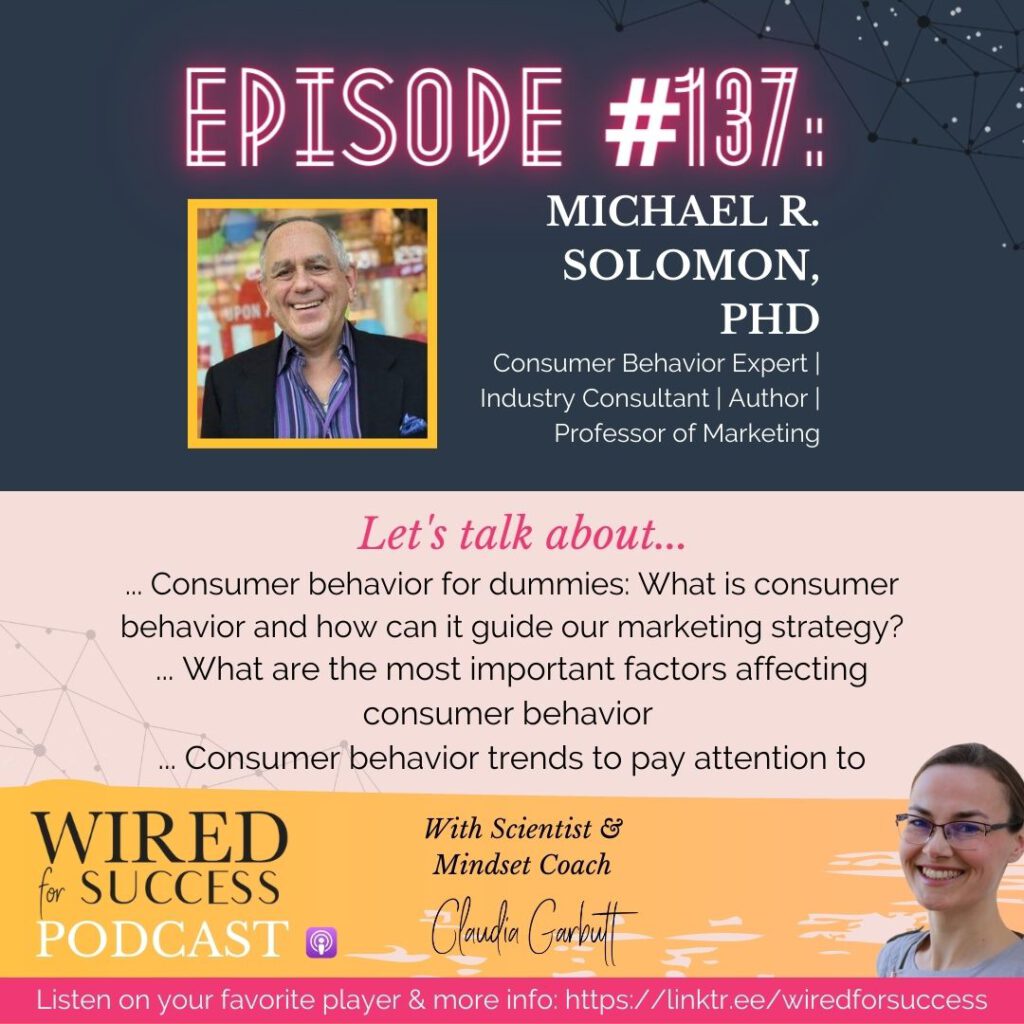 To listen to the episode on your favorite podcast player, find all links here:
https://linktr.ee/wiredforsuccess
If you enjoyed this episode, learned something new, had an epiphany moment – or were reminded about a simple truth that you had forgotten, please click the "Rate this podcast" button below and leave a review & rating. This is the easiest way to support the show & I really appreciate it.
And if you're interested in working with me, you can book a free 20min strategy session to figure out what your current success blockers are and how I can best help you.
Looking for great podcast guests for your own show or great shows to guest on?
Try PodMatch, the platform that automatically matches ideal podcast hosts and guests for interviews. Like Tinder for podcasters.
Or Guestio, the app that helps content creators interview high-level guests. Gives you access to those busy, hard-to-reach, next-level guests that you want to have on your show.
Recent Posts: