EPISODE SUMMARY
Join scientist and mindset & high-performance coach Claudia Garbutt and CEO of Smarter Not Harder & of Health Optimization Medicine and Practice, Boomer Anderson, as they talk about various aspects of health optimization & entrepreneurship.
In this episode, we talk about:
– The importance of health optimization for entrepreneurs
– Which health metrics to track & how often
– Favorite wearables & how to use the data
EPISODE NOTES
If curiosity killed the cat, Boomer's 9 lives expired decades ago. Boomer is an entrepreneur, husband, podcast host, health optimization practitioner, investor, and retired BBQ champion.
Boomer is the CEO of Smarter Not Harder, Inc. makers of Troscriptions. He is also the CEO of Health Optimization Medicine and Practice, a 501(c)3 non-profit focused on educating doctors and practitioners on how to optimize for health rather than treat disease. In his own Health Optimization Practice, Boomer works with entrepreneurs leveraging large swaths of data and health technology. He also serves as a Strategic Advisor to Welldium and is a TEDx Speaker.
Links: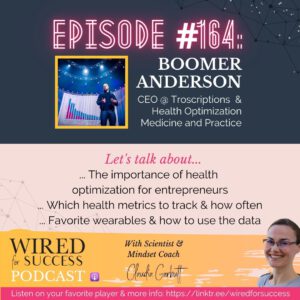 To listen to the full episode on your favorite podcast player, find all links here:
https://linktr.ee/wiredforsuccess
Help me keep this show ad-free and awesome: Hit subscribe and join the tribe! THANK YOU for your support! 🙂
https://podcasters.spotify.com/pod/show/wiredforsuccess/subscribe
And don't forget to click the "Rate this podcast" button below to leave a review & rating. This is the easiest way to support the show & I really appreciate it. THANK YOU! 🙂
And if you're interested in working with me, you can book a free 20min strategy session to figure out what your current success blockers are and how I can best help you.
Looking for great podcast guests for your own show or great shows to guest on?
Try PodMatch, the platform that automatically matches ideal podcast hosts and guests for interviews. Like Tinder for podcasters.
Or Guestio, the app that helps content creators interview high-level guests. Gives you access to those busy, hard-to-reach, next-level guests that you want to have on your show.
Recent Posts: