EPISODE SUMMARY
Join scientist and mindset & high-performance coach Claudia Garbutt and serial entrepreneur, founder & keynote speaker Jeff Davis as they talk about creating a life that reflects your values, priorities, AND ambitious goals.
In this episode we talk about:
– Entrepreneurship & burnout
– Creating practices & systems that help you remove yourself as the bottleneck of your business
– Creating financial freedom as well as time freedom
EPISODE NOTES
By his 30s, serial entrepreneur Jeff Davis had already built multiple national companies and has been featured in Fortune Magazine, CNN.Money, quoted by Inc Magazine and featured in countless other news stories.
He paid a steep price working 80+ stressful hours per week until he eventually reached his pain threshold.
It was a life-changing moment that pushed him to figure out a way to escape the day-to-day weeds of his business and build something better.
He worked at it until he was eventually able to travel around the world for several years, he founded the national community of CEOs and entrepreneurs known as Twelve Mavens and is the founder of the popular annual strategic planning event for CEOs called Plan The Attack.
You can learn more here:
LinkedIn:
https://www.linkedin.com/in/jeff-davis-336b621/
Website:
https://12mavens.com/about/leadership
Freebie:
https://12mavens.com/about/experience-it-in-4-easy-steps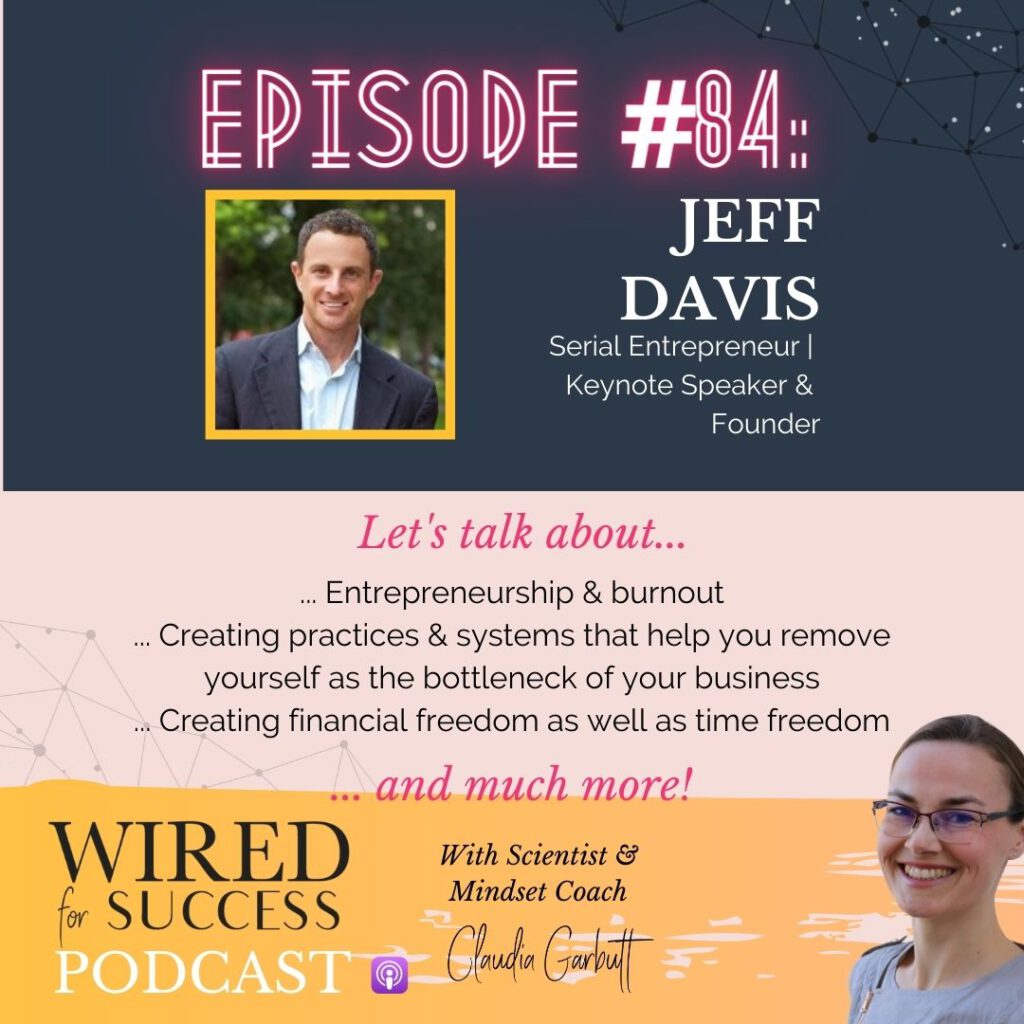 If you enjoyed this episode, learned something new, had an epiphany moment – or were reminded about a simple truth that you had forgotten, please click the "Rate this podcast" button below and leave a review & rating. This is the easiest way to support the show & I really appreciate it.
And if you're interested in working with me, you can book a free 20min strategy session to figure out what your current success blockers are and how I can best help you.
Are you a high-ticket coach or other service-based entrepreneur who wants to launch their own Top10 podcast to increase their authority, credibility & visibility AND to bring in new high-quality leads on autopilot but don't know how to get started? No worries, I've got you covered! 🙂
Download my "Instant Podcast Monetization Guide For High-Ticket Coaches and Service-Based Entrepreneurs".
Looking for great podcast guests for your own show or great shows to guest on? Try PodMatch, the platform that automatically matches ideal podcast hosts and guests for interviews.
Download My Prime-Your-Brain-For-Success Audio File
And Start Priming Your Brain For Success In Less Than 5min Each Day
Recent posts: