EPISODE SUMMARY
Join scientist and mindset & high-performance coach Claudia Garbutt and serial entrepreneur & email marketing expert Liz Wilcox as they discuss how to package your magic and turn it into emails that people actually want to read and – most importantly buy from.
In this episode we talk about:
– Making over 7k selling a book about poop
– Tapping into pop culture to grow your brand
– Writing emails that people want to read and buy from
EPISODE NOTES
Liz Wilcox is an Email Strategist helping bloggers build online relationships, package up their "magic" and turn it into emails that people want to read and, most importantly, purchase from.
In a span of three years, Liz founded, grew, and sold a successful blog. Since selling the blog, she has helped her clients master their sales by leveraging the power of strategic email.

Offline, Liz lives in Florida, loves to run and is a walking 90s pop culture encyclopedia.
Freebie:
Welcome sequence, 3 newsletters to swipe, and 52 subject lines:
https://lizwilcox.ck.page/4072e76815
Instagram:
https://www.instagram.com/thelizwilcox/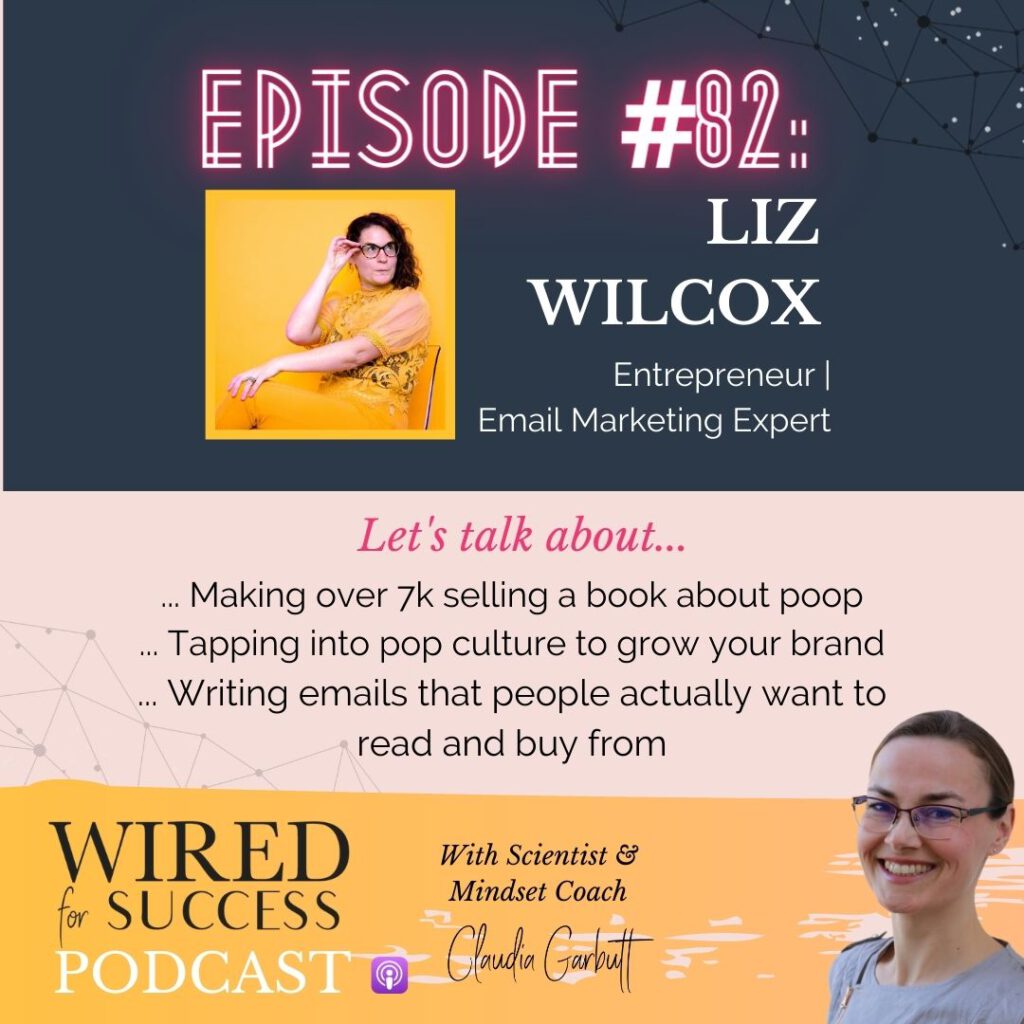 If you enjoyed this episode, learned something new, had an epiphany moment – or were reminded about a simple truth that you had forgotten, please click the "Rate this podcast" button below and leave a review & rating. This is the easiest way to support the show & I really appreciate it.
And if you're interested in working with me, you can book a free 20min strategy session to figure out what your current success blockers are and how I can best help you.
Are you a high-ticket coach or other service-based entrepreneur who wants to launch their own Top10 podcast to increase their authority, credibility & visibility AND to bring in new high-quality leads on autopilot but don't know how to get started? No worries, I've got you covered! 🙂
Download my "Instant Podcast Monetization Guide For High-Ticket Coaches and Service-Based Entrepreneurs".
Looking for great podcast guests for your own show or great shows to guest on? Try PodMatch, the platform that automatically matches ideal podcast hosts and guests for interviews.
Recent posts: