EPISODE SUMMARY
Join scientist and mindset & high-performance coach Claudia Garbutt and mindset coach & serial entrepreneur Vash Tomanec as they discuss mindset for entrepreneurs.
In this episode we talk about:
– Non-negotiables for ambitious entrepreneurs
– Money mindset & self-sabotage
– The simple framework for building million-dollar businesses
EPISODE NOTES
Vash is a 25-year-old serial entrepreneur who has built three successful seven-figure businesses. With his latest venture, Mindtrepreneur, Vash is on a mission to help 1 million entrepreneurs transform their business and live more fulfilled and joyous life by mastering their mindset.
He does it through 1-1 and group coaching, various online programs, in-person masterminds hosted 4x per year.
Links:
https://www.7days7figures.com/
Youtube:
https://www.youtube.com/@VashTomanec
Instagram:
https://www.instagram.com/vash_tomanec/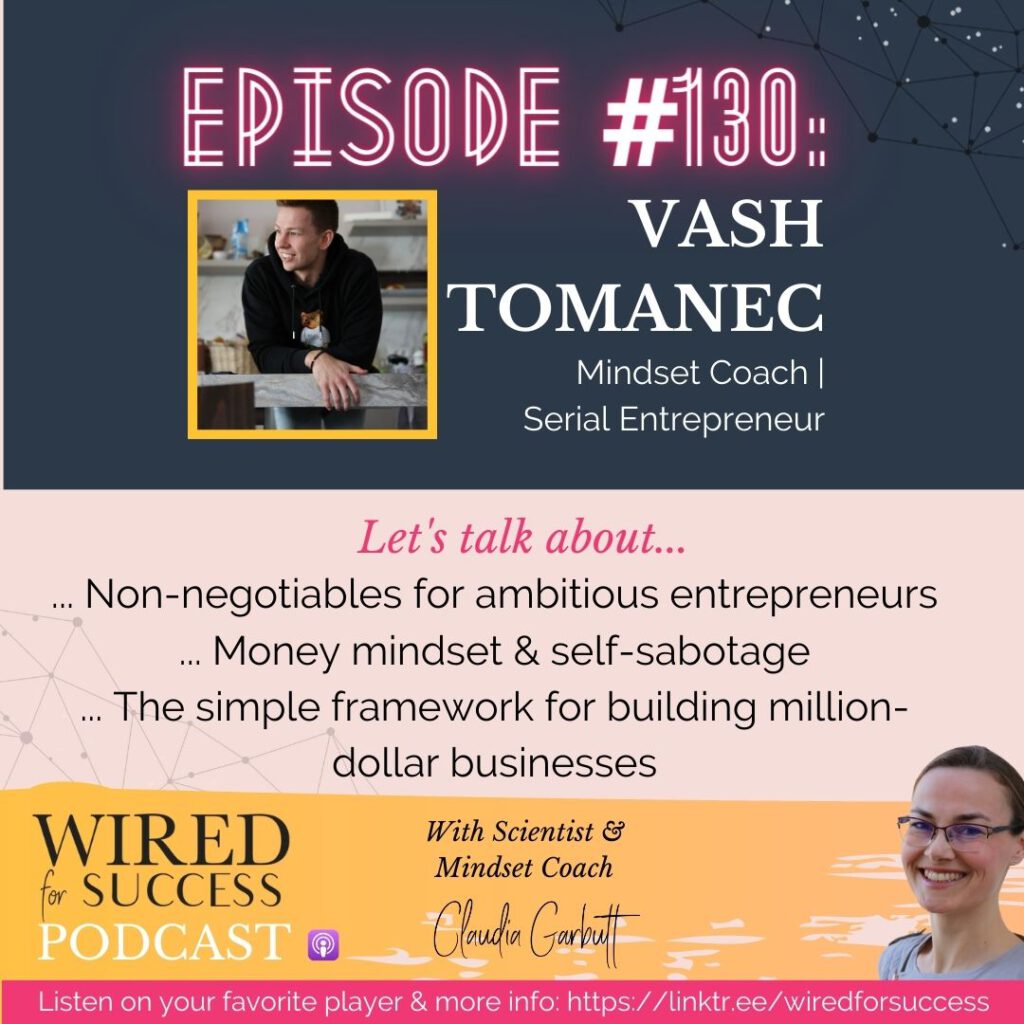 To listen to the episode on your favorite podcast player, find all links here:
https://linktr.ee/wiredforsuccess
If you enjoyed this episode, learned something new, had an epiphany moment – or were reminded about a simple truth that you had forgotten, please click the "Rate this podcast" button below and leave a review & rating. This is the easiest way to support the show & I really appreciate it.
And if you're interested in working with me, you can book a free 20min strategy session to figure out what your current success blockers are and how I can best help you.
Looking for great podcast guests for your own show or great shows to guest on?
Try PodMatch, the platform that automatically matches ideal podcast hosts and guests for interviews. Like Tinder for podcasters.
Or Guestio, the app that helps content creators interview high-level guests. Gives you access to those busy, hard-to-reach, next-level guests that you want to have on your show.
Recent Posts: