EPISODE SUMMARY
Join scientist and mindset & high-performance coach Claudia Garbutt for this short & sweet solo episode to challenge how you think about flow, happiness & achievement.
In this episode, we talk about:
– Allowing things to be easy and fun
– The problem with hyper-focusing on productivity
– When tension has become your default state
EPISODE NOTES
Claudia Garbutt is a molecular biologist turned mindset & high-performance coach who teaches ambitious, mission-driven entrepreneurs the fundamental mechanisms at the intersection of physiology and psychology that drive human behaviour, achievement & wellbeing so that they can finally ditch the hustle, overwhelm & busywork, show up as authentic & confident leaders and build their legacy.
She uses science-based approaches to teach them how they can work WITH their brain & body instead of AGAINST them to stay happy, healthy & productive and achieve their goals without burning out or sacrificing their health, relationships, or happiness.
She's also the host of the Top10 entrepreneurship podcast, the "Wired For Success Podcast" where she talks about all things science, self-development & entrepreneurship that help entrepreneurs build million-dollar businesses – without sacrificing their health, relationships, or happiness.
In her latest venture, the Health Tech Collective, a holistic start-up accelerator program for early-stage health tech entrepreneurs, she sets ambitious founders on the fast track toward sustainable success.
Links:
HealthTech Collective Application Form
LinkedIn:
https://www.linkedin.com/in/claudia-garbutt/
LinkedIn Group: HealthTech Collective – A networking & support group for HealthTech entrepreneurs, biohackers, and health enthusiasts:
https://www.linkedin.com/groups/14306704/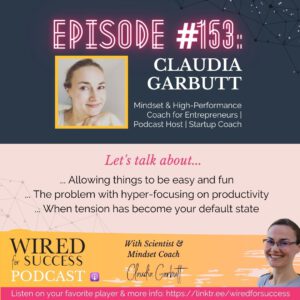 To listen to the full episode on your favorite podcast player, find all links here:
https://linktr.ee/wiredforsuccess
Help me keep this show ad-free and awesome: Hit subscribe and join the tribe! THANK YOU for your support! 🙂
https://podcasters.spotify.com/pod/show/wiredforsuccess/subscribe
And don't forget to click the "Rate this podcast" button below to leave a review & rating. This is the easiest way to support the show & I really appreciate it. THANK YOU! 🙂
And if you're interested in working with me, you can book a free 20min strategy session to figure out what your current success blockers are and how I can best help you.
Looking for great podcast guests for your own show or great shows to guest on?
Try PodMatch, the platform that automatically matches ideal podcast hosts and guests for interviews. Like Tinder for podcasters.
Or Guestio, the app that helps content creators interview high-level guests. Gives you access to those busy, hard-to-reach, next-level guests that you want to have on your show.
Recent Posts: