EPISODE SUMMARY
Join mindset & high-performance coach Claudia Garbutt and Grant Cardone mentee and business growth expert Michael Schill as they talk about what it takes to grow your business and audience.
In this episode we talk about:
– Niching down vs diversifying to grow your business
– Daily habits for sustainable success
– Qualifying your prospects to protect your time & energy
EPISODE NOTES
Michael Schill is a 21st-century entrepreneur who has managed to marry skill sets in business, music, fashion, and professional sports into a one-stop tour de force brand name.
Under the tutelage of New York Times Bestselling author and Real Estate mogul Grant Cardone, Michael has earned an Ivy League-level of schooling in the Public Relations game from a ground zero perspective.
Leveraging his credibility in a multitude of verticals, Michael has been able to demonstrate sustained production and mastery of SAAS Sales over a host of platforms using BI Visualization & Data Analysis all while spearheading the nations premier Sales Team.
Working hand in hand with C-Level Executives and Stakeholders, Michael has a proven track record of implementing and executing big-business initiatives that have been able to drive consistent growth in revenue over a large sample size.
Michael Schill was also an Executive Producer & Stakeholder of 'The Crib Radio Show' on DASH Radio, an Internet radio platform that reaches over 10 million people monthly. The show, 'The Crib', is a vehicle Michael uses to shed light on the Hip Hop/Urban scene by introducing musical acts, social influencers, and industry shakers.
Instagram/ Twitter:
@mikeschill_
Tiktok:
@themikeschill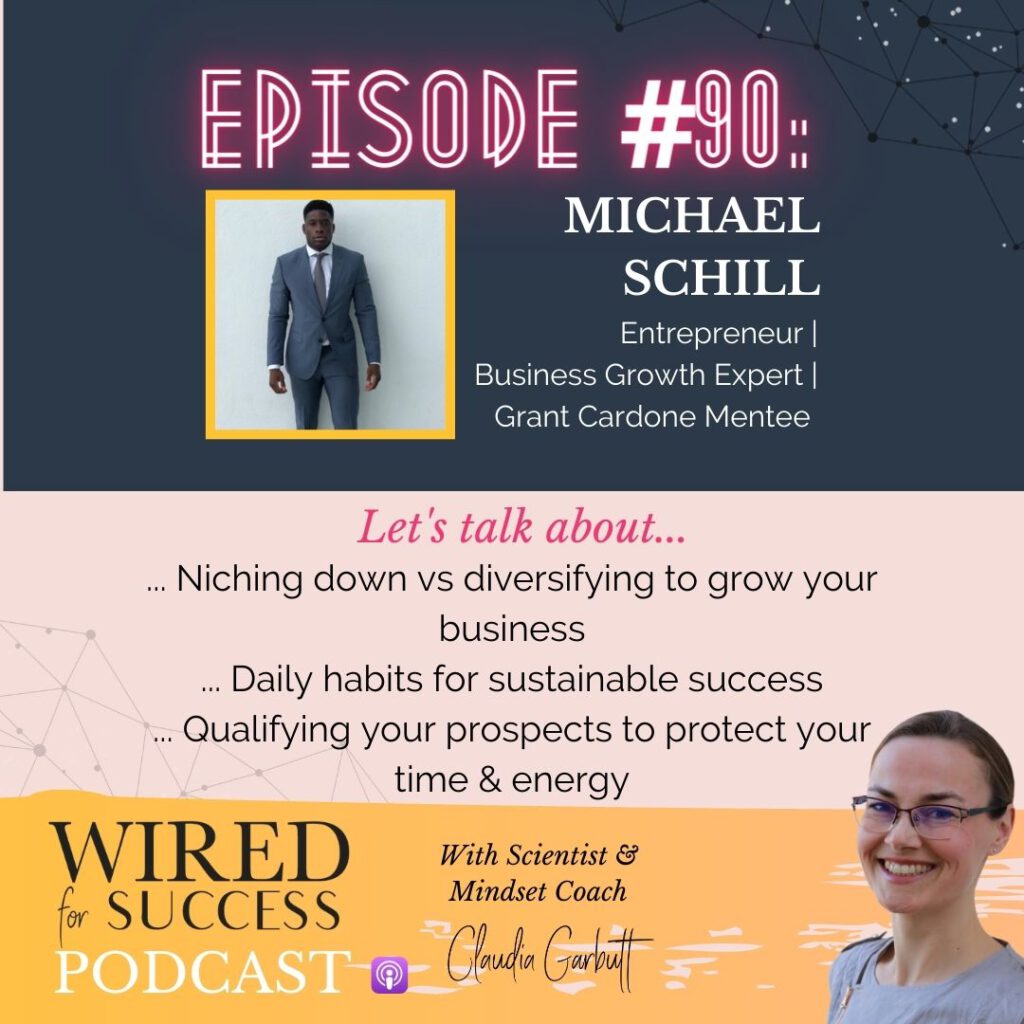 If you enjoyed this episode, learned something new, had an epiphany moment – or were reminded about a simple truth that you had forgotten, please click the "Rate this podcast" button below and leave a review & rating. This is the easiest way to support the show & I really appreciate it.
And if you're interested in working with me, you can book a free 20min strategy session to figure out what your current success blockers are and how I can best help you.
Are you a high-ticket coach or other service-based entrepreneur who wants to launch their own Top10 podcast to increase their authority, credibility & visibility AND to bring in new high-quality leads on autopilot but don't know how to get started? No worries, I've got you covered! 🙂
Download my "Instant Podcast Monetization Guide For High-Ticket Coaches and Service-Based Entrepreneurs".
Looking for great podcast guests for your own show or great shows to guest on?
Try PodMatch, the platform that automatically matches ideal podcast hosts and guests for interviews. Like Tinder for podcasters.
Or Guestio, the app that helps content creators interview high-level guests. Gives you access to those busy, hard-to-reach, next-level guests that you want to have on your show.
Download My Prime-Your-Brain-For-Success Audio File
And Start Priming Your Brain For Success In Less Than 5min Each Day
Recent posts: