EPISODE SUMMARY
Join scientist and mindset & high-performance coach Claudia Garbutt and speaker & coach Steven Fredlund as they discuss decision-making, mindset & leadership.
In this episode we talk about:
– Key decisions that change the trajectory of your life
– Guidelines for making better decisions that lead to more happiness & fulfillment
– The power of intention, alignment & inspired action
EPISODE NOTES
Steve Fredlund is a sought-after innovator engaged to solve the most complex problems. His insights have powered hundreds of breakthroughs in corporations, nonprofits and small businesses. He is the founder and Lead Strategist for Steve Fredlund Solutions and Small Small Business as well as the creator of The Solving BOX™. Currently Steve is focused on improving small business leadership effectiveness, corporate employee engagement and organizational expertise in problem-solving.

Steve knows the highs and lows of leadership. For the past 15 years, he has been on a quest to understand the true driving forces of authentic happiness. As a professional speaker, Steve's insights are transforming the lives of leaders and employees across the country. He has spent his entire life in East Central Minnesota with his wife Tracy and their three, now-grown children. He loves podcasting, poker, disc golf and trying to stay a loyal Minnesota sports fan.
Website:
LinkedIn:
https://www.linkedin.com/in/stevefredlund/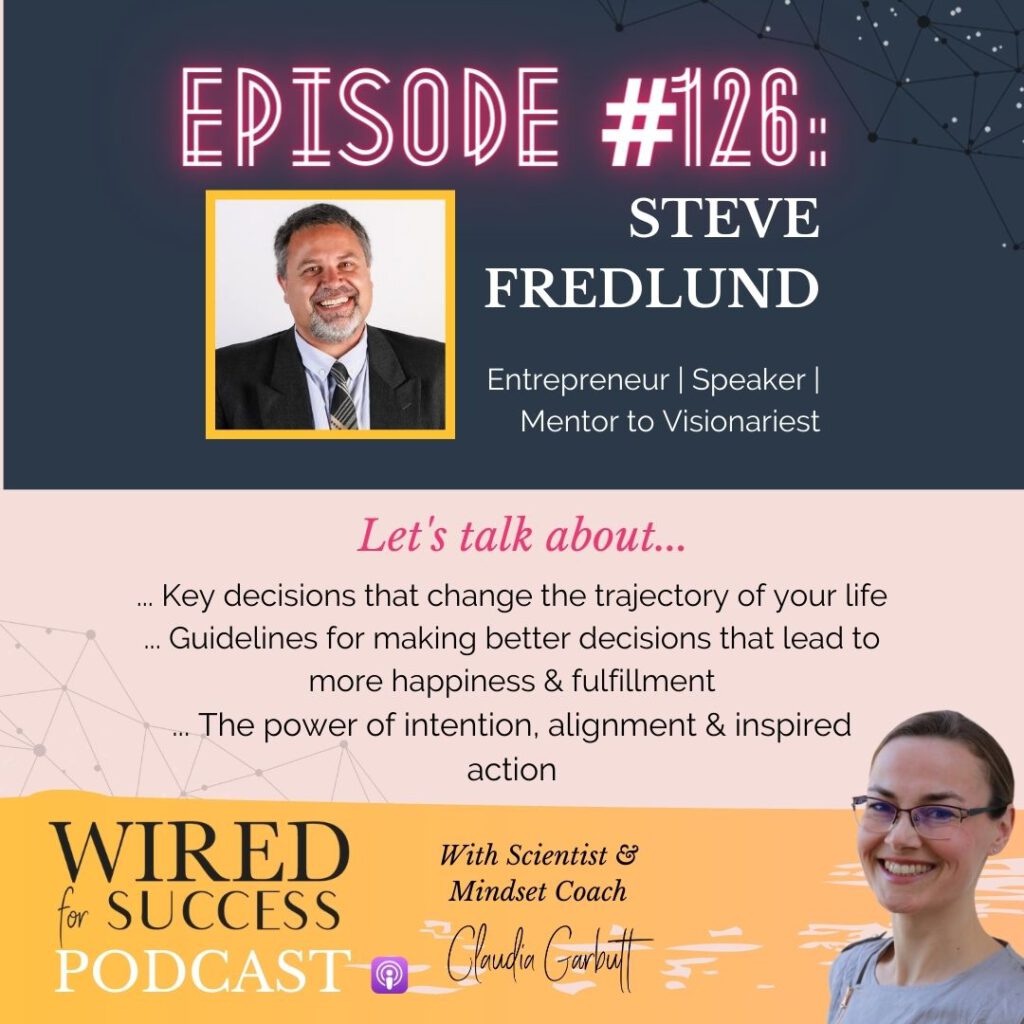 To listen to the episode on your favorite podcast player, find all links here:
https://linktr.ee/wiredforsuccess
If you enjoyed this episode, learned something new, had an epiphany moment – or were reminded about a simple truth that you had forgotten, please click the "Rate this podcast" button below and leave a review & rating. This is the easiest way to support the show & I really appreciate it.
Become a supporter of the show:
https://glow.fm/wiredforsuccesspodcast/
And if you're interested in working with me, you can book a free 20min strategy session to figure out what your current success blockers are and how I can best help you.
Looking for great podcast guests for your own show or great shows to guest on?
Try PodMatch, the platform that automatically matches ideal podcast hosts and guests for interviews. Like Tinder for podcasters.
Or Guestio, the app that helps content creators interview high-level guests. Gives you access to those busy, hard-to-reach, next-level guests that you want to have on your show.
Recent Posts: