EPISODE SUMMARY
Join scientist and mindset & high-performance coach Claudia Garbutt and the "Mother of Holistic Wealth" Keisha Blair as they talk about grief, resilience, and holistic wealth.
In this episode, we talk about:
– Life lessons to help you recover from disruption
– Dealing with grief & becoming resilient
– Small daily habits for living a more fulfilling life
EPISODE NOTES
Keisha Blair is the international bestselling author of Holistic Wealth Expanded and Updated: 36 Life Lessons To Help You Recover From Disruption, Find Your Life Purpose and Achieve Financial Freedom.
She is the Founder of the Institute on Holistic Wealth and host of the Holistic Wealth podcast. She is now considered the Mother of Holistic Wealth and she founded the Holistic Wealth movement.
She is a Harvard-Trained Economist and Policy Expert. She has written articles for the Atlanta Journal-Constitution, Buzzfeed, the New York Observer, Thrive Global, and many more publications. She has been featured in the New York Times, Maria Shriver's Sunday Paper, Essence Mag and many other publications.
On the Holistic Wealth podcast, she has interviewed guests including Actress Kelly Rutherford, Reshma Saujani, Loren Ridinger, CNN Anchor Kirsten Powers, Eve Rodsky and many more.
Links:
@KeishaOBlair (Instagram and Twitter) KeishaBlairAuthor (Facebook) @HolisticWealthpodcast (Instagram and Twitter) Keisha Blair – YouTube @InstituteonHolisticWealth (Instagram)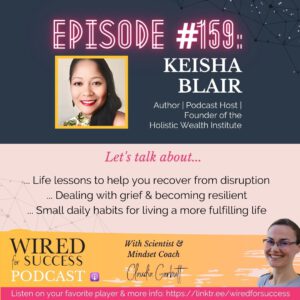 To listen to the full episode on your favorite podcast player, find all links here:
https://linktr.ee/wiredforsuccess
Help me keep this show ad-free and awesome: Hit subscribe and join the tribe! THANK YOU for your support! 🙂
https://podcasters.spotify.com/pod/show/wiredforsuccess/subscribe
And don't forget to click the "Rate this podcast" button below to leave a review & rating. This is the easiest way to support the show & I really appreciate it. THANK YOU! 🙂
And if you're interested in working with me, you can book a free 20min strategy session to figure out what your current success blockers are and how I can best help you.
Looking for great podcast guests for your own show or great shows to guest on?
Try PodMatch, the platform that automatically matches ideal podcast hosts and guests for interviews. Like Tinder for podcasters.
Or Guestio, the app that helps content creators interview high-level guests. Gives you access to those busy, hard-to-reach, next-level guests that you want to have on your show.
Recent Posts: