Join scientist and mindset & high-performance coach Claudia Garbutt and high-ticket mastermind advisor Chris Williams as they discuss entrepreneurship, adventures, lead generation, and creating your own high-ticket mastermind.
In this episode we talk about:
– How to launch & run your own high-ticket mastermind
– Parenthood, entrepreneurship & the importance of daily adventures
– Generating predictable on-profile high-ticket leads
EPISODE NOTES
Chris spends most of his time raising his five kids, exploring world communities, and trying his hand at adventures like shark diving, ice climbing, running ultra marathons, and riding electric skateboards.
In his spare time, he works with entrepreneurial and business experts, speakers, coaches, and leaders helping them market, monetize, and lead their own high-ticket mastermind (or group coaching) programs.
As the world continues to shift, many experts are trying to build high-ticket groups for additional income, lead generation, or impact.
Chris teaches experts how to generate leads, close high-ticket deals, and build strong, transformational groups.
He has his own digital agency, leads two masterminds of his own, and has learned many of these lessons the hard way, so sharing his journey and offering strategies is why he is here.
You can learn more here:
Website:
LinkedIn:
https://www.linkedin.com/in/chriswilliamshq/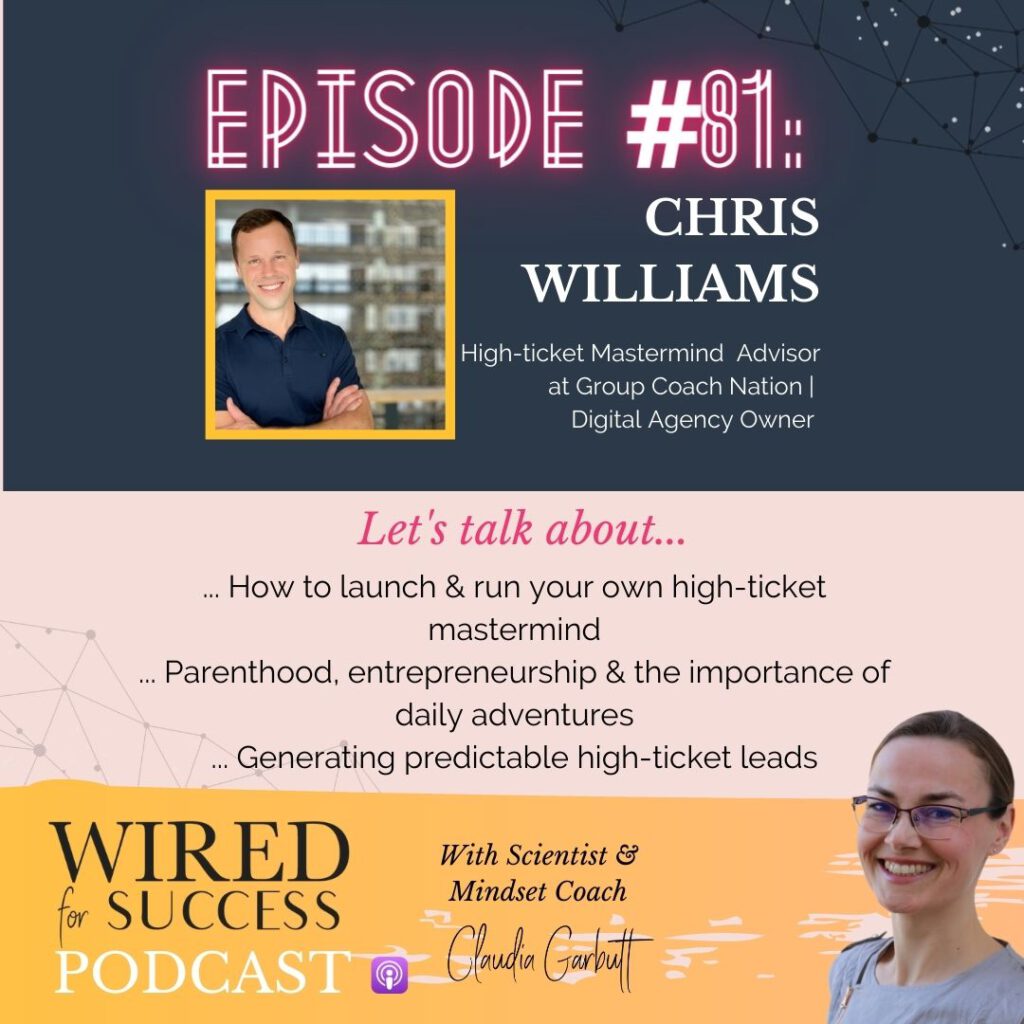 If you enjoyed this episode, learned something new, had an epiphany moment – or were reminded about a simple truth that you had forgotten, please click the "Rate this podcast" button below and leave a review & rating. This is the easiest way to support the show & I really appreciate it.
And if you're interested in working with me, you can book a free 20min strategy session to figure out what your current success blockers are and how I can best help you.
Are you a high-ticket coach or other service-based entrepreneur who wants to launch their own Top10 podcast to increase their authority, credibility & visibility AND to bring in new high-quality leads on autopilot but don't know how to get started? No worries, I've got you covered! 🙂
Download my "Instant Podcast Monetization Guide For High-Ticket Coaches and Service-Based Entrepreneurs".
Looking for great podcast guests for your own show or great shows to guest on? Try PodMatch, the platform that automatically matches ideal podcast hosts and guests for interviews.
Recent posts: