EPISODE SUMMARY
If you love non-fiction books and/or you're a non-fiction book author – the new Leader Are Readers Wired For Success Book Club might be your dream come true! Join me for this short solo episode to find out what this is all about and how you can make the most of this new segment. Plus, learn an important life lesson that will serve you well in different areas of your life.
In this episode we talk about:
– The new Leaders Are Readers – Wired For Success Book Club
– How you can get a world's leading expert to answer your questions about manifesting & wealth creation
– An important life lesson that will help you get to the next level of success
EPISODE NOTES
Claudia Garbutt is a molecular biologist turned mindset & high-performance coach who helps ambitious, mission-driven entrepreneurs ditch the hustle, overwhelm & busywork so that they can show up as authentic & confident leaders, grow million-dollar businesses, and build their legacy.
After launching her Top10 Wired For Success podcast and experiencing the power of podcasting firsthand, she now also teaches other high-ticket coaches & service-based entrepreneurs how to go from best-kept secret to go-to expert by launching their own successful Top10 podcast that they can monetize from the get-go without having to grow a big audience first.
Claudia is German, a wife, mom of 2 kids and 2 cats, a runner, environmentalist, world-traveler, Red Cross volunteer, and cancer survivor.
If you'd like to be considered for a future Leaders Are Readers – Wired For Success Book Club feature you can apply here.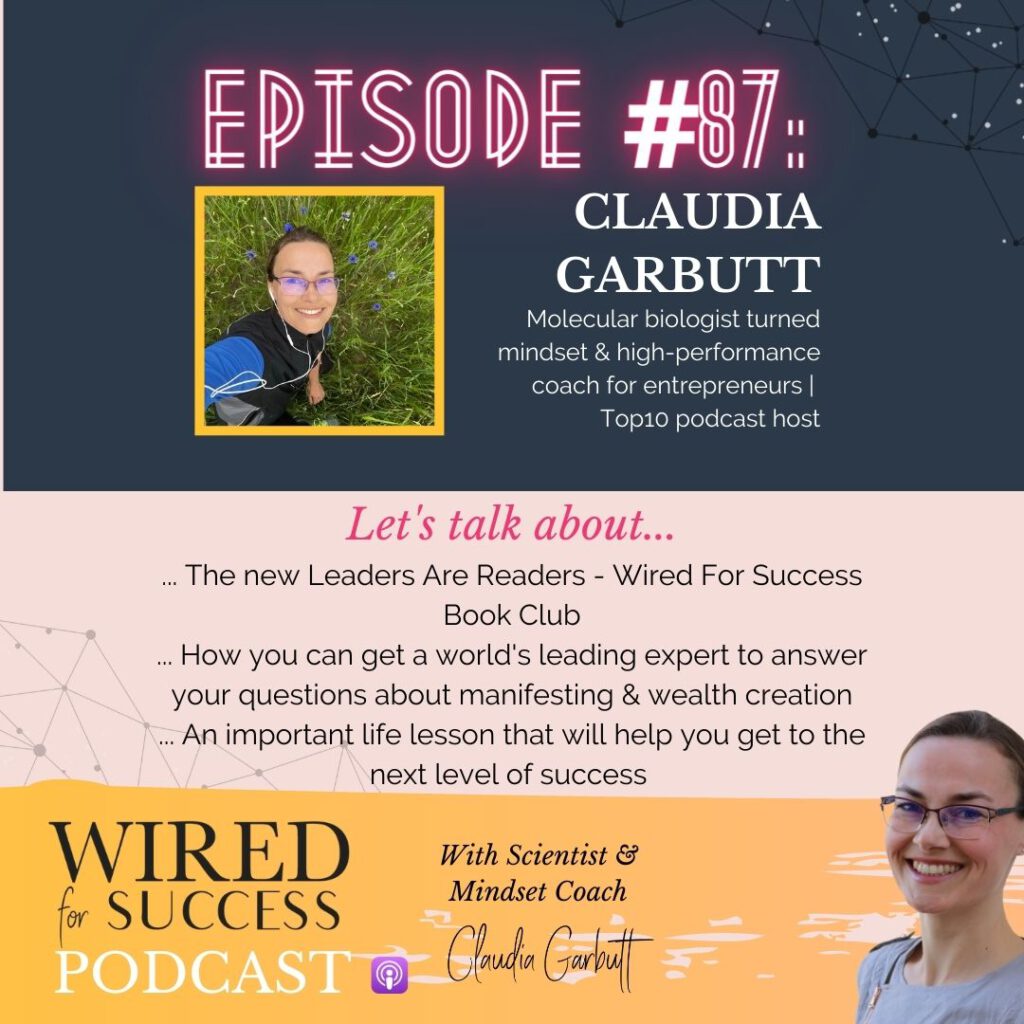 If you enjoyed this episode, learned something new, had an epiphany moment – or were reminded about a simple truth that you had forgotten, please click the "Rate this podcast" button below and leave a review & rating. This is the easiest way to support the show & I really appreciate it.
And if you're interested in working with me, you can book a free 20min strategy session to figure out what your current success blockers are and how I can best help you.
Are you a high-ticket coach or other service-based entrepreneur who wants to launch their own Top10 podcast to increase their authority, credibility & visibility AND to bring in new high-quality leads on autopilot but don't know how to get started? No worries, I've got you covered! 🙂
Download my "Instant Podcast Monetization Guide For High-Ticket Coaches and Service-Based Entrepreneurs".
Looking for great podcast guests for your own show or great shows to guest on? Try PodMatch, the platform that automatically matches ideal podcast hosts and guests for interviews.
Download My Prime-Your-Brain-For-Success Audio File
And Start Priming Your Brain For Success In Less Than 5min Each Day
Recent posts: