EPISODE SUMMARY
Join scientist and mindset & high-performance coach Claudia Garbutt and award-winning architect & serial entrepreneur Lance Cayko as they talk about the ups and downs of entrepreneurship and how to stay happy, healthy, and productive.
In this episode we talk about:
– Overcoming burnout & creating balance
– Empathy vs sympathy
– Lessons from building 3 7-figure businesses
EPISODE NOTES
Lance Cayko is a multi-talented entrepreneur, architect, builder, and podcaster with a diverse background in architecture, construction, and real estate development. He co-founded F9 Productions, a successful design + build firm in Colorado specializing in residential and small commercial projects.
Lance has a degree in Building Construction Technology and a Bachelor of Science in Environmental Design and a Master of Architecture from North Dakota State University. He graduated at the top of his class and won the McKenzie Thesis Award for the most outstanding thesis project.
Lance is an active member of his community, a philanthropist, professional fisherman, and founder of Longmont Community Gardens, a non-profit promoting urban sustainable gardening and education. He lectures at the University of Boulder and co-hosts Inside the Firm, a popular podcast providing insights and advice on architecture, entrepreneurship, and small business ownership.
Links:
f9productions.com
insidethefirmpodcast.com
https://www.linkedin.com/in/lance-cayko-1227031a/
https://www.facebook.com/insidethefirm
https://www.instagram.com/f9productions/?hl=en
https://www.youtube.com/channel/UCkjepLcKfYoxjTphkAGjwVg
https://www.youtube.com/channel/UCu9dKZ4UKiumNIo8l-wjMXg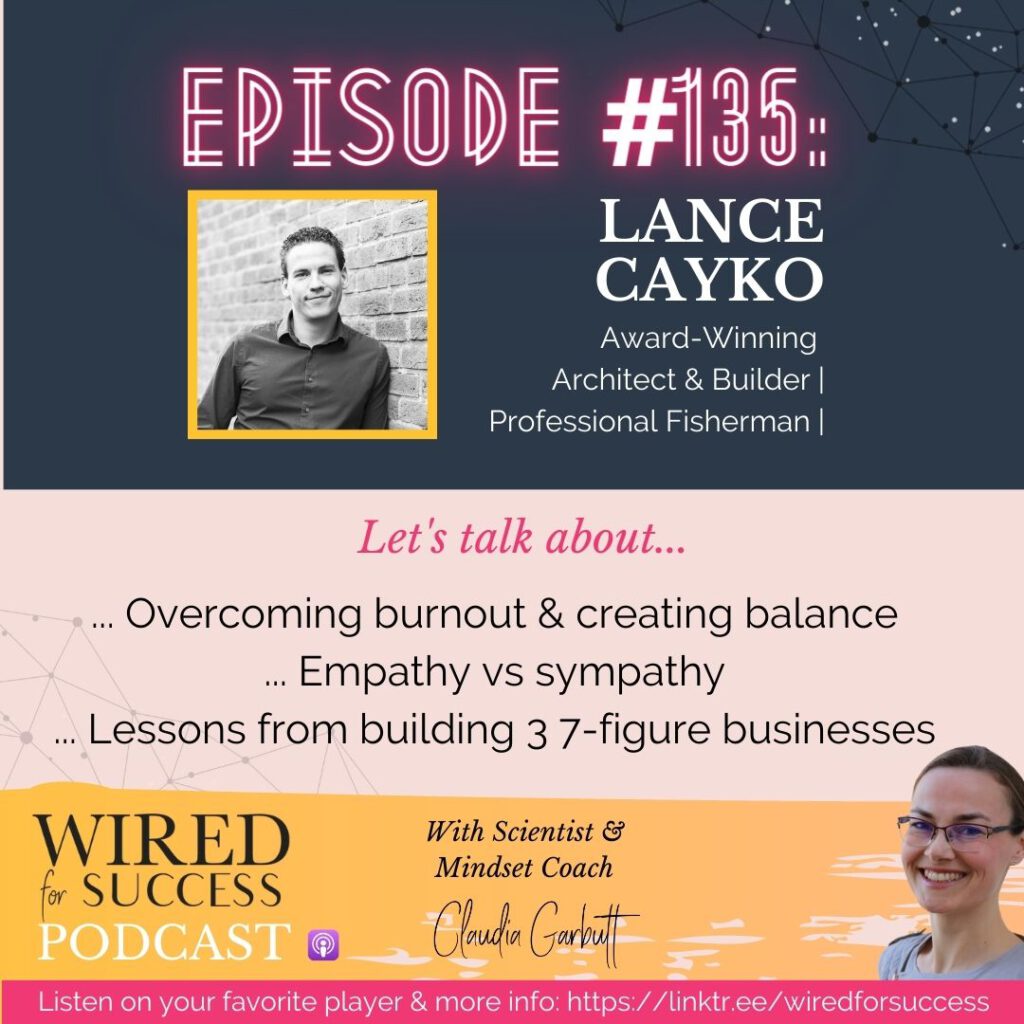 To listen to the episode on your favorite podcast player, find all links here:
https://linktr.ee/wiredforsuccess
If you enjoyed this episode, learned something new, had an epiphany moment – or were reminded about a simple truth that you had forgotten, please click the "Rate this podcast" button below and leave a review & rating. This is the easiest way to support the show & I really appreciate it.
And if you're interested in working with me, you can book a free 20min strategy session to figure out what your current success blockers are and how I can best help you.
Looking for great podcast guests for your own show or great shows to guest on?
Try PodMatch, the platform that automatically matches ideal podcast hosts and guests for interviews. Like Tinder for podcasters.
Or Guestio, the app that helps content creators interview high-level guests. Gives you access to those busy, hard-to-reach, next-level guests that you want to have on your show.
Recent Posts: