EPISODE SUMMARY
Join mindset & high-performance coach Claudia Garbutt and coach and mortgage expert Alec Hanson as they talk about entrepreneurship, learning to be vulnerable, and creating a successful, authentic personal brand.
In this episode we talk about:
– Being authentic and building a successful personal brand
– Debunking industry myths & advice for aspiring mortgage brokers and entrepreneurs
– Creating a winning social media content strategy
EPISODE NOTES
Alec Hanson is a mortgage lender and coach, who is currently the Senior Vice President of Production for LoanDepot's Southwest Division.
Alec has funded countless mortgages over his 17-year career.
In 2010 alone, he lent over $1 Billion dollars to customers.
He has received several awards & achievements, but most recently he received HouseWire's Rising Star award in 2017 and 2019, and has been named the Top 40 under 40 achievers for the National Mortgage Professional Magazine for the past three years.
He is the host of the Modern Lending Podcast, as well as the author of his own books "Bypass" and LoanDepot's Modern Lending Playbook.
You can learn more here:
Instagram:
https://www.instagram.com/alecthehanson/
Facebook:
https://www.facebook.com/alecahanson/
LinkedIn:
https://www.linkedin.com/in/alec-hanson/
Youtube:
https://www.youtube.com/results?search_query=alec+hanson
Twitter:
https://twitter.com/Alechanson/
Book | Bypassed |
Modern Lending Podcast: https://podcasts.apple.com/us/podcast/modern-lending-podcast/id1490528141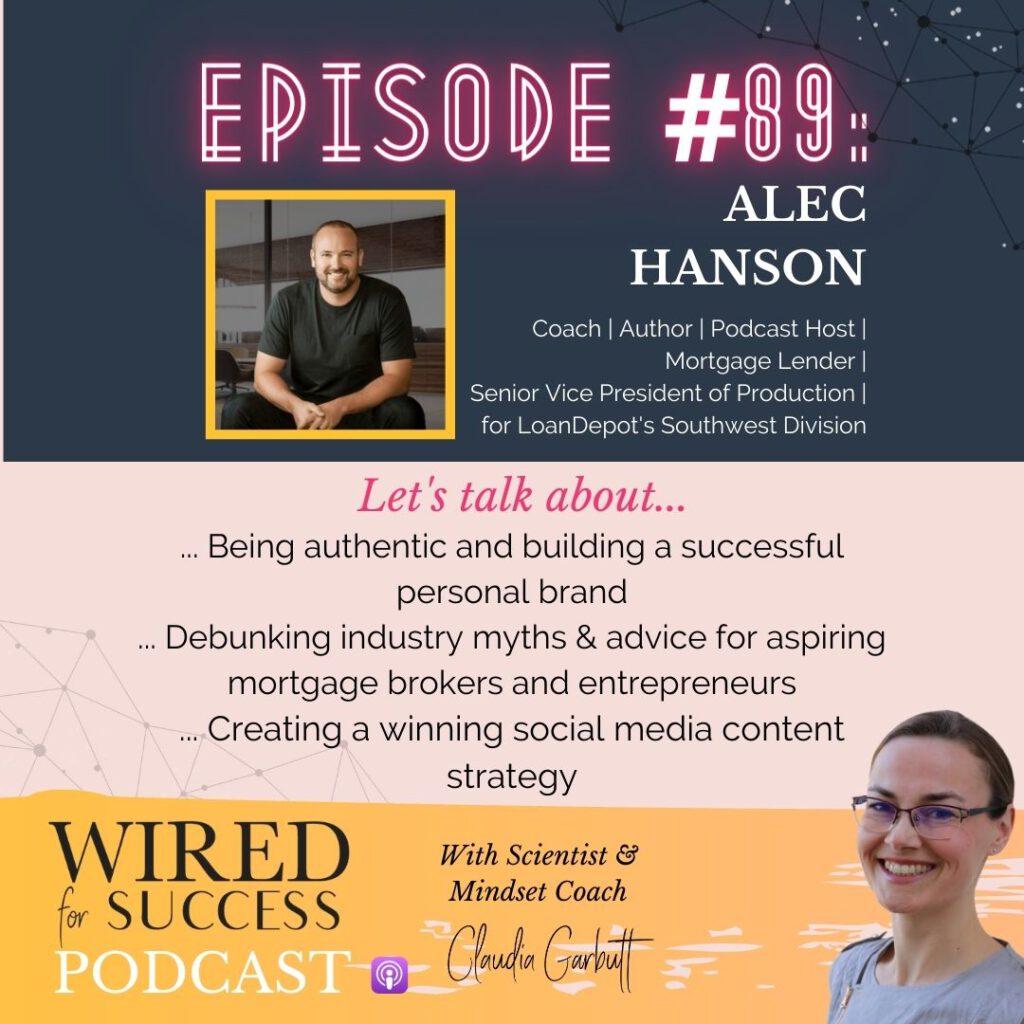 If you enjoyed this episode, learned something new, had an epiphany moment – or were reminded about a simple truth that you had forgotten, please click the "Rate this podcast" button below and leave a review & rating. This is the easiest way to support the show & I really appreciate it.
And if you're interested in working with me, you can book a free 20min strategy session to figure out what your current success blockers are and how I can best help you.
Are you a high-ticket coach or other service-based entrepreneur who wants to launch their own Top10 podcast to increase their authority, credibility & visibility AND to bring in new high-quality leads on autopilot but don't know how to get started? No worries, I've got you covered! 🙂
Download my "Instant Podcast Monetization Guide For High-Ticket Coaches and Service-Based Entrepreneurs".
Looking for great podcast guests for your own show or great shows to guest on?
Try PodMatch, the platform that automatically matches ideal podcast hosts and guests for interviews. Like Tinder for podcasters.
Or Guestio, the app that helps content creators interview high-level guests. Gives you access to those busy, hard-to-reach, next-level guests that you want to have on your show.
Download My Prime-Your-Brain-For-Success Audio File
And Start Priming Your Brain For Success In Less Than 5min Each Day
Recent posts: