EPISODE SUMMARY
Join scientist and mindset & high-performance coach Claudia Garbutt and podcast marketing expert & founder of the Podcast Marketing Academy Jeremy Enns as they talk about growing your podcast through effective marketing.
In this episode, we talk about:
Podcast marketing & podcast funnels
The best podcast marketing strategies to help your show grow
Which podcast stats & performance metrics to track
EPISODE NOTES
Jeremy Enns is the founder of Podcast Marketing Academy, the only growth-focused podcast education platform for experienced creators, brands, and marketers looking to build long-term, sustainable audience growth systems.
He loves any sport that involves a frisbee, used to co-host an explicit-rated ice cream podcast, once rode a bicycle across Europe, and will always look back on the day he finally saved up enough money to buy the Millennium Falcon Lego set as one of his proudest achievements.
Links:
Website:
https://counterweightcreative.co
https://twitter.com/iamjeremyenns
https://www.instagram.com/iamjeremyenns/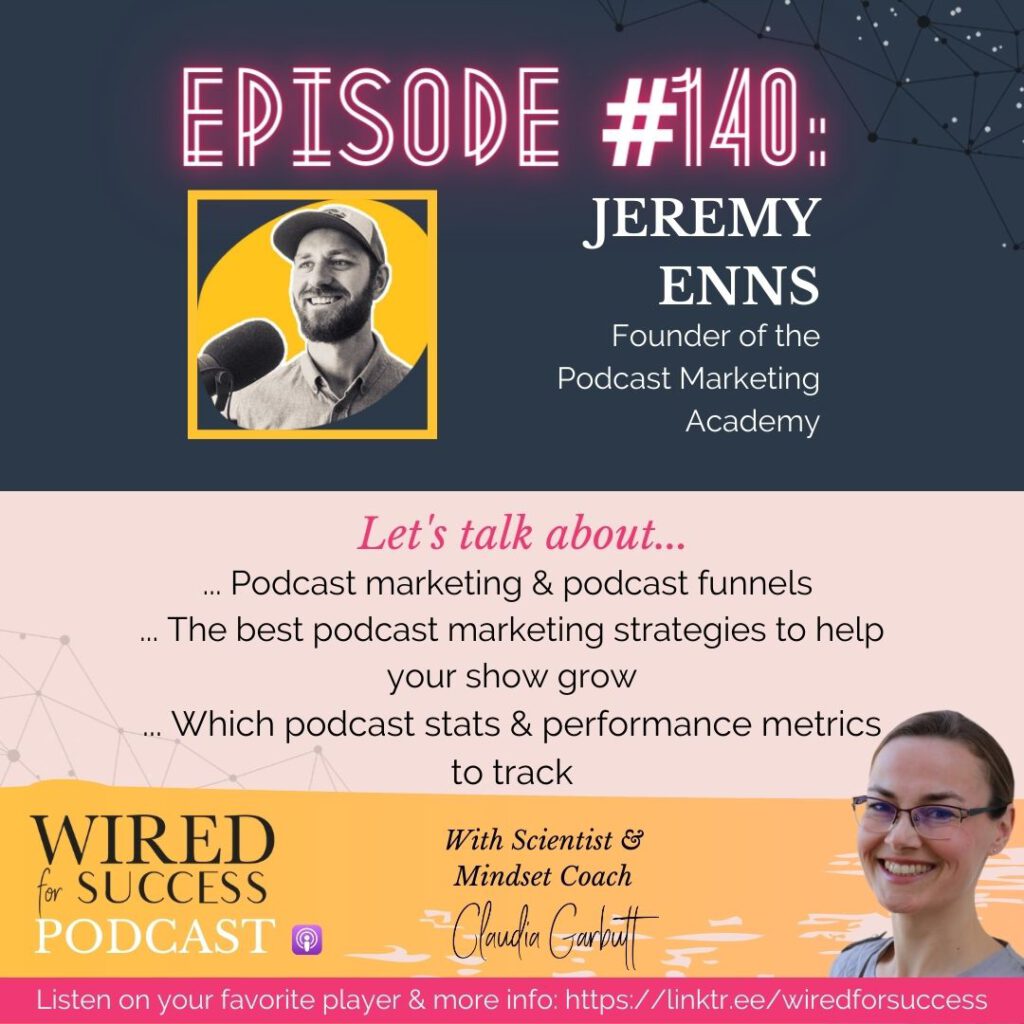 To listen to the episode on your favorite podcast player, find all links here:
https://linktr.ee/wiredforsuccess
If you enjoyed this episode, learned something new, had an epiphany moment – or were reminded about a simple truth that you had forgotten, please click the "Rate this podcast" button below and leave a review & rating. This is the easiest way to support the show & I really appreciate it.
And if you're interested in working with me, you can book a free 20min strategy session to figure out what your current success blockers are and how I can best help you.
Looking for great podcast guests for your own show or great shows to guest on?
Try PodMatch, the platform that automatically matches ideal podcast hosts and guests for interviews. Like Tinder for podcasters.
Or Guestio, the app that helps content creators interview high-level guests. Gives you access to those busy, hard-to-reach, next-level guests that you want to have on your show.
Recent Posts: