EPISODE SUMMARY
Join scientist and mindset & high-performance coach Claudia Garbutt and clinical psychologist & coaching psychologist Dr. Suzy Green as they talk about mindsets, tools, and strategies that help you thrive.
In this episode we talk about:
– Cultivating a positive mindset
– Positive psychology & the power of coaching for performance & wellbeing
– Mental health, social media & technology
EPISODE NOTES
Dr Suzy Green is a Clinical and Coaching Psychologist (MAPS) and Founder & CEO of The Positivity Institute, a Sydney-based positively deviant organisation dedicated to the research and application of the science of optimal human functioning in organisations and schools.
She is a leader in the complementary fields of Coaching Psychology and Positive Psychology having conducted a world-first study on evidence-based coaching as an Applied Positive Psychology.
Suzy has published over twenty academic chapters and peer reviewed journal articles including the Journal of Positive Psychology. She is the co-editor of "Positive Psychology Coaching in Practice" (Green & Palmer, 2018), "Positive Psychology Coaching in the Workplace" (Smith, Boniwell & Green, 2021) and "The Positivity Prescription" (Green, 2019).
Suzy lectured on Applied Positive Psychology as a Senior Adjunct Lecturer in the Coaching Psychology Unit, University of Sydney for ten years and is an Honorary Vice President of the International Society for Coaching Psychology.
Suzy is an Honorary Visiting Professor at the University of East London and holds Honorary Academic positions at the Centre for Wellbeing Science, University of Melbourne, the Black Dog Institute and she is an Affiliate of the Institute for Well-Being, Cambridge University.
Suzy is also a member of the Scientific Advisory Board for Coach Hub, a leading global coaching technology platform. Suzy is an official ambassador for the Starlight Children's Foundation and she maintains a strong media profile appearing on television, radio, and in print.
Website:
LinkedIn – https://au.linkedin.com/in/dr-suzy-green-5197072
Instagram – @drsuzyg
Facebook – The Positivity Institute
Twitter – @DrSuzyGreen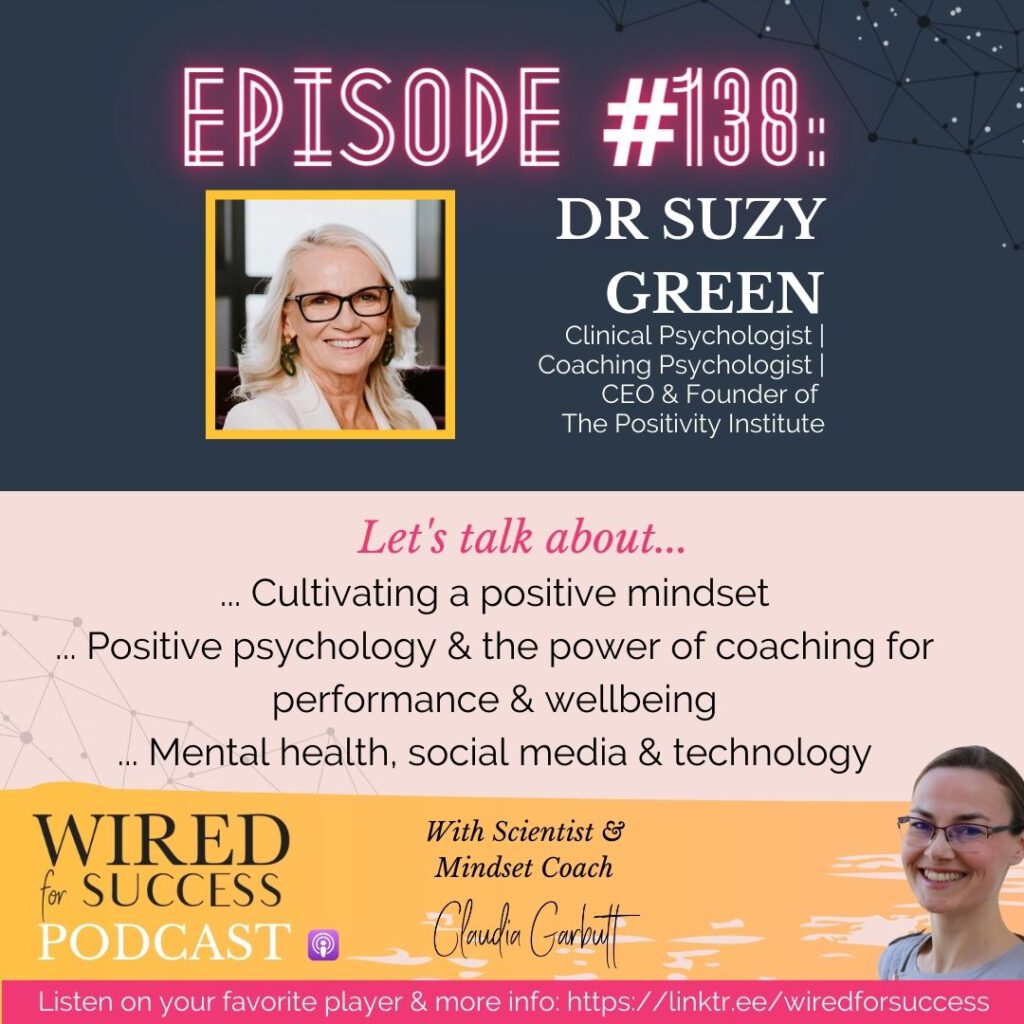 To listen to the episode on your favorite podcast player, find all links here:
https://linktr.ee/wiredforsuccess
If you enjoyed this episode, learned something new, had an epiphany moment – or were reminded about a simple truth that you had forgotten, please click the "Rate this podcast" button below and leave a review & rating. This is the easiest way to support the show & I really appreciate it.
And if you're interested in working with me, you can book a free 20min strategy session to figure out what your current success blockers are and how I can best help you.
Looking for great podcast guests for your own show or great shows to guest on?
Try PodMatch, the platform that automatically matches ideal podcast hosts and guests for interviews. Like Tinder for podcasters.
Or Guestio, the app that helps content creators interview high-level guests. Gives you access to those busy, hard-to-reach, next-level guests that you want to have on your show.
Recent Posts: