EPISODE SUMMARY
Join scientist and mindset & high-performance coach Claudia Garbutt and investor, entrepreneur, and start-up advisor Tim Calise as they discuss the importance of an intention-driven life, prioritizing, and achieving work-life balance.
In this episode, we talk about:
– Raising $325M for an investment company
– Building a 7-figure tech-enabled fitness business with your spouse
– Being an executive team member at GymLaunch with Alex & Leila Hormozi
EPISODE NOTES
Tim is a versatile entrepreneur, investor, consultant, and podcast host who helps service business owners uncover the profits hidden inside of their existing business.
By the age of 25, Tim had raised over $325mm for his investment company before moving onto building a 7 figure tech-enabled fitness business alongside his wife.
Most recently, Tim was one of the 4 Executive Team members at GymLaunch alongside Alex and Leila Hormozi where he oversaw the development and launch of ALAN, a machine learning SaaS company, which grew from zero to $20M ARR in 6 months.
Currently Tim helps make founders dreams come true by implementing his Product to Profit :tm: Framework as a sought after #2 to ambitious founders.
Resources Mentioned
Website:
timcalise.com
Freebie:
timcalise.com/p2p
https://www.linkedin.com/in/tcalise/
https://www.facebook.com/tkcalise
https://www.instagram.com/tim.calise/
https://www.youtube.com/@timcalise
Dan Martell's Book: "Buy Back Your Time"
The concept of "What needs to be true in order for…" for goal setting and achieving a fulfilling life.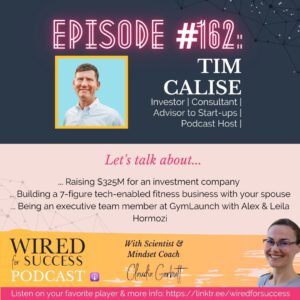 To listen to the full episode on your favorite podcast player, find all links here:
https://linktr.ee/wiredforsuccess
Help me keep this show ad-free and awesome: Hit subscribe and join the tribe! THANK YOU for your support! 🙂
https://podcasters.spotify.com/pod/show/wiredforsuccess/subscribe
And don't forget to click the "Rate this podcast" button below to leave a review & rating. This is the easiest way to support the show & I really appreciate it. THANK YOU! 🙂
And if you're interested in working with me, you can book a free 20min strategy session to figure out what your current success blockers are and how I can best help you.
Looking for great podcast guests for your own show or great shows to guest on?
Try PodMatch, the platform that automatically matches ideal podcast hosts and guests for interviews. Like Tinder for podcasters.
Or Guestio, the app that helps content creators interview high-level guests. Gives you access to those busy, hard-to-reach, next-level guests that you want to have on your show.
Recent Posts: