EPISODE SUMMARY
Join scientist and mindset & high-performance coach Claudia Garbutt and executive & leadership coach/consultant Julie Noonan as they talk about mindset, confidence, change, and leadership.
In this episode, we talk about: 
– Finding the confidence to reinvent yourself
– The mindset shift to help people overcome their resistance to change
– What makes a good leader?
EPISODE NOTES
Julie Noonan is an Executive Coach for women who believe in living lives of unapologetic authenticity, candor, integrity and humor. Julie helps women in business lead with the wisdom of the matriarchs: persevere, nurture, thrive. She tells you the TRUTH, even when it stings.
Julie has more than 30 years of executive-level experience in coaching and consulting and is passionate about changing the conversation around ageism as discrimination – particularly after having been laid off twice in her 50's.
Links:
https://www.jnoonanconsulting.com
https://www.jnoonanconsulting.com/consultation
https://www.linkedin.com/in/jnoonanconsulting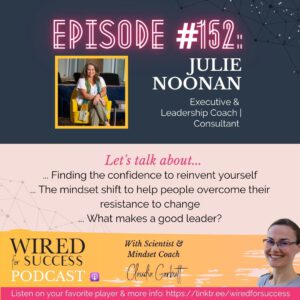 To listen to the full episode on your favorite podcast player, find all links here:
https://linktr.ee/wiredforsuccess
Help me keep this show ad-free and awesome: Hit subscribe and join the tribe! THANK YOU for your support! 🙂
https://podcasters.spotify.com/pod/show/wiredforsuccess/subscribe
And don't forget to click the "Rate this podcast" button below to leave a review & rating. This is the easiest way to support the show & I really appreciate it. THANK YOU! 🙂
And if you're interested in working with me, you can book a free 20min strategy session to figure out what your current success blockers are and how I can best help you.
Looking for great podcast guests for your own show or great shows to guest on?
Try PodMatch, the platform that automatically matches ideal podcast hosts and guests for interviews. Like Tinder for podcasters.
Or Guestio, the app that helps content creators interview high-level guests. Gives you access to those busy, hard-to-reach, next-level guests that you want to have on your show.
Recent Posts: