EPISODE SUMMARY
Join scientist and mindset & high-performance coach Claudia Garbutt and author & business advisor Ian Williams as they talk about saving ourselves as the only path to saving the world.
In this episode we talk about:
– Overcoming addiction & the importance of self-development
– The mystical experience that changed the trajectory of Ian's life
– Leadership strategy & company culture
EPISODE NOTES
Ian C. Williams is an author, speaker, and business advisor. His humanitarian and environmental values were shaped by the landscapes of Minnesota during his youth. Then, a single, mystical, experience transformed his life at the age of 24. A decade of spiritual immersion and self-discovery followed that revealed a fundamental truth: saving ourselves is the only path to saving the world. Now, he devotes himself to generating positive change for the common good through his personal and professional endeavors.
Ian has a Master's in Public Affairs (MPA) with an emphasis in Leadership Strategy and Organizational Culture from the University of Minnesota Humphrey School. His background in education, mindfulness, and regenerative design informs his business advising. He works primarily with mission driven organizations on the front lines of social and environmental justice to help them grow healthy cultures and people, and environmental impact.
Ian's book "Soil & Spirit: Seeds of Purpose, Nature's Insight, & the Deep Work of Transformational Change" will be released on February 21st, 2023.
Links:
https://www.linkedin.com/in/ian-c-williams/
https://www.instagram.com/reviveuandi/?hl=en
https://www.facebook.com/reviveuandi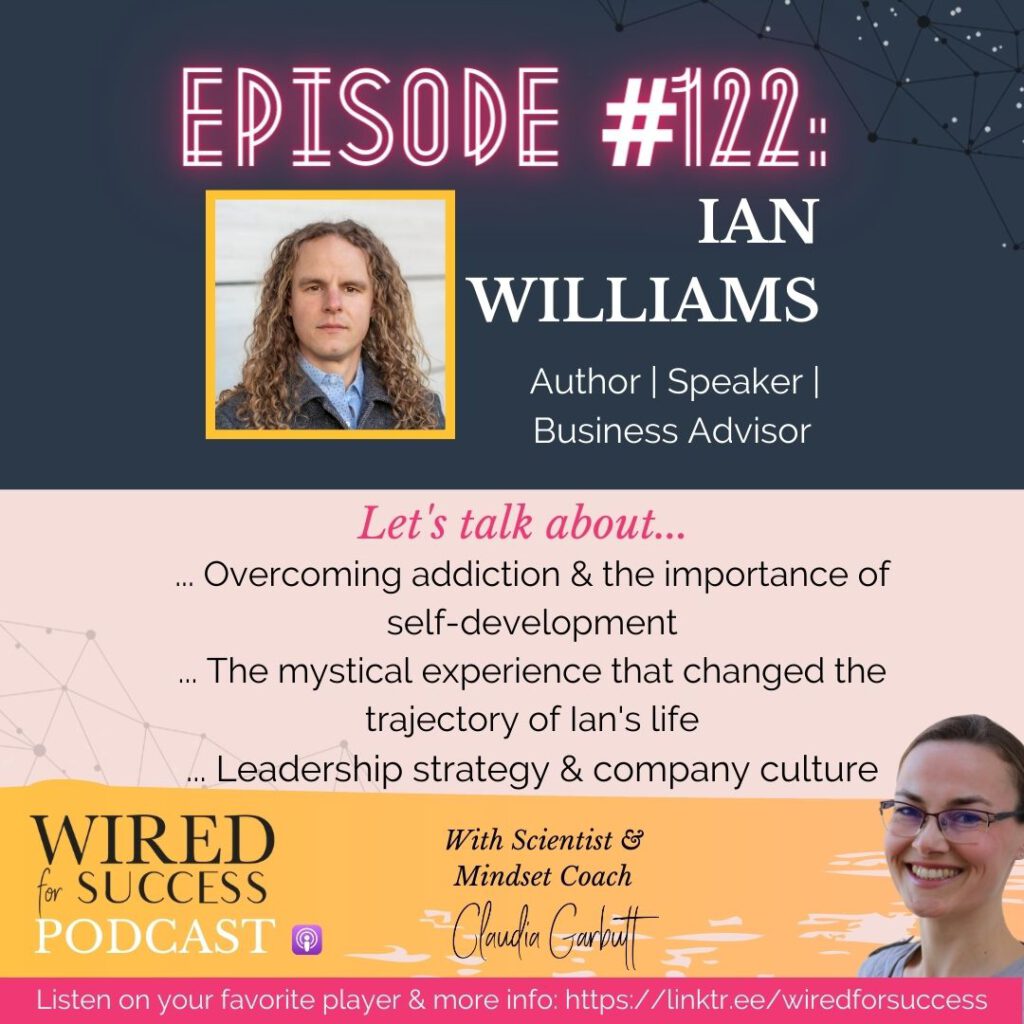 To listen to the episode on your favorite podcast player, find all links here:
https://linktr.ee/wiredforsuccess
If you enjoyed this episode, learned something new, had an epiphany moment – or were reminded about a simple truth that you had forgotten, please click the "Rate this podcast" button below and leave a review & rating. This is the easiest way to support the show & I really appreciate it.
Become a supporter of the show:
https://glow.fm/wiredforsuccesspodcast/
And if you're interested in working with me, you can book a free 20min strategy session to figure out what your current success blockers are and how I can best help you.
Looking for great podcast guests for your own show or great shows to guest on?
Try PodMatch, the platform that automatically matches ideal podcast hosts and guests for interviews. Like Tinder for podcasters.
Or Guestio, the app that helps content creators interview high-level guests. Gives you access to those busy, hard-to-reach, next-level guests that you want to have on your show.
Recent Posts: