EPISODE SUMMARY
If your business is successful but you've reached an income plateau and you don't know how to get to that next level without burning out – maybe you've wondered about what it would take to create an ultra high ticket offer that helps your clients get outstanding results and helps YOU get your life back.
That's exactly what we're talking about in today's episode. Join scientist and mindset & high-performance coach Claudia Garbutt and ultra high ticket business consultant Jessica Yarbrough as we talk about what it takes to sell ultra high ticket offers.
In this episode we talk about:
– Building a 7-figure business as a new mom
– Knowing your value & growing your expert authority online
– Creating ultra high end offers that sell for $25k to $100 or more
EPISODE NOTES
Jessica Yarbrough has quickly developed a reputation of being one of the best business strategists and marketing and sales consultant for entrepreneurs who want to sell high value products and services. Her background is in international business and she has built multiple companies.

Jessica is a genius at showing entrepreneurs how to build an expert platform, rapidly raise their value, build their credibility online and attract high paying clients. She travels the world teaching and inspiring entrepreneurs and helping them grow their influence and make the income and impact they desire.
Website:
Freebie:
https://getstarted.jessicayarbrough.com/ladder-of-influence
LinkedIn:
https://www.linkedin.com/in/jessicayarbrough-bizconsultant/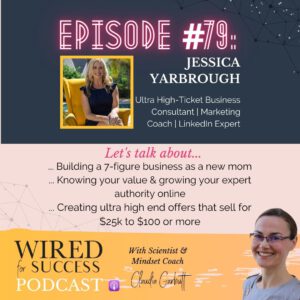 If you enjoyed this episode, learned something new, had an epiphany moment – or were reminded about a simple truth that you had forgotten, please click the "Rate this podcast" button below and leave a review & rating. This is the easiest way to support the show & I really appreciate it.
And if you're interested in working with me, you can book a free 20min strategy session to figure out what your current success blockers are and how I can best help you.
Are you a high-ticket coach or other service-based entrepreneur who wants to launch their own Top10 podcast to increase their authority, credibility & visibility AND to bring in new high-quality leads on autopilot but don't know how to get started? No worries, I've got you covered! 🙂
Download my "Instant Podcast Monetization Guide For High-Ticket Coaches and Service-Based Entrepreneurs".
Looking for great podcast guests for your own show or great shows to guest on? Try PodMatch, the platform that automatically matches ideal podcast hosts and guests for interviews.
Recent posts: