EPISODE SUMMARY
Join scientist and mindset & high-performance coach Claudia Garbutt and the Compliance Evangelist Tom Fox as they discuss the importance of compliance.
In this episode we talk about:
– Why you need to find your passion
– The importance of compliance (and the consequences of non-compliance)
– How to ensure compliance in your business/organization
EPISODE NOTES
Thomas R. Fox – the Compliance Evangelist®
Tom is literally the guy who wrote the book on compliance with the international compliance best seller "The Compliance Handbook, 3rd edition" which was released by LexisNexis in May 2022.
Tom has authored 25 other books on business leadership, compliance and ethics and corporate governance, including the children's best-seller "Being a Compliance Officer is Awesome."
Tom leads the social media discussion on compliance with his award-winning blog, and is the Voice of Compliance, having founded the award-winning Compliance Podcast Network and hosting or producing multiple award-winning podcasts.
He is an Executive leader at the C-Suite Network, the world's most trusted network of C-Suite leaders. He can be reached at tfox@tfoxlaw.com.
Links:
Compliance Podcast Network:
www.compliancepodcastnetwork.net
LinkedIn:
https://www.linkedin.com/in/thomasfox13/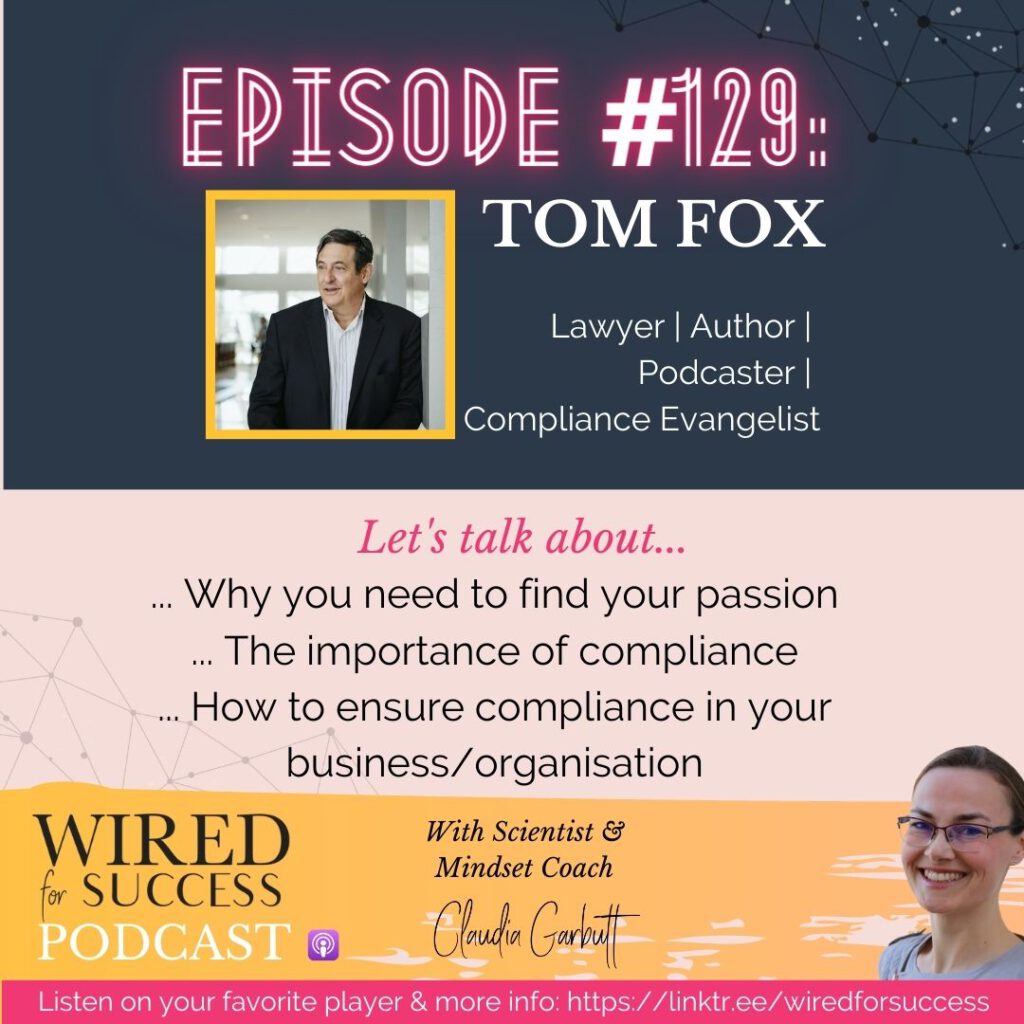 To listen to the episode on your favorite podcast player, find all links here:
https://linktr.ee/wiredforsuccess
If you enjoyed this episode, learned something new, had an epiphany moment – or were reminded about a simple truth that you had forgotten, please click the "Rate this podcast" button below and leave a review & rating. This is the easiest way to support the show & I really appreciate it.
And if you're interested in working with me, you can book a free 20min strategy session to figure out what your current success blockers are and how I can best help you.
Looking for great podcast guests for your own show or great shows to guest on?
Try PodMatch, the platform that automatically matches ideal podcast hosts and guests for interviews. Like Tinder for podcasters.
Or Guestio, the app that helps content creators interview high-level guests. Gives you access to those busy, hard-to-reach, next-level guests that you want to have on your show.
Recent Posts: