EPISODE SUMMARY
Join scientist and mindset & high-performance coach Claudia Garbutt and conscious DJ/producer & biohacking expert Pavel Stuchlik aka NOA|AON as they discuss personal transformation, raising your frequency, and living your best life.
In this episode, we talk about:
– The #noamovement & BDM method
– Favorite biohacking routines & practices
– Creating transformational experiences
EPISODE NOTES
NOA | AON aka Pavel Stuchlik is an expert in self-realization technique + application, international conscious DJ/Producer, serial impact entrepreneur & investor, certified Ambassador of Peace, and Wim Hof Instructor.
NOA means movement; AON is 'all or none'. With #noamovment NOA|AON is bringing people back to their center in union with others. He created the BDM method to combine all of the most effective tools and wisdom from around the world to share with others.
Links:
[Web]: www.noaaon.com
To get 30% off site-wide use code WIRED
90 Days Free On-Demand:
https://sutrapro.com/noaaon/pricing/checkout/zq9vLaB8e9EVzsMstFNk
[Facebook]: NOA|AON
[Instagram]: @Noaaonofficial
[Linkedin]: Pavel Stuchlik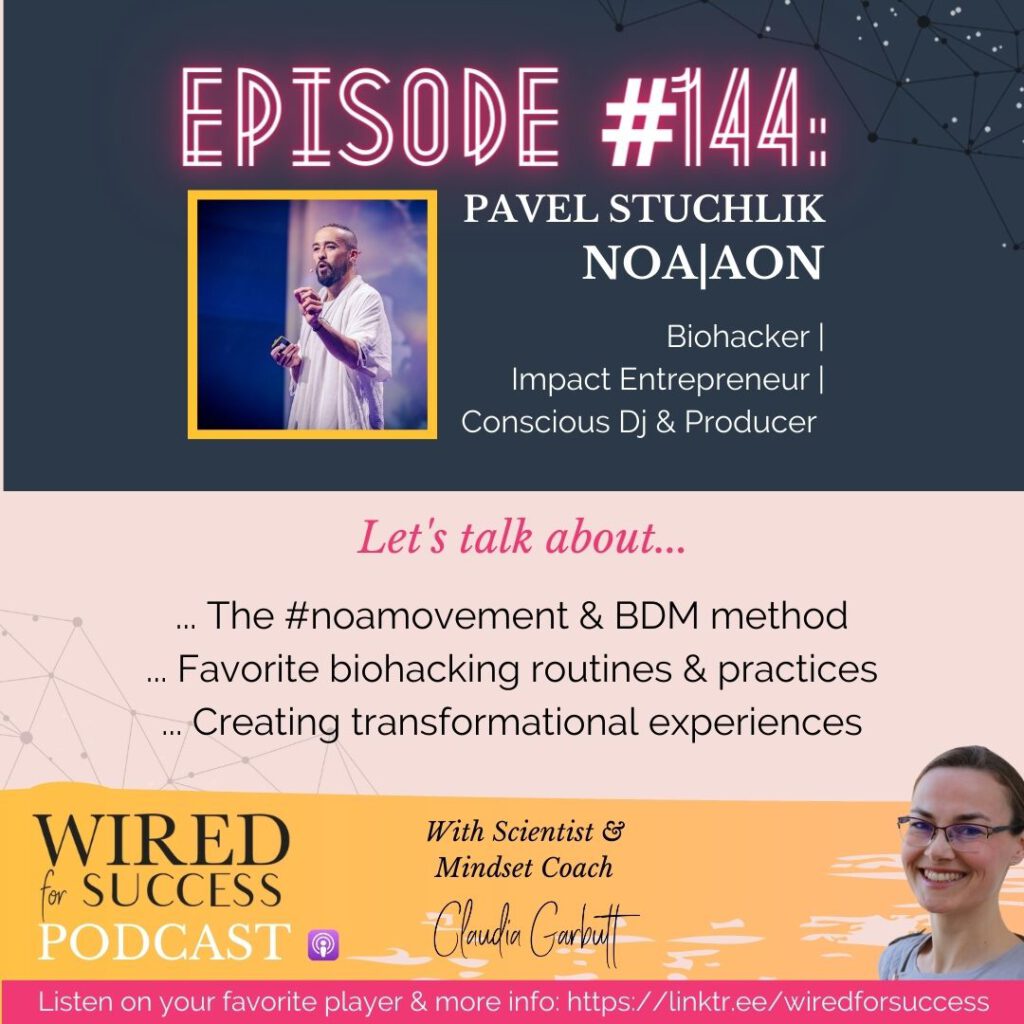 To listen to the episode on your favorite podcast player, find all links here:
https://linktr.ee/wiredforsuccess
Want more? From quick tips & insights to guided meditations and a side of biohacking – if you'd like to join my inner circle and get access to exclusive subscriber-only content: Hit subscribe and join the tribe! THANK YOU for your support! 🙂
https://podcasters.spotify.com/pod/show/wiredforsuccess/subscribe
And don't forget to click the "Rate this podcast" button below to leave a review & rating. This is the easiest way to support the show & I really appreciate it. THANK YOU! 🙂
And if you're interested in working with me, you can book a free 20min strategy session to figure out what your current success blockers are and how I can best help you.
Looking for great podcast guests for your own show or great shows to guest on?
Try PodMatch, the platform that automatically matches ideal podcast hosts and guests for interviews. Like Tinder for podcasters.
Or Guestio, the app that helps content creators interview high-level guests. Gives you access to those busy, hard-to-reach, next-level guests that you want to have on your show.
Recent Posts: