EPISODE SUMMARY
If you're a high-ticket service-based entrepreneur, you most likely are familiar with the old lead gen problem: How do you bring in more leads on a consistent basis without hustling on social media all day long? Find out my solution to this problem in today's short episode.
In this episode you'll learn about:
– The Wired For Success Podcast season 2
– How to start leveraging the power of gratitude today
– The unexpected lead gen solution for high-ticket service-based entrepreneurs
EPISODE NOTES
Claudia Garbutt is a molecular biologist turned mindset & high-performance coach who helps ambitious, mission-driven entrepreneurs ditch the hustle, overwhelm & busywork so that they can show up as authentic & confident leaders and build their legacy.
She is also the host of the Top10 entrepreneurship podcast, the "Wired For Success Podcast" where we talk about all things science, self-development & entrepreneurship that help you get to that next level of success in your life and business with more joy and ease.
In her coaching business, she uses high-level neuroscience-based coaching to help driven high-achievers build their empires without sacrificing their health, relationships, or happiness along the way.
Looking for high-performance coaching? Learn more here.
Wanna start your own successful Top100 podcast? Learn more here.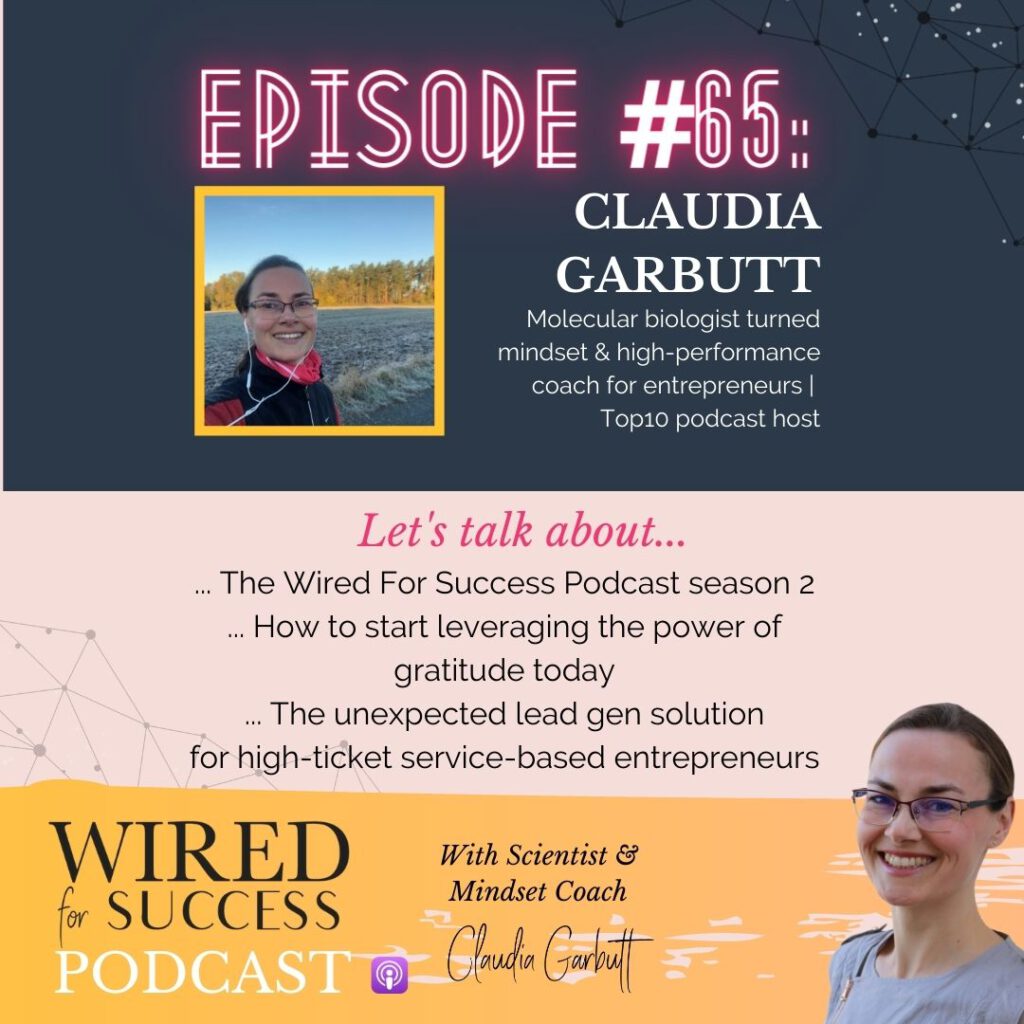 Or listen on:
If you enjoyed this episode, learned something new, had an epiphany moment – or were reminded about a simple truth that you had forgotten, please click the "Rate this podcast" button below and leave a review & rating. This is the easiest way to support the show & I really appreciate it.
Oh, and make sure you subscribe to the podcast so you don't miss out on any of the amazing future episodes!
And if you're interested in working with me, you can book a free 20min strategy session to figure out what your current success blockers are and how I can best help you.
---

Recent posts: