EPISODE SUMMARY
Join scientist and mindset & high-performance coach Claudia Garbutt and Retired Ob/Gyn physician, Healer, Mentor, and Transformational Facilitator Karen Jones as they discuss feminine empowerment and holistic health.
In this episode you'll learn about:
– Feminine empowerment & how it helps women lead a more meaningful life
– Mixing traditional Western medicine with energy healing
– Daily habits & rituals that keep your mind and body healthy
EPISODE NOTES
Karen empowers high achieving women who are successful but unhappy, to experience feminine embodiment and deep connection to themselves, and have the inner transformation they need to create an inspired vibrant luscious, and meaning-filled life!
Karen is a retired Ob/Gyn physician, plus a healer, mentor, and Transformational Facilitator. For over 28 years she had a thriving medical practice in Seattle and supported women with their health care needs integrating the holistic with the medical. During that time she also studied mind-body connection, attended the Barbara Brennan School of Healing, and became an energy healing practitioner.  More recently she was inspired to study Feminine Power and become a Transformational Facilitator.
Today she works even more deeply with the core issues of embodying the feminine in our world today. All her previous experiences in medicine, energy healing, and personal/spiritual growth have given her great insight which she weaves into her programs, sessions, and speaking.
Freebie:https://karenjones910.lpages.co/opt-in-the-essential-guide/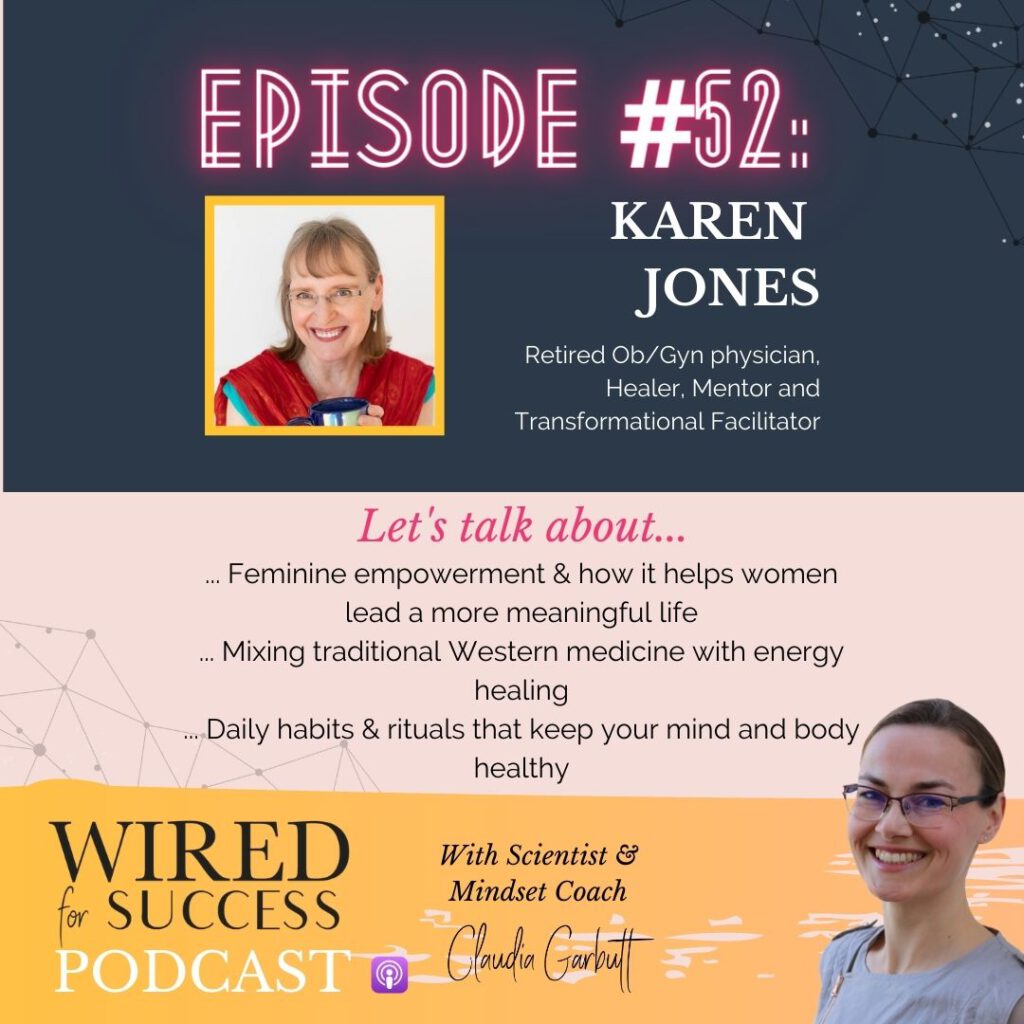 If you enjoyed this episode, learned something new, had an epiphany moment – or were reminded about a simple truth that you had forgotten, please let me know by leaving a review and a comment!
I'm always open to suggestions – maybe you have a specific topic in mind that you would love to learn more about or you know someone who would be a fantastic guest for this show – leave a comment and let me know!
Oh, and make sure you subscribe to the podcast so you don't miss out on any of the amazing future episodes! You can subscribe here: https://podcasts.apple.com/de/podcast/wired-for-success-podcast/id1523287703
Work with me
And if you're interested in working with me, you can book a free 20min strategy session to discuss how I can best help you.
---
Recent posts: