EPISODE SUMMARY
Join scientist and mindset & high-performance coach Claudia Garbutt and the "AI guy" Calum Chase as they talk about the power & potential of artificial intelligence.
In this episode we talk about:
– The rise & potential of artificial intelligence
– Moral & ethical implications of advanced technology
– The 2 singularities and their impact on humanity
EPISODE NOTES
Calum is a sought-after keynote speaker and best-selling writer on artificial intelligence. He focuses on the medium- and long-term impact of AI on all of us, our societies, and our economies.
In the last five years, Calum has given over 120 talks in 18 countries on five continents. Videos of his talks and lots of other materials are available at www.pandoras-brain.com.
He is co-founder of a think tank focused on the future of jobs, called the Economic Singularity Foundation. The Foundation has published Stories from 2045, a collection of short stories written by its members.
Before becoming a full-time writer and speaker, Calum had a 30-year career in journalism and in business, as a marketer, a strategy consultant and a CEO. He studied philosophy at Oxford University, which confirmed his suspicion that science fiction is actually philosophy in fancy dress.
You can learn more here:
Website:
www.pandoras-brain.com
Book: The Economic Singularity: Artificial intelligence and the death of capitalism
LinkedIn:
https://www.linkedin.com/in/calum-chace-bb68168/
---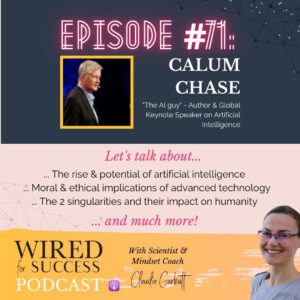 If you enjoyed this episode, learned something new, had an epiphany moment – or were reminded about a simple truth that you had forgotten, please click the "Rate this podcast" button below and leave a review & rating. This is the easiest way to support the show & I really appreciate it.
Oh, and make sure you subscribe to the podcast so you don't miss out on any of the amazing future episodes!
And if you're interested in working with me, you can book a free 20min strategy session to figure out what your current success blockers are and how I can best help you.
Are you a high-ticket coach or other service-based entrepreneur who wants to launch their own Top10 podcast to increase their authority, credibility & visibility AND to bring in new high-quality leads on autopilot but don't know how to get started? No worries, I've got you covered! 🙂
Download my "Instant Podcast Monetization Guide For High-Ticket Coaches and Service-Based Entrepreneurs".
Recent posts: