EPISODE SUMMARY
Join scientist and mindset & high-performance coach Claudia Garbutt and author and advisor Nathanael Novosel as they discuss the meaning of life, human behavior, and finding your purpose.
In this episode we talk about:
– The meaning of life
– Human behavior, autism & community
– Perfect child syndrome & following rules
EPISODE NOTES
Nathanael has been analyzing the drivers of humans' sense of meaning for over 30 years, and his book dissecting the eight-core factors has won over 11 Book of the Year awards and accolades.
Additionally, Nathanael has been advising the world's leading executives for over 17 years and was recognized as Advisor of the Year in 2019.
Nathanael's mission is to help any and all people who are looking for more meaning in their lives to have unbiased support in figuring it out for themselves.
You can learn more here:
Website:
https://yourmeaninginlife.com/
Facebook:
https://www.facebook.com/LifetheBook/
Book:
https://yourmeaninginlife.com/book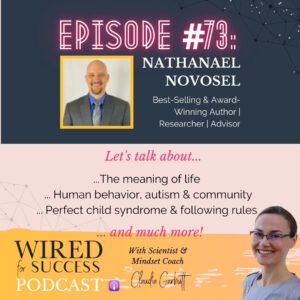 If you enjoyed this episode, learned something new, had an epiphany moment – or were reminded about a simple truth that you had forgotten, please click the "Rate this podcast" button below and leave a review & rating. This is the easiest way to support the show & I really appreciate it.
Oh, and make sure you subscribe to the podcast so you don't miss out on any of the amazing future episodes!
And if you're interested in working with me, you can book a free 20min strategy session to figure out what your current success blockers are and how I can best help you.
Are you a high-ticket coach or other service-based entrepreneur who wants to launch their own Top10 podcast to increase their authority, credibility & visibility AND to bring in new high-quality leads on autopilot but don't know how to get started? No worries, I've got you covered! 🙂
Download my "Instant Podcast Monetization Guide For High-Ticket Coaches and Service-Based Entrepreneurs".
Recent posts: