EPISODE SUMMARY
Join scientist and mindset & high-performance coach Claudia Garbutt and Co-Founder & President of Kennetik Kommunications Robert Kennedy III as they discuss finding your voice and crafting unique stories.
In this episode we talk about:
– Overcoming the fear of public speaking
– What makes a great signature story
– The neuroscience behind storytelling
EPISODE NOTES
Robert Kennedy III is the Co-Founder and President of Kennetik Kommunications.
He is a serial entrepreneur and started his first
business in 2001, an online music promotion portal with an internet radio station.
He is an award-winning public speaker, corporate trainer, and author. His books include 28 Days To A New Me, 7 Ways To Know You Should Lead, and Find Your Voice: 28 Secrets To Help You Speak Up and Speak Out.
Robert has a background in education, media, and radio.
Through his training company, he works with leaders
who need to deliver critical messages with confidence. He lives in the state of Maryland, where he has been featured on FOX and CW for his work around confident communication.
You can learn more here:
Website:
LinkedIn:
https://www.linkedin.com/in/robertkennedy3/
YouTube:
https://www.youtube.com/robertkennedy3
Instagram:
https://www.instagram.com/robertkennedy3/
Podcast:
https://podcasts.apple.com/us/podcast/whats-my-story/id1554284309?uo=4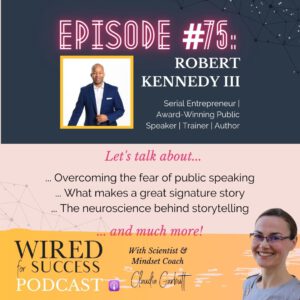 ——————————————————-
If you enjoyed this episode, learned something new, had an epiphany moment – or were reminded about a simple truth that you had forgotten, please click the "Rate this podcast" button below and leave a review & rating. This is the easiest way to support the show & I really appreciate it.
Oh, and make sure you subscribe to the podcast so you don't miss out on any of the amazing future episodes!
And if you're interested in working with me, you can book a free 20min strategy session to figure out what your current success blockers are and how I can best help you.
Are you a high-ticket coach or other service-based entrepreneur who wants to launch their own Top10 podcast to increase their authority, credibility & visibility AND to bring in new high-quality leads on autopilot but don't know how to get started? No worries, I've got you covered! 🙂
Download my "Instant Podcast Monetization Guide For High-Ticket Coaches and Service-Based Entrepreneurs".
Recent posts: