EPISODE SUMMARY
Join scientist and mindset & high-performance coach Claudia Garbutt and entrepreneur & co-founder of Topia Daniel Liebeskind as they discuss building great communities online, the future of the internet, and staying healthy, happy & productive as an ambitious, mission-driven entrepreneur.
In this episode we talk about:
– Community, connection & responsibility- Developing a framework for improving productivity on a daily basis- The metaverse, the evolution of the internet & creating authentic social experiences online

EPISODE NOTES
Daniel Liebeskind is the founder and CEO of Topia, a fully customizable spatial-based virtual gathering platform that launched in May 2020.
Topia found quick success by Summer, hosting over 25,000 people as a co-sponsor of Burning Man, providing virtual event spaces for Fortune 100 companies, IPO celebrations, and music festivals, as well as hosting birthday parties, reunions, and workspaces.
Daniel's vision has led to a platform that allows anyone to create their own event space for free and allows us to connect in social spaces wherever we are in the world.
Easy to access with no downloads and simple to customize and create with an ever-expanding asset marketplace, Topia is the best and certainly most fun way to get together when we're apart.
Learn more here:
Website: https://topia.io/
LinkedIn: https://www.linkedin.com/in/dliebeskind/
Twitter: https://twitter.com/topiaio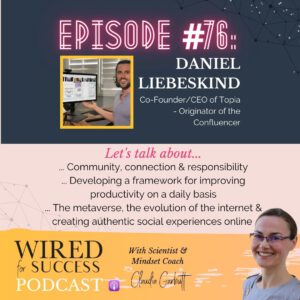 ——————————————————-
If you enjoyed this episode, learned something new, had an epiphany moment – or were reminded about a simple truth that you had forgotten, please click the "Rate this podcast" button below and leave a review & rating. This is the easiest way to support the show & I really appreciate it.
Oh, and make sure you subscribe to the podcast so you don't miss out on any of the amazing future episodes!
And if you're interested in working with me, you can book a free 20min strategy session to figure out what your current success blockers are and how I can best help you.
Are you a high-ticket coach or other service-based entrepreneur who wants to launch their own Top10 podcast to increase their authority, credibility & visibility AND to bring in new high-quality leads on autopilot but don't know how to get started? No worries, I've got you covered! 🙂
Download my "Instant Podcast Monetization Guide For High-Ticket Coaches and Service-Based Entrepreneurs".
Recent posts: