EPISODE SUMMARY
Join scientist and mindset & high-performance coach Claudia Garbutt and the "Book Professor" Nancy Erickson as they discuss writing non-fiction book that helps you grow your business, audience & authority.
In this episode we talk about:
– How writing a nonfiction book can help you grow your business & authority
– Can you use AI to write your book?
– How to avoid common mistakes as a new author
EPISODE NOTES
Before becoming a book coach and award-winning publisher, Nancy Erickson had a wide array of business expertise. She formerly worked for both IBM and Oracle Corporations, selling high-end software solutions to Fortune 500 businesses. Faced with a family crisis in 2006, she changed her career direction, went back to school to get a Masters degree in Writing, taught at the university level, and started the award-winning nonfiction publishing house, Stonebrook Publishing.
In 2011, she developed a step-by-step process to help entrepreneurs, business owners, coaches, and speakers expand their business by writing a nonfiction book that can be repurposed in to other revenue-producing products. The book establishes that person as an expert in their field, increases their credibility, helps attract a following, and is the launchpad for expanding their business. Since then, she's helped hundreds of authors achieve their dream and grow their business.
Links:
https://www.facebook.com/TheBookProfessor/
https://www.linkedin.com/in/nancylerickson/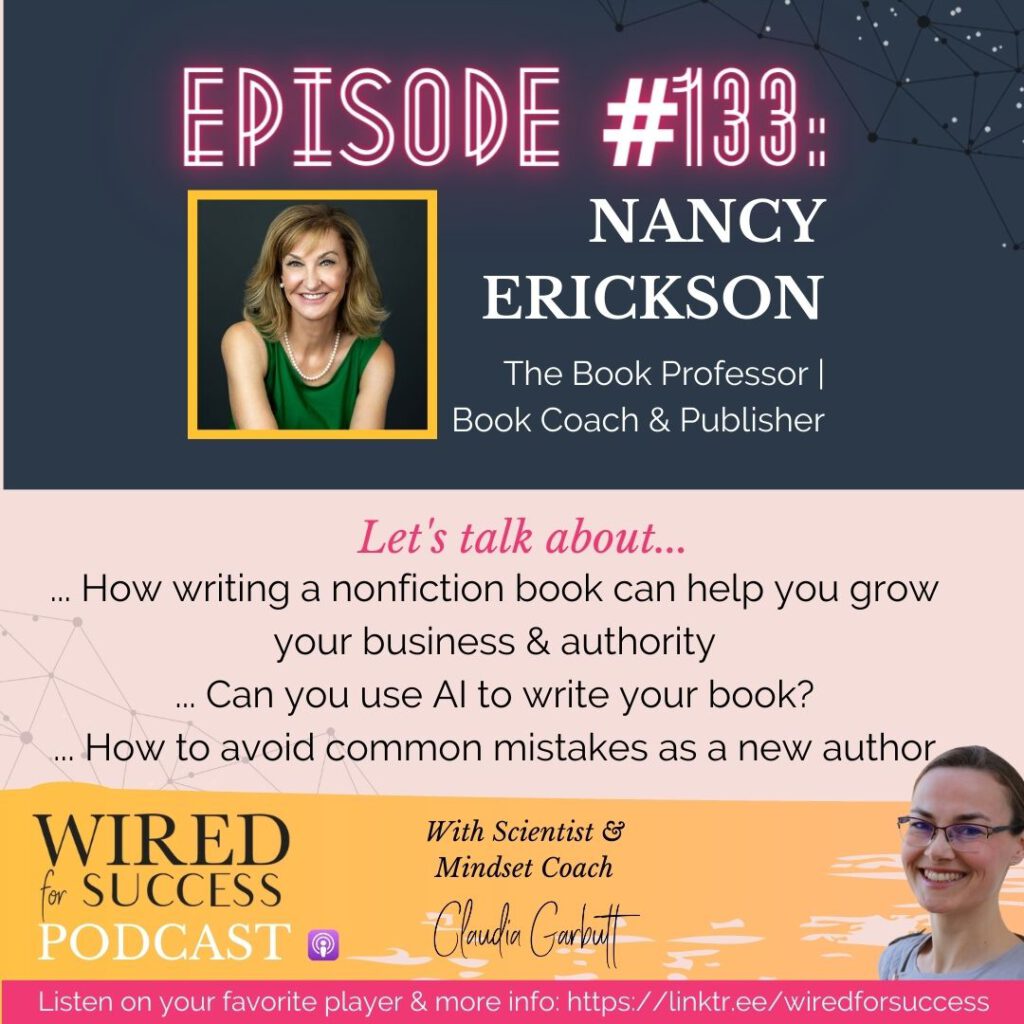 Writing And Publishing Your Expert Book with Nancy Erickson | Episode 133
To listen to the episode on your favorite podcast player, find all links here:
https://linktr.ee/wiredforsuccess
If you enjoyed this episode, learned something new, had an epiphany moment – or were reminded about a simple truth that you had forgotten, please click the "Rate this podcast" button below and leave a review & rating. This is the easiest way to support the show & I really appreciate it.
And if you're interested in working with me, you can book a free 20min strategy session to figure out what your current success blockers are and how I can best help you.
Looking for great podcast guests for your own show or great shows to guest on?
Try PodMatch, the platform that automatically matches ideal podcast hosts and guests for interviews. Like Tinder for podcasters.
Or Guestio, the app that helps content creators interview high-level guests. Gives you access to those busy, hard-to-reach, next-level guests that you want to have on your show.
Recent Posts: