EPISODE SUMMARY
Join scientist and mindset & high-performance coach Claudia Garbutt and serial entrepreneur Travis Steffen as they discuss what it takes to build multiple highly successful businesses.
In this episode we talk about:
– Professional sports, poker & entrepreneurship
– The framework for building successful businesses
– How to approach challenges the right way
EPISODE NOTES
Travis Steffen is a serial entrepreneur with 8 successful exits to date across a variety of industries. He's gotten companies onto the Inc 500, is a published business author, and has either written for or been written about in the top business publications on earth.
He is also a doctoral candidate in marketing, and serves as a growth mentor for Silicon Valley's top accelerators. Prior to entrepreneurship, Travis was a collegiate and professional athlete and a professional online poker player.
Links:
Website:
https://www.startupshortcuts.co/sales-page1658519139512
FB:
https://www.facebook.com/RealTravisSteffen/
Instagram:
https://www.instagram.com/travissteffen/
LinkedIn:
https://www.linkedin.com/in/tsteffen/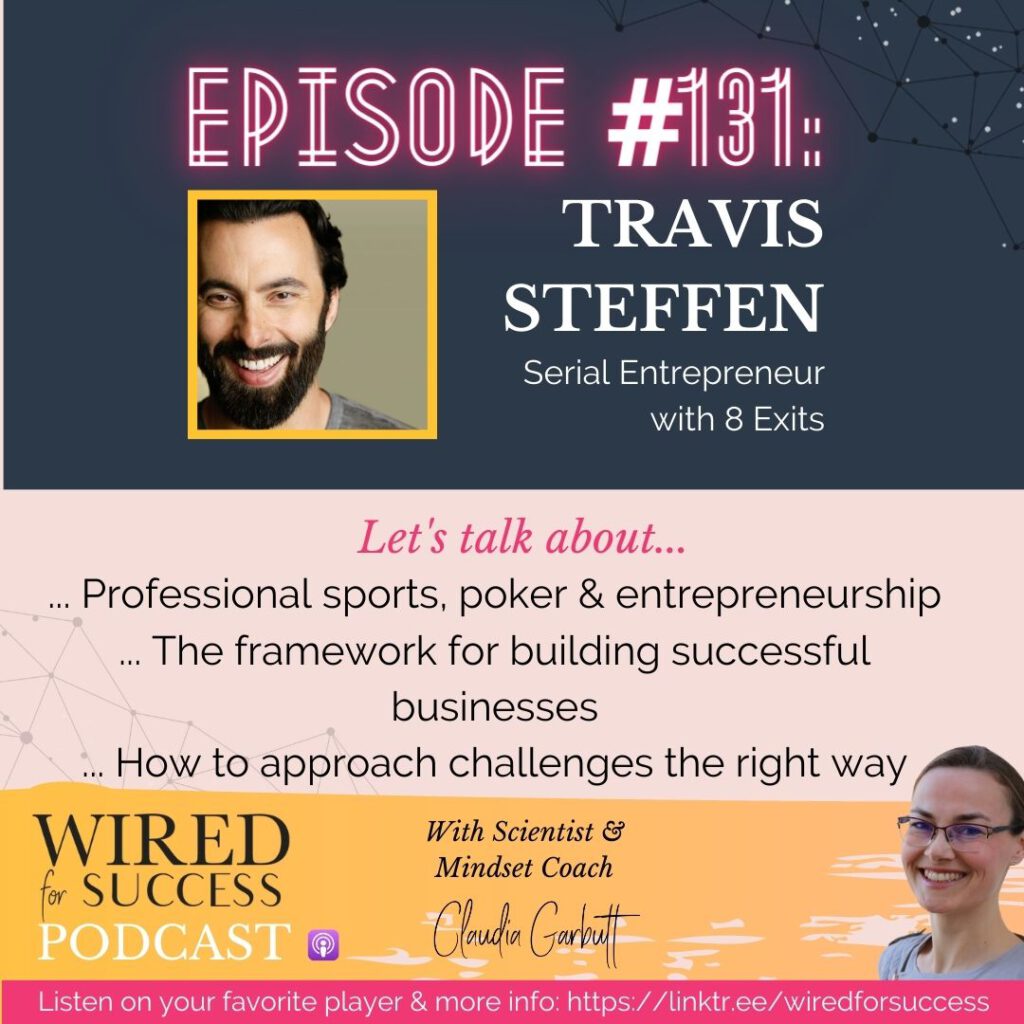 Becoming a Successful Serial Entrepreneur with Travis Steffen | Episode 131
To listen to the episode on your favorite podcast player, find all links here:
https://linktr.ee/wiredforsuccess
If you enjoyed this episode, learned something new, had an epiphany moment – or were reminded about a simple truth that you had forgotten, please click the "Rate this podcast" button below and leave a review & rating. This is the easiest way to support the show & I really appreciate it.
And if you're interested in working with me, you can book a free 20min strategy session to figure out what your current success blockers are and how I can best help you.
Looking for great podcast guests for your own show or great shows to guest on?
Try PodMatch, the platform that automatically matches ideal podcast hosts and guests for interviews. Like Tinder for podcasters.
Or Guestio, the app that helps content creators interview high-level guests. Gives you access to those busy, hard-to-reach, next-level guests that you want to have on your show.
Recent Posts: