EPISODE SUMMARY
Join scientist and mindset & high-performance coach Claudia Garbutt and digital marketing expert & TikTok expert Austin Armstrong, as they discuss the best ways to leverage video content on different social media platforms in order to grow your business.
In this episode we talk about:
– Lessons from building a 7-figure business
– The hottest social media trend and how to use it to grow your business
– Best strategies to leverage video content on YouTube, TikTok, Instagram & Pinterest
EPISODE NOTES
Austin Armstrong is a lifelong digital marketer with over 1.2+ million followers across platforms, who has built a $1 million annual revenue business as CEO of Socialty Pro (an organic SEO & TikTok full-service marketing agency), Speaker, TikTok Expert, and Podcast Host of the TikTok Podcast BusinessToK – all thanks to video.
After getting his social media start on myspace, Austin has now posted 2500+ videos on TikTok, tripling his own business and thousands more across his clients' accounts. Armstrong's Socialty Pro company has worked with many different industries, including health (addiction treatment centers, behavioral healthcare, therapists, medical professionals), legal, ecommerce companies, and many others. As a Dark Horse Society Award Winner and TikTok For Business Panel Moderator, Armstrong has been featured and interviewed on dozens of podcasts and live streams.
Armstrong loves helping individuals and companies grow their online presence to generate brand awareness, customers, and product sales by getting creative and thinking outside of the box. And as "fun facts", Armstrong used to an amateur kickboxer, is an avid rock climber, has been to every Disney theme park except Hong Kong (11 out of 12), and his uncle is in the Major League Baseball (MLB) Hall of Fame.
Website:
https://socialtypro.com/team/austin-armstrong/
Tiktok:
https://www.tiktok.com/@socialtypro
YouTube:
https://www.youtube.com/c/SocialtyPro
Schedule a free call with Socialty Pro:
https://socialtypro.com/contact-us/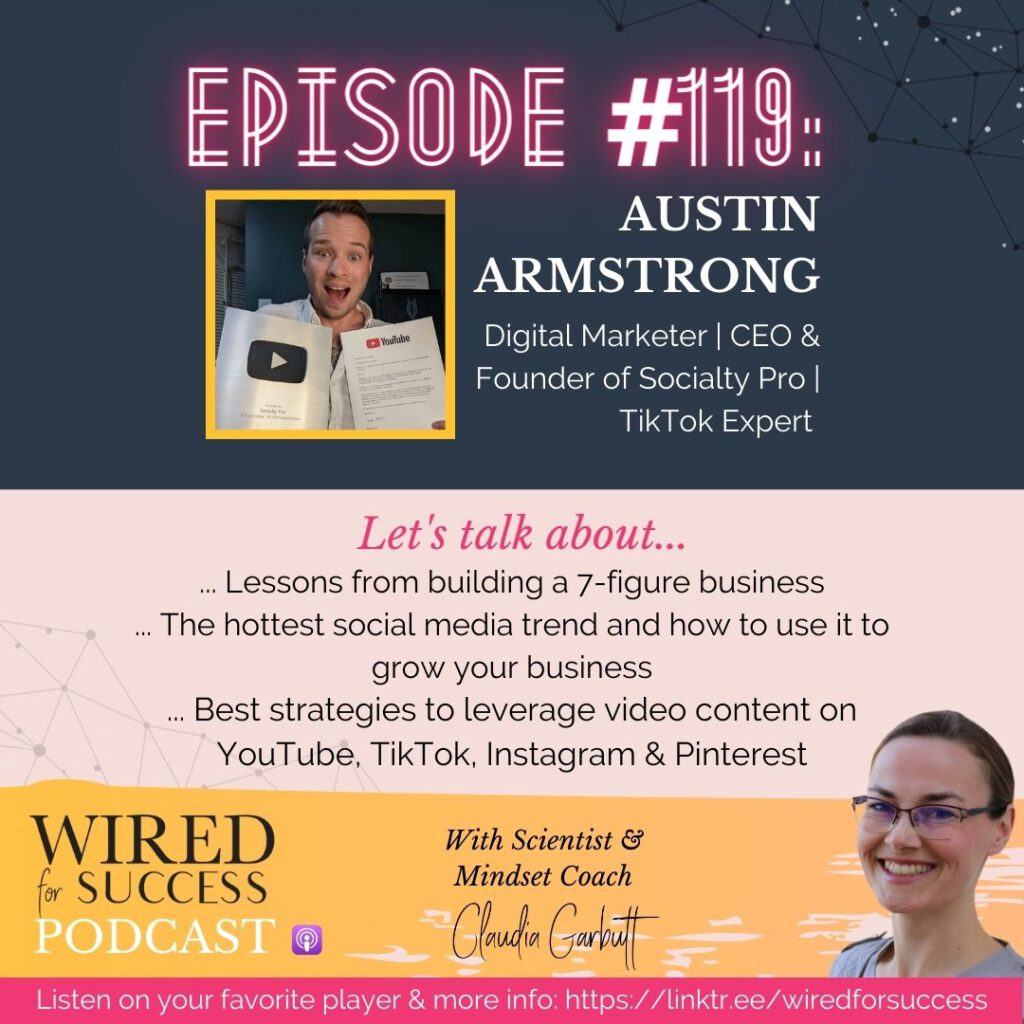 To listen to the episode on your favorite podcast player, find all links here:
https://linktr.ee/wiredforsuccess
If you enjoyed this episode, learned something new, had an epiphany moment – or were reminded about a simple truth that you had forgotten, please click the "Rate this podcast" button below and leave a review & rating. This is the easiest way to support the show & I really appreciate it.
Become a supporter of the show:
https://glow.fm/wiredforsuccesspodcast/
And if you're interested in working with me, you can book a free 20min strategy session to figure out what your current success blockers are and how I can best help you.
Looking for great podcast guests for your own show or great shows to guest on?
Try PodMatch, the platform that automatically matches ideal podcast hosts and guests for interviews. Like Tinder for podcasters.
Or Guestio, the app that helps content creators interview high-level guests. Gives you access to those busy, hard-to-reach, next-level guests that you want to have on your show.
Recent Posts: