EPISODE SUMMARY
Join scientist and mindset & high-performance coach Claudia Garbutt and CEO, inventor, technologist & cardiopulmonary health advocate Mark Carbone as they talk about the impact of the Covid pandemic and the power and potential of breathwork.
In this episode we talk about:
– How the pandemic has impacted the way we breathe
– Non-drug approaches to combat the negative effects of long Covid
– Simple breathing patterns for improving focus, relaxation, and sleep
EPISODE NOTES
Mark Carbone is passionate about the future of Digital Health and working towards breakthrough solutions to further the medical industry in Metabolomics, Pulmonary Therapy, and Speech Pathology.
He's an inventor, business builder, technologist, and a blessed husband and father.
He is the CEO of PN Medical, makers of intelligent medical devices for the pulmonary and speech fields. He serves as lead inventor overseeing the creation of their new device and software, Breather 2.
He's also chief visionary, recruiter, deal maker, and leader of the company.
He received his BA from UCF and MBA from Rollins College. Mark is also a Lifework Leadership alum, founder of the Rollins Business Journal, Dream Builder, medical device inventor, was VP of the Rollins MBA Alumni Board, soccer player, and nominated as Most Influential Businessman by the Orlando Business Journal.
Links:
Receive a 20% discount on all PN Medical products:
https://www.pnmedical.com/products/?ref=claudiagarbutt&mcoupon=WiredForSuccess
https://www.linkedin.com/in/markacarbone/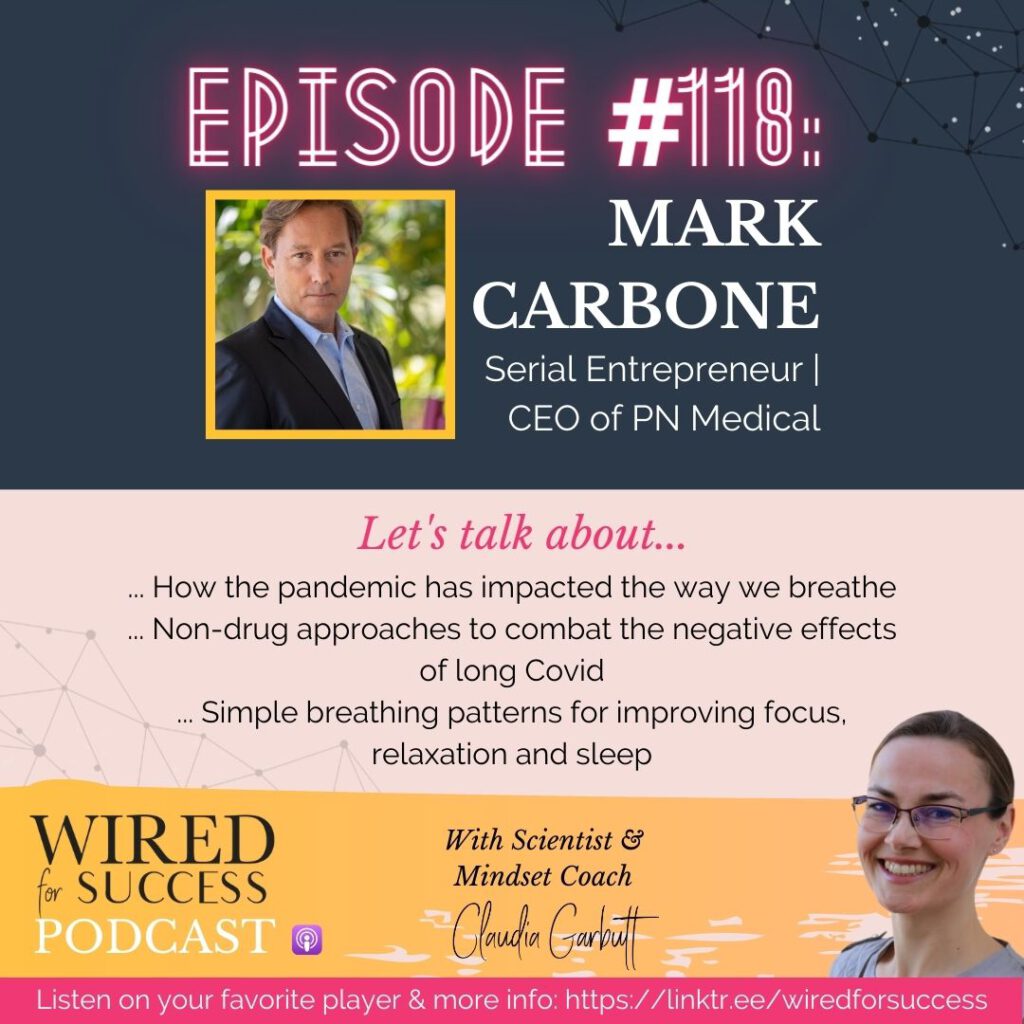 To listen to the episode on your favorite podcast player, find all links here:
https://linktr.ee/wiredforsuccess
If you enjoyed this episode, learned something new, had an epiphany moment – or were reminded about a simple truth that you had forgotten, please click the "Rate this podcast" button below and leave a review & rating. This is the easiest way to support the show & I really appreciate it.
Become a supporter of the show:
https://glow.fm/wiredforsuccesspodcast/
And if you're interested in working with me, you can book a free 20min strategy session to figure out what your current success blockers are and how I can best help you.
Looking for great podcast guests for your own show or great shows to guest on?
Try PodMatch, the platform that automatically matches ideal podcast hosts and guests for interviews. Like Tinder for podcasters.
Or Guestio, the app that helps content creators interview high-level guests. Gives you access to those busy, hard-to-reach, next-level guests that you want to have on your show.
Recent Posts: