EPISODE SUMMARY
Join scientist and mindset & high-performance coach Claudia Garbutt and serial entrepreneur EA Csolkovits as they talk about entrepreneurship, money mindset & community building.
In this episode we talk about:
– Becoming a millionaire at age 23
– Finding a mentor and building your own Giver community
– Why you should focus on what you can contribute rather than on what's in it for you
EPISODE NOTES
At age 16, E.A. started his business career as a janitor and selling janitorial services to business owners.
At the age of 19, E. A. Csolkovits met Sam Robbins, a millionaire businessman from Detroit, Michigan. Sam took E. A. Csolkovits under his wing and began to mentor him.
E.A. has conducted advanced training exclusively for presidents and CEOs (a maximum of 50 per seminar) where EACH executives paid $5,000 to attend and learn over 410 different ways to build and grow their companies.
He hosted a business radio talk show (E. A. Csolkovits Live) which was heard across the U.S.A. and Canada, interviewed 3 different company presidents for 5 nightly shows each week.
Millionaire at age 23.
1st year of personal income exceeding $1 million in 1 year in 1989 at 33 years old.
Owned and established a 1,000-acre wildlife sanctuary.
Commercial pilot with multi-engine complex and instrument ratings.
Authored and completed the updated versions of the courses and books he titled The GIVERS Mindset™, The GIVERS Lifestyle™ and The GIVERS Lifelong Learning™ for the GIVE To Be Great™ series.
Learn more here:
YouTube:
https://YouTube.com/GIVERSuniversity
LinkedIn:
https://www.linkedin.com/in/giversuniversity
Facebook:
https://www.facebook.com/profile.php?id=100004396084912
Instagram:
https://www.instagram.com/giversuniversity/
Want More Information on Forming a GIVERS Juntos or becoming a Member of a current GIVERS Junto?
Go To: http://www.giversuniversity.com/junto.html
Link Mentioned In the Podcast:
Want FREE Downloads? Sign up for the FREE "GIVERS TOOLBOX" eNewsletter at: http://www.GIVERSuniversity.com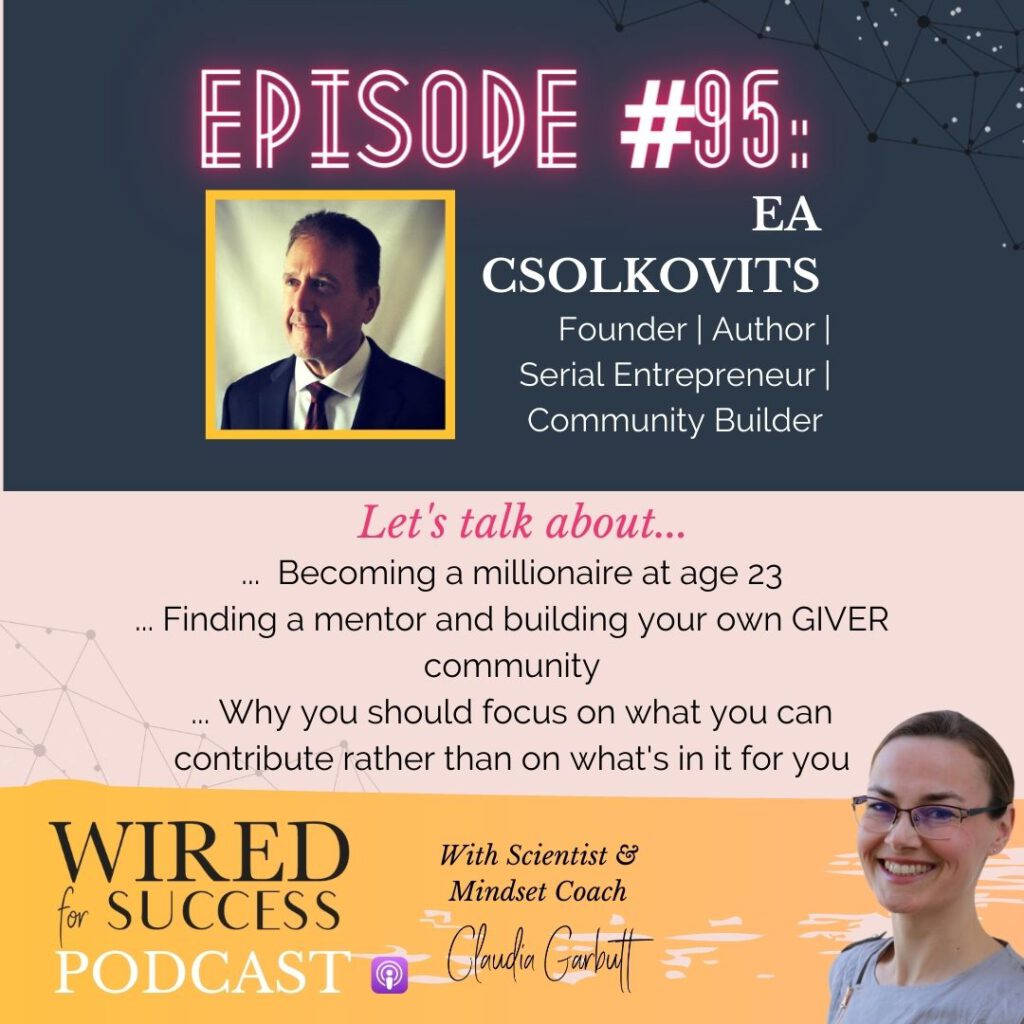 If you enjoyed this episode, learned something new, had an epiphany moment – or were reminded about a simple truth that you had forgotten, please click the "Rate this podcast" button below and leave a review & rating. This is the easiest way to support the show & I really appreciate it.
And if you're interested in working with me, you can book a free 20min strategy session to figure out what your current success blockers are and how I can best help you.
Are you a high-ticket coach or other service-based entrepreneur who wants to launch their own Top10 podcast to increase their authority, credibility & visibility AND to bring in new high-quality leads on autopilot but don't know how to get started? No worries, I've got you covered! 🙂
Download my "Instant Podcast Monetization Guide For High-Ticket Coaches and Service-Based Entrepreneurs".
Looking for great podcast guests for your own show or great shows to guest on?
Try PodMatch, the platform that automatically matches ideal podcast hosts and guests for interviews. Like Tinder for podcasters.
Or Guestio, the app that helps content creators interview high-level guests. Gives you access to those busy, hard-to-reach, next-level guests that you want to have on your show.
Download My Prime-Your-Brain-For-Success Audio File
And Start Priming Your Brain For Success In Less Than 5min Each Day
Recent posts: