EPISODE SUMMARY
Join scientist and mindset & high-performance coach Claudia Garbutt and actor, author & public speaking trainer Tyler Foley as they discuss how you can become a confident public speaker.
In this episode we talk about:
– 3 best tips to help you deliver a stellar talk
– How to overcome stage fright
– How to craft compelling stories to connect with your audience
EPISODE NOTES
Sean Tyler Foley is an accomplished film and stage performer and has been acting in film and television since he was 6 years old after his father passed away suddenly in a motor vehicle accident. He has appeared in productions including Freddy Vs Jason, Door to Door, Carrie, and the musical Ragtime. Tyler is passionate about helping others confidently take the stage and impact an audience with their stories. He is currently the Managing Director of Total Buy In and author of the #1 best-selling book The Power to Speak Naked.
Tyler is a father, husband, son, and performer, in that order. Some days he feels like he has dabbled in every industry on the planet, from oil and gas, to aviation, to film and television, but that diverse experience is what has made him so versatile!
Regardless of the industry or the titles he has held, what they all had in common was promoting and encouraging people to be heard and understood. The skills and resources he has garnered along the way have enabled him to become an entertaining professional speaker and a knowledgeable trainer, who inspires others to reach for their dreams.
With his distinct and direct style, Tyler is emerging as one of North America's sought-after leaders in the field of public speaking for personal and professional development and would welcome the opportunity to be on your show and discuss the lessons he has learned and the grace he has discovered in each event of his life!
LinkedIn:
https://www.linkedin.com/in/seantylerfoley/
Website:
https://www.seantylerfoley.com/
Insta:
https://www.instagram.com/seantylerfoley/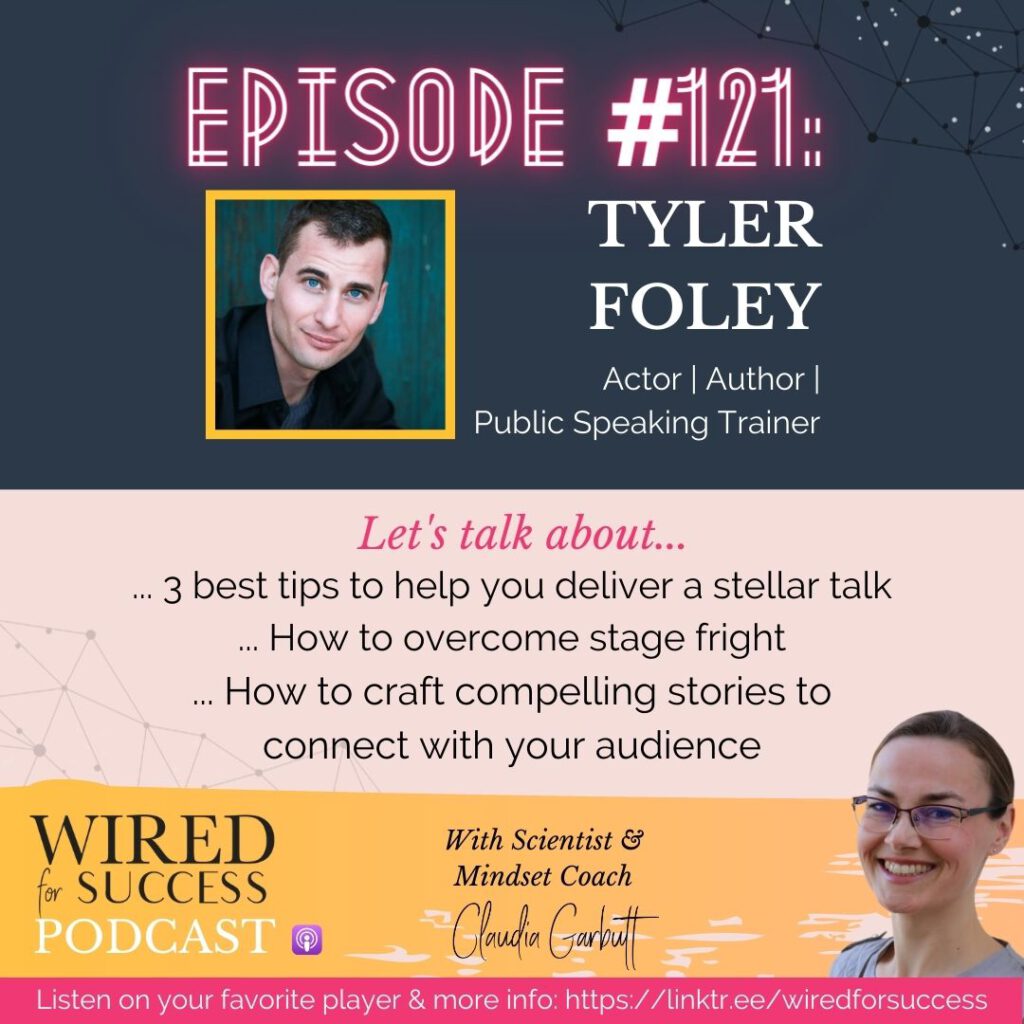 To listen to the episode on your favorite podcast player, find all links here:
https://linktr.ee/wiredforsuccess
If you enjoyed this episode, learned something new, had an epiphany moment – or were reminded about a simple truth that you had forgotten, please click the "Rate this podcast" button below and leave a review & rating. This is the easiest way to support the show & I really appreciate it.
Become a supporter of the show:
https://glow.fm/wiredforsuccesspodcast/
And if you're interested in working with me, you can book a free 20min strategy session to figure out what your current success blockers are and how I can best help you.
Looking for great podcast guests for your own show or great shows to guest on?
Try PodMatch, the platform that automatically matches ideal podcast hosts and guests for interviews. Like Tinder for podcasters.
Or Guestio, the app that helps content creators interview high-level guests. Gives you access to those busy, hard-to-reach, next-level guests that you want to have on your show.
Recent Posts: