EPISODE SUMMARY
Join scientist and mindset & high-performance coach Claudia Garbutt and co-fouder of Biohacker's Magazine Dallas McClain, as they talk about the craziest – and most exciting! – trends in health technology, biohacking & longevity.
In this episode, we talk about:
– How to prioritize your time & energy
– Exciting developments in health technology and longevity
– The craziest biohacking trends
EPISODE NOTES
Dallas McClain is the co-founder and editor of Biohackers Magazine and the co-founder and editor-in-chief of Lifespanning Media.
Links:
https://biohackersmagazine.com/
https://www.youtube.com/@noplanbpodcast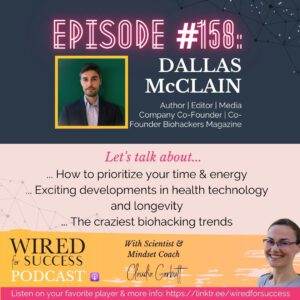 To listen to the full episode on your favorite podcast player, find all links here:
https://linktr.ee/wiredforsuccess
Help me keep this show ad-free and awesome: Hit subscribe and join the tribe! THANK YOU for your support! 🙂
https://podcasters.spotify.com/pod/show/wiredforsuccess/subscribe
And don't forget to click the "Rate this podcast" button below to leave a review & rating. This is the easiest way to support the show & I really appreciate it. THANK YOU! 🙂
And if you're interested in working with me, you can book a free 20min strategy session to figure out what your current success blockers are and how I can best help you.
Looking for great podcast guests for your own show or great shows to guest on?
Try PodMatch, the platform that automatically matches ideal podcast hosts and guests for interviews. Like Tinder for podcasters.
Or Guestio, the app that helps content creators interview high-level guests. Gives you access to those busy, hard-to-reach, next-level guests that you want to have on your show.
Recent Posts: