EPISODE SUMMARY
Join scientist and mindset & high-performance coach Claudia Garbutt and international dating & relationship expert Sami Wunder as they talk about love, relationships, entrepreneurship, and success on all levels.
In this episode, we talk about:
– Mindset shifts for dating success
– Discovering your relationship archetype
– The #1 communication tip for great long-term relationships
EPISODE NOTES
Sami Wunder is a leading international relationship and dating expert who specializes in working with ambitious, high-achieving women, helping them attract lasting romantic love.
As the CEO of a thriving multiple 7-figure business, Sami currently serves a highly engaged, global clientele across 86 countries. Her clients range from a Hollywood celebrity to TV stars to CEOs, bankers, lawyers, doctors, renowned authors, leading entrepreneurs, and more.
To date, Sami Wunder's company has served thousands of clients and recorded over 500 client engagements and hundreds of committed relationships. She's a leading authority when it comes to dating and relationships and is a sought-after expert in the media.
Her core work philosophy is empowering ambitious women in their love lives who are looking to attract their soulmate, teaching high-value dating behaviors, feminine energy, and the importance of dating with boundaries and an empowered mindset.
Links:
Get Sami's free training, 'Lean In At Work, Lean Back In Love':
https://samiwundercoaching.lpages.co/lean-back-podcasts/
https://www.instagram.com/samiwundercoach/
https://www.facebook.com/samiwundercoaching
https://www.facebook.com/groups/984074924971356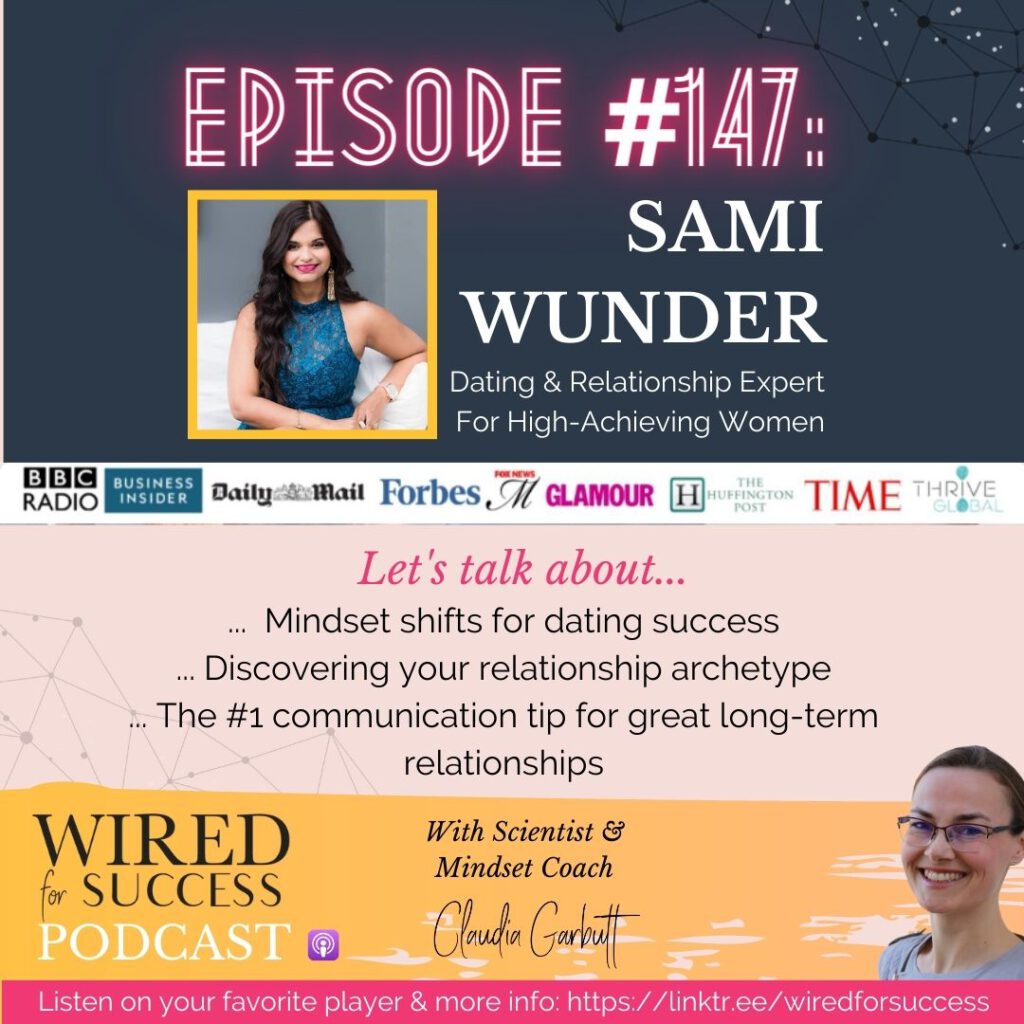 To listen to the episode on your favorite podcast player, find all links here:
https://linktr.ee/wiredforsuccess
Want more? From quick tips & insights to guided meditations and a side of biohacking – if you'd like to join my inner circle and get access to exclusive subscriber-only content: Hit subscribe and join the tribe! THANK YOU for your support! 🙂
https://podcasters.spotify.com/pod/show/wiredforsuccess/subscribe
And don't forget to click the "Rate this podcast" button below to leave a review & rating. This is the easiest way to support the show & I really appreciate it. THANK YOU! 🙂
And if you're interested in working with me, you can book a free 20min strategy session to figure out what your current success blockers are and how I can best help you.
Looking for great podcast guests for your own show or great shows to guest on?
Try PodMatch, the platform that automatically matches ideal podcast hosts and guests for interviews. Like Tinder for podcasters.
Or Guestio, the app that helps content creators interview high-level guests. Gives you access to those busy, hard-to-reach, next-level guests that you want to have on your show.
Recent Posts: