EPISODE SUMMARY
Join scientist and mindset & high-performance coach Claudia Garbutt and habits & gamification expert Will Moore as they discuss how to make change FUN!
In this episode, we talk about:
– Lessons from building a 9-figure business
– The 5 cores of happiness
– How to use gamification & behavioral science to improve your life & business
EPISODE NOTES
Will Moore is a dynamic serial entrepreneur and expert in behavioral science, habits, and happiness who's dedicated his life to answering this question.
After hitting rock bottom in college, he began his quest to unearth the true meaning of happiness, and after years of evolution and growth, he discovered that REAL happiness isn't derived from money, power, or fame.
Instead, it comes from understanding one's unique sources of joy and consistently incorporating them into daily life.
His "Moore Momentum System" fuses cutting-edge technology, behavioral science, and gamification with timeless principles to allow fellow entrepreneurs to replace their failure habits with healthy habits.
Essentially turning life into an incredibly rewarding and ethically addicting game that ensures continual growth and balance in the 5 Core Areas of happiness. Ready Player One?
Links:
https://mooremomentum.com/core-values-quiz/
https://www.linkedin.com/in/mooremomentum/
https://www.instagram.com/willmooremomentum/
https://www.tiktok.com/@willmooremomentum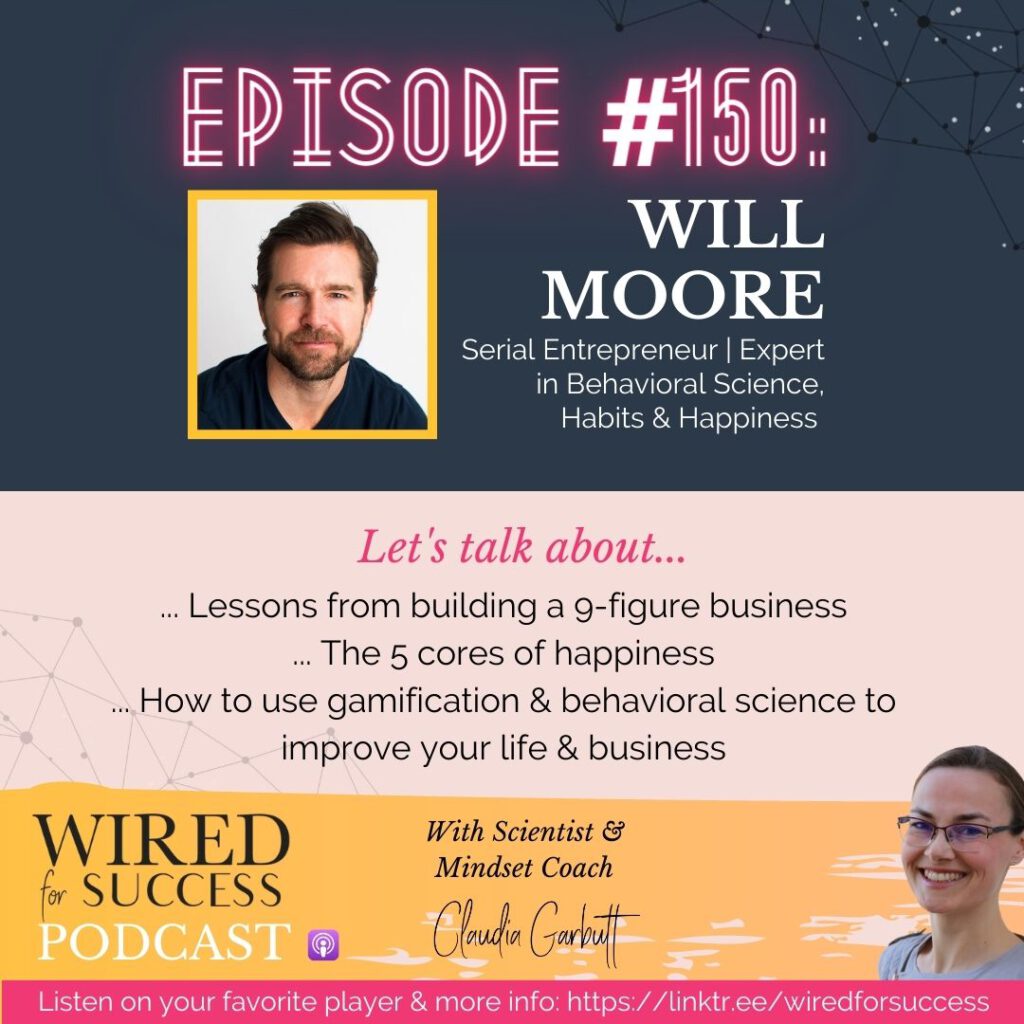 To listen to the episode on your favorite podcast player, find all links here:
https://linktr.ee/wiredforsuccess
Want more? From quick tips & insights to guided meditations and a side of biohacking – if you'd like to join my inner circle and get access to exclusive subscriber-only content: Hit subscribe and join the tribe! THANK YOU for your support! 🙂
https://podcasters.spotify.com/pod/show/wiredforsuccess/subscribe
And don't forget to click the "Rate this podcast" button below to leave a review & rating. This is the easiest way to support the show & I really appreciate it. THANK YOU! 🙂
And if you're interested in working with me, you can book a free 20min strategy session to figure out what your current success blockers are and how I can best help you.
Looking for great podcast guests for your own show or great shows to guest on?
Try PodMatch, the platform that automatically matches ideal podcast hosts and guests for interviews. Like Tinder for podcasters.
Or Guestio, the app that helps content creators interview high-level guests. Gives you access to those busy, hard-to-reach, next-level guests that you want to have on your show.
Recent Posts: