EPISODE SUMMARY
Join scientist and mindset & high-performance coach Claudia Garbutt and leadership coach Heather Chauvin as they talk about the importance of accepting emotional discomfort.
In this episode we talk about:
– Life lessons from fighting cancer
– Living on your growth edge
– Embracing the struggle and getting comfortable with being uncomfortable
EPISODE NOTES
Heather Chauvin is a leadership coach who helps 'successful' women courageously and
authentically live, work, and parent on their own terms.
Heather started her career as a social worker helping adults understand children's behavior.
But it wasn't until 2013 when a stage 4 cancer diagnosis pushed her to take a deeper stand for change, uncovering how cultural expectations sabotage our dreams.
She has been featured in Forbes, Entrepreneur, Real Simple Magazine, Mind Body Green, Google, and more.
When Heather isn't working, you will find her living out what she teaches which may include kayaking Alaska, snowboarding, hiking, or anything else that challenges what she believes is possible for herself (and inviting her children along the journey). Life is full of opportunities. It's time to feel alive.
Links:
https://www.instagram.com/heatherchauvin_/
https://www.facebook.com/heatherchauvincoaching
Podcast:
https://podcasts.apple.com/us/podcast/emotionally-uncomfortable/id982980293
Freebie:
The Energy Finder QUIZ takes less than 2 minutes and helps you identify where to focus, so you can conquer your dreams (without feeling like you're failing as a mother).
https://heatherchauvin.com/lifequiz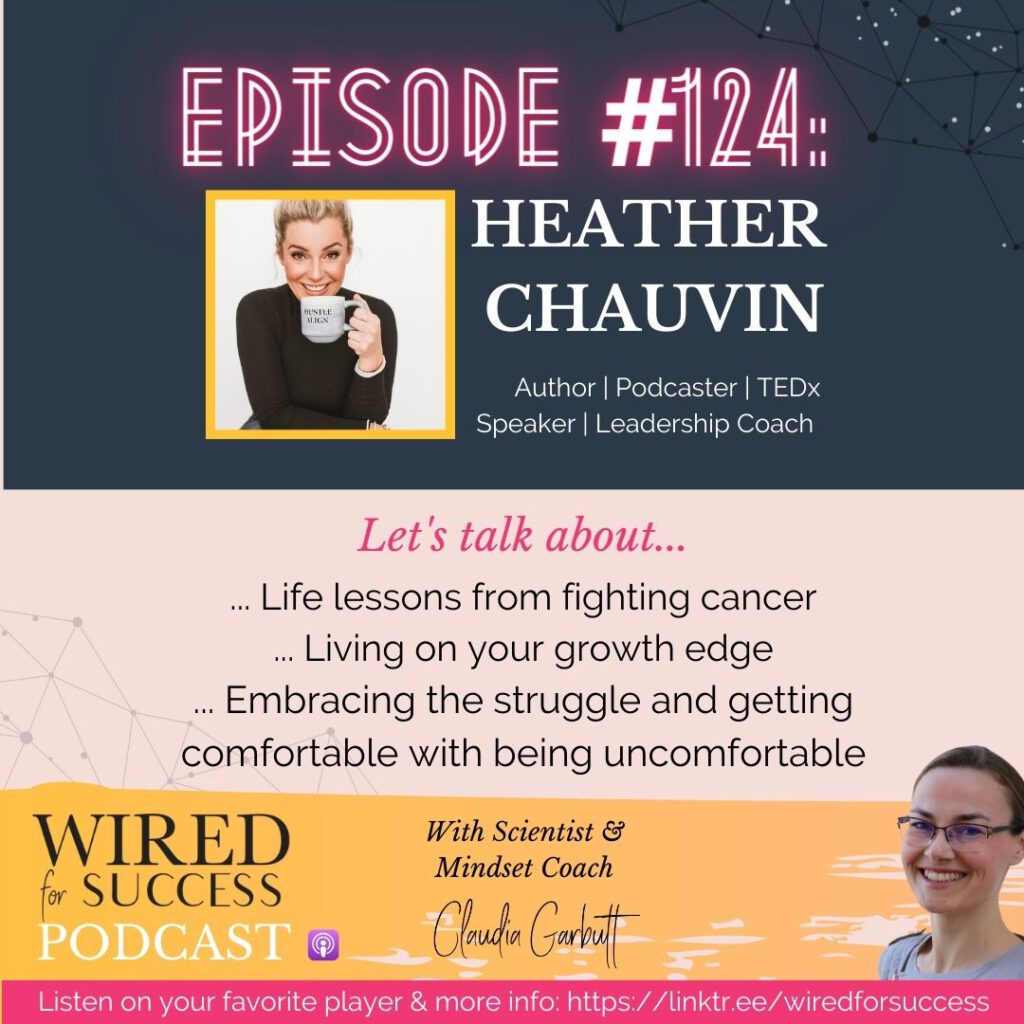 To listen to the episode on your favorite podcast player, find all links here:
https://linktr.ee/wiredforsuccess
If you enjoyed this episode, learned something new, had an epiphany moment – or were reminded about a simple truth that you had forgotten, please click the "Rate this podcast" button below and leave a review & rating. This is the easiest way to support the show & I really appreciate it.
Become a supporter of the show:
https://glow.fm/wiredforsuccesspodcast/
And if you're interested in working with me, you can book a free 20min strategy session to figure out what your current success blockers are and how I can best help you.
Looking for great podcast guests for your own show or great shows to guest on?
Try PodMatch, the platform that automatically matches ideal podcast hosts and guests for interviews. Like Tinder for podcasters.
Or Guestio, the app that helps content creators interview high-level guests. Gives you access to those busy, hard-to-reach, next-level guests that you want to have on your show.
Recent Posts: