EPISODE SUMMARY
Join scientist and mindset & high-performance coach Claudia Garbutt and founder of The Speaker Lab and Author of "The Successful Speaker" Grant Baldwin as they talk about finding and booking paid speaking engagements.
In this episode we talk about:
– Your roadmap to a successful speaking career
– How to find paid speaking opportunities in any industry
– How much should you charge for speaking
EPISODE NOTES
As founder and CEO of The Speaker Lab, Grant Baldwin has helped thousands of people build successful and sustainable speaking businesses.
Over the last 15 years Grant has become a sought-after speaker, podcaster, author, and accomplished entrepreneur. Featured on the Inc. 5000 list, Forbes, Inc. Entrepreneur, and the Huffington Post, he has committed his expertise and insight to equipping others to share their meaningful message with the masses.
His leadership and dedication to creating a one-of-a-kind organizational culture are evidenced by the impact of the team he leads.
Website:
Free Speaking Fee Calculator:
LinkedIn:
https://www.linkedin.com/in/grant-baldwin-641a03105/
Insta:
https://www.instagram.com/thespeakerlab/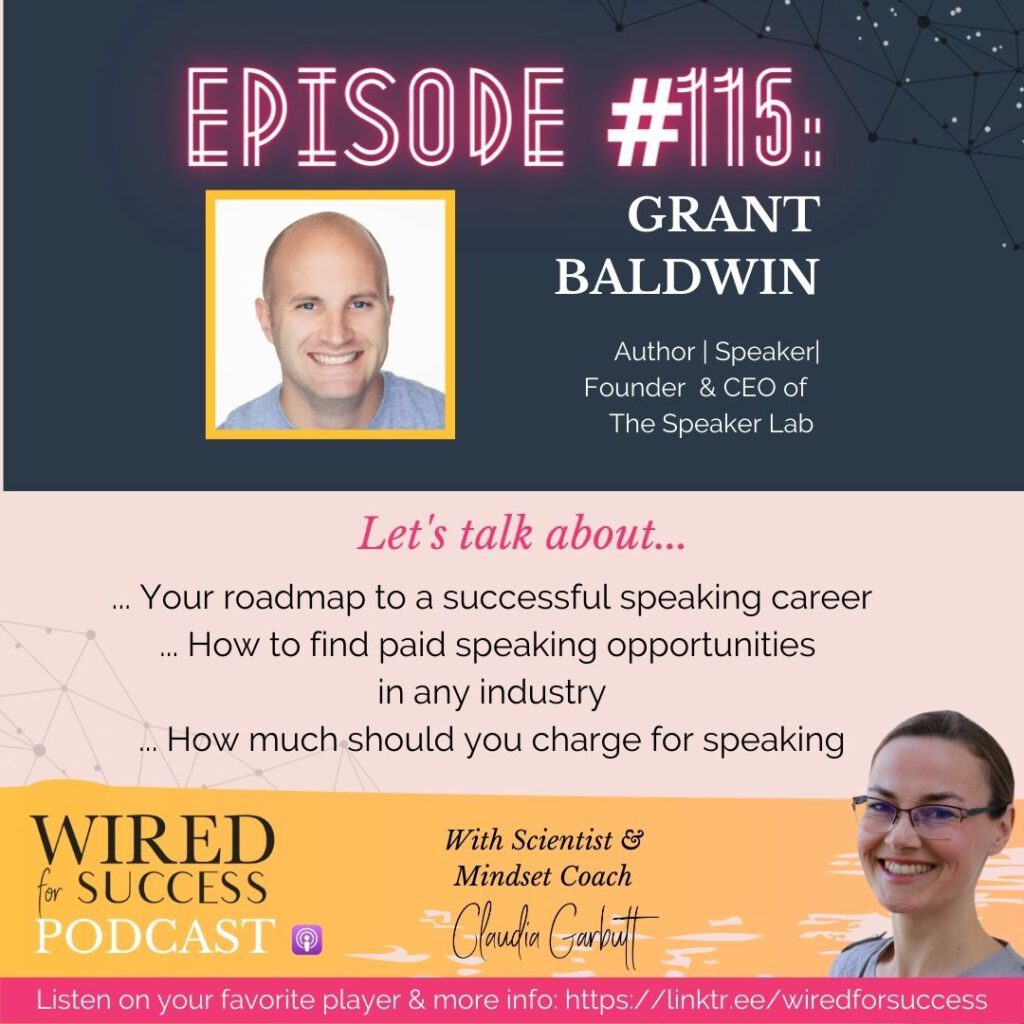 Or listen on your favorite podcast player:
https://linktr.ee/wiredforsuccess
If you enjoyed this episode, learned something new, had an epiphany moment – or were reminded about a simple truth that you had forgotten, please click the "Rate this podcast" button below and leave a review & rating. This is the easiest way to support the show & I really appreciate it.
Support the show: Help me keep this show awesome!
If you enjoy this show and you think to yourself: "If only there was a way to support it…" – well, there is! 😉
I've set up a link where you can join my inner circle and become a supporter of the Wired For Success Podcast! As you might know, it takes a lot of time, effort & resources to bring you new, inspiring, exciting & helpful content consistently and I really appreciate every listener who supports me in keeping this show running.
It's super simple and will take no more than 30 seconds. Click the link below, pay $5 per month (or as much or as little as you like) with Apple or Google pay, and click the link of the podcast player you want to use. You can listen anywhere, in any app.
For probably less than the price of 1-2 fancy coffees per month, you can really make a difference and help me keep this show ad-free & awesome! THANK YOU!
https://glow.fm/wiredforsuccesspodcast/
And if you're interested in working with me, you can book a free 20min strategy session to figure out what your current success blockers are and how I can best help you.
Are you a high-ticket coach or other service-based entrepreneur who wants to launch their own Top10 podcast to increase their authority, credibility & visibility AND to bring in new high-quality leads on autopilot but don't know how to get started? No worries, I've got you covered! 🙂
Download my "Instant Podcast Monetization Guide For High-Ticket Coaches and Service-Based Entrepreneurs".
Looking for great podcast guests for your own show or great shows to guest on?
Try PodMatch, the platform that automatically matches ideal podcast hosts and guests for interviews. Like Tinder for podcasters.
Or Guestio, the app that helps content creators interview high-level guests. Gives you access to those busy, hard-to-reach, next-level guests that you want to have on your show.
Download My Prime-Your-Brain-For-Success Audio File
And Start Priming Your Brain For Success In Less Than 5min Each Day
Recent Posts: