EPISODE SUMMARY
Join scientist and mindset & high-performance coach Claudia Garbutt and top-ranked financial planner Chad Hufford as they talk about success mindset & high-performance habits.
In this episode, we talk about:
– The 4 Fs: Finance, Fitness, Faith & Family
– Building High-Performance Habits Your Future Self Will Thank You For
– Being Intentional & Avoiding Decision Fatigue
——— EPISODE CHAPTERS ———
(0:00:02) – Balancing Finance, Fitness, Faith, and Family
(0:00:02) – Balancing Finance, Fitness, Faith, and Family
Chad shares his journey to financial success, emphasizing the importance of balance and intention with the four Fs: finance, fitness, faith, and family.
(0:15:30) – Fitness and Positive Mindset Power
Chad shares insights on intentional decision-making, exercise and nutrition, positive thinking, and mindfulness.
(0:19:39) – Maintaining Health and Overcoming Negative Habits
Chad and I discuss mindful decisions for better health, whole foods, injury prevention, fasting, and individual progress.
(0:33:37) – Building a Future-Focused Mindset for Success
Chad shares strategies for making future selves tangible, visualizing desired selves, creating reminders, and planning ideal lives.
(0:46:29) – Focusing on Actions, Not Outcomes
Focus on choices and behaviour, celebrate process and small wins, and control inputs rather than outcomes.
————–
EPISODE NOTES
Born and raised in Anchorage, Alaska, Chad grew up in the financial industry, but also developed a strong background in athletics, nutrition and performance psychology.
As a Top Ranked Financial Planner and Dave Ramsey's SmartVestor Pro, Chad brings a coaching mindset and the heart of a teacher to financial planning and investing as he strives to both empower and educate his audience to not only become better investors, but to live more intentionally and create an abundant life.
Chad owns a boutique financial planning firm, Veritas Wealth Management, that manages $500 million dollars and serves several hundred families across the US. In addition to finance, he regularly teaches and speaks on fitness and faith, seeing these as all important aspects of a purposeful and abundant life.
Chad and his wife, Tiffany (also a life-long Alaskan), have been blessed with six wonderful children. Tiffany stays busy homeschooling the kids, and the whole family is very involved in their church and local community.
Believing that to whom much is given, much is expected, Chad strives to employ his knowledge and experience to serve and enrich the lives of those around him.
Links:
https://www.instagram.com/veritas.alaska/
https://www.linkedin.com/in/chad-hufford-066208100/
https://www.facebook.com/VeritasWealthManagement/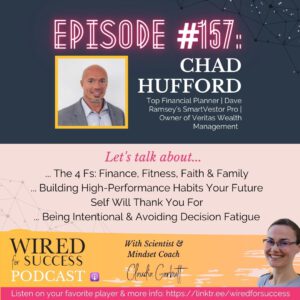 To listen to the full episode on your favorite podcast player, find all links here:
https://linktr.ee/wiredforsuccess
Help me keep this show ad-free and awesome: Hit subscribe and join the tribe! THANK YOU for your support! 🙂
https://podcasters.spotify.com/pod/show/wiredforsuccess/subscribe
And don't forget to click the "Rate this podcast" button below to leave a review & rating. This is the easiest way to support the show & I really appreciate it. THANK YOU! 🙂
And if you're interested in working with me, you can book a free 20min strategy session to figure out what your current success blockers are and how I can best help you.
Looking for great podcast guests for your own show or great shows to guest on?
Try PodMatch, the platform that automatically matches ideal podcast hosts and guests for interviews. Like Tinder for podcasters.
Or Guestio, the app that helps content creators interview high-level guests. Gives you access to those busy, hard-to-reach, next-level guests that you want to have on your show.
Recent Posts: