EPISODE SUMMARY
Join scientist and mindset & high-performance coach Claudia Garbutt and celebrity, actor, radio & podcast host, comic book & video game hero BRIMSTONE.
In this episode we talk about:
– Passion projects, entrepreneurship & living a creative life
– Being authentic and true to yourself even when others don't like what you do
– How to think about failure in a way that allows you to grow and improve
EPISODE NOTES
Brimstone has had a successful and rewarding career spanning well over four decades; participating in numerous entertainment fields boasting a list of titles including professional wrestler, radio host/professional podcaster, actor, voice actor, author, musician, philanthropist, food critic, horror model, and comic book/animated/children's book/video game hero.
As the co-founder, President, and CEO of Hound Comics, Inc. (Hound Entertainment Group), Brimstone and his team of creators launched his comic book series, Brimstone and The Borderhounds on October 31, 2010 at Borders Books and as of January 11, 2011 went nation and worldwide via Barnes & Noble, B.Dalton, BN.com, ComiXology and Amazon. The Borderhounds brand has since then expanded with a variety of Brimstone branded products including (but not limited to) the "Border-Pups" children's book series, coloring books, video games, plush toys, vinyl toys (featured for multiple seasons on The Big Bang Theory) and the Animated Series.
The most recent of his endeavors has been becoming the host of The Grindhouse Radio, a pop culture talk-based podcast and series that is currently syndicated on over twenty-five digital & terrestrial radio networks (including iHeartRadio, iTunes, Spotify & Google Play Radio) with a listenership of between 3.5 – 4 million weekly worldwide.
Aside from accommodating promoters nationwide by hosting his own panels – Brimstone's charm, wit, and ability to engage large crowds have led him to add the roles of celebrity host, judge, and moderator to his already massive resume.
Website:
https://www.therealbrimstone.com/
Instagram:
https://www.instagram.com/therealbrimstone/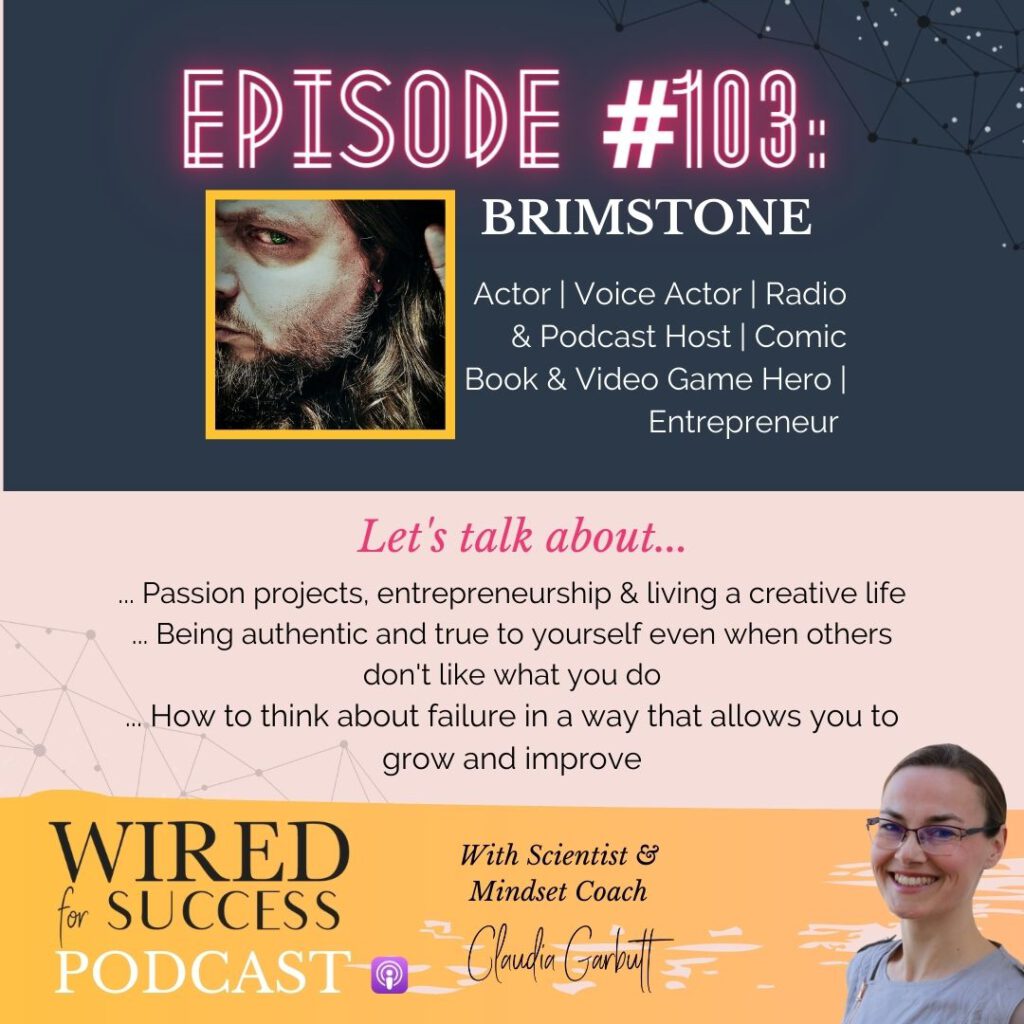 Or listen on your favorite podcast player:
https://linktr.ee/wiredforsuccess
If you enjoyed this episode, learned something new, had an epiphany moment – or were reminded about a simple truth that you had forgotten, please click the "Rate this podcast" button below and leave a review & rating. This is the easiest way to support the show & I really appreciate it.
And if you're interested in working with me, you can book a free 20min strategy session to figure out what your current success blockers are and how I can best help you.
Are you a high-ticket coach or other service-based entrepreneur who wants to launch their own Top10 podcast to increase their authority, credibility & visibility AND to bring in new high-quality leads on autopilot but don't know how to get started? No worries, I've got you covered! 🙂
Download my "Instant Podcast Monetization Guide For High-Ticket Coaches and Service-Based Entrepreneurs".
Looking for great podcast guests for your own show or great shows to guest on?
Try PodMatch, the platform that automatically matches ideal podcast hosts and guests for interviews. Like Tinder for podcasters.
Or Guestio, the app that helps content creators interview high-level guests. Gives you access to those busy, hard-to-reach, next-level guests that you want to have on your show.
Download My Prime-Your-Brain-For-Success Audio File
And Start Priming Your Brain For Success In Less Than 5min Each Day
Recent posts: