EPISODE SUMMARY
Join scientist and mindset & high-performance coach Claudia Garbutt and holistic health expert & CEO of Holofy Health Oliver Gassner as they talk about the impact of stress on your mental & physical health, as well as about ways to buffer those effects.
In this episode, we talk about:
– The physiology & neurochemistry of the body's stress response
– Good proxies for gauging your stress level
– How to optimize for holistic health
EPISODE NOTES
Oliver is a bio-scientist, holistic medicine expert, and seasoned innovator with more than 15 years of building at the intersection of health and technology. He has built a range of health-focused ventures and coached many startups in doing so. Passionate about natural healing and biohacking, he has been involved in holistic medicine, optimization of nutrition, gut health, neurochemistry, inner work and more for more than 20 years.
He currently serves as the CEO of Holofy Health, a mission-driven startup providing a novel marketplace for holistic health and precision biohacking. With Holofy, people can discover & purchase the best self-tests, natural supplements, and holistic specialists that match their specific needs and ensure sustainable progress towards their well-being goals.
Links:
https://www.instagram.com/holofy_health/
https://www.linkedin.com/company/holofy-health/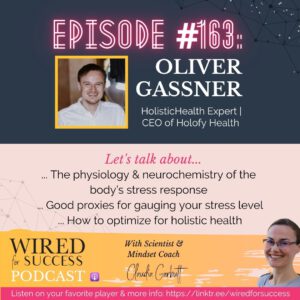 To listen to the full episode on your favorite podcast player, find all links here:
https://linktr.ee/wiredforsuccess
Help me keep this show ad-free and awesome: Hit subscribe and join the tribe! THANK YOU for your support! 🙂
https://podcasters.spotify.com/pod/show/wiredforsuccess/subscribe
And don't forget to click the "Rate this podcast" button below to leave a review & rating. This is the easiest way to support the show & I really appreciate it. THANK YOU! 🙂
And if you're interested in working with me, you can book a free 20min strategy session to figure out what your current success blockers are and how I can best help you.
Looking for great podcast guests for your own show or great shows to guest on?
Try PodMatch, the platform that automatically matches ideal podcast hosts and guests for interviews. Like Tinder for podcasters.
Or Guestio, the app that helps content creators interview high-level guests. Gives you access to those busy, hard-to-reach, next-level guests that you want to have on your show.
Recent Posts: