EPISODE SUMMARY
Join scientist and mindset & high-performance coach Claudia Garbutt and possibility coach & transformational speaker Victoria Rader as they talk about purpose, possibilities, prosperity, and peace of mind.
In this episode we talk about:
– Inspired action & empowerment
– Giving up resistance & surrendering to LOVE
– Finding purpose & fulfillment
EPISODE NOTES
Victoria Rader, Ph.D. Possibility Coach™, transformational speaker and founder of YU2SHINE empowers coaches, entrepreneurs, and spiritual seekers to manifest miracles by uncovering and solving underlying hidden problems and patterns with innovative possibilities, reigniting PASSION and expanding PEACE, PURPOSE, and PROSPERITY.
She is an eight times internationally bestselling author who is globally recognized along with Brene Brown, Richard Branson, and others for creative and innovative ideas, adaptability in business, and contribution to sustainability and mental health projects with CREA GLOBAL AWARD by Brainz Magazine.
Links:
YU2SHINE website – https://yu2shine.com/
YouTube -http://free2b1.com/
Instagram – https://www.instagram.com/vica_rader/
LinkedIn – https://www.linkedin.com/in/victoriarader/
Facebook Business – https://www.facebook.com/Yu2shine
Twitter – https://twitter.com/vicarader
Free Ressource:
manifestmiracles.me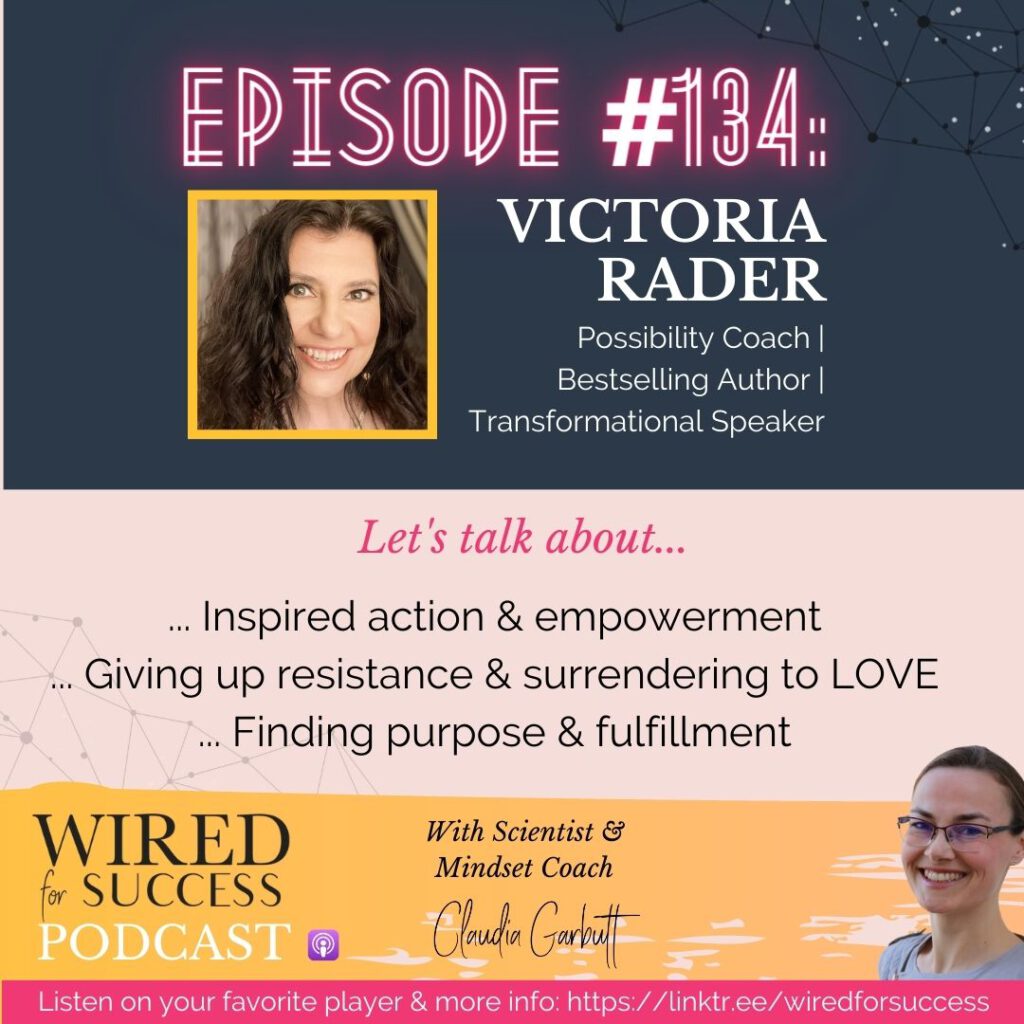 PURPOSE, POSSIBILITIES, PROSPERITY, AND PEACE OF MIND WITH VICTORIA RADER | EPISODE 134
To listen to the episode on your favorite podcast player, find all links here:
https://linktr.ee/wiredforsuccess
If you enjoyed this episode, learned something new, had an epiphany moment – or were reminded about a simple truth that you had forgotten, please click the "Rate this podcast" button below and leave a review & rating. This is the easiest way to support the show & I really appreciate it.
And if you're interested in working with me, you can book a free 20min strategy session to figure out what your current success blockers are and how I can best help you.
Looking for great podcast guests for your own show or great shows to guest on?
Try PodMatch, the platform that automatically matches ideal podcast hosts and guests for interviews. Like Tinder for podcasters.
Or Guestio, the app that helps content creators interview high-level guests. Gives you access to those busy, hard-to-reach, next-level guests that you want to have on your show.
Recent Posts: