EPISODE SUMMARY
Join scientist and mindset & high-performance coach Claudia Garbutt and founder & CEO of the men's care company Tiege Hanley as they talk about what it takes to run a successful subscription-based business.
In this episode we talk about:
Running a global men's care subscription business with over 350k customers worldwide
The pros and cons of a subscription-based business model
Healthy habits that make you look AND feel good
EPISODE NOTES
After a successful 20-year-career in the throes of Corporate America, Kelley left the industry to found his second company, Purchase Point.
Purchase Point helped CPG companies think differently about their in-store merchandising platforms. Growing quickly with global customers such as Unilever, Bayer, and Pfizer, Kelley brought a creative approach to captivating consumers during the last seven seconds along their Path to Purchase.
In 2016 he stepped away to found his next company, Tiege Hanley, an e-commerce company with the mission of helping men look and feel amazing. The business has evolved from selling three distinct Skin Care Systems to boasting a wide variety of products.
Kelley is focused on enriching the experience for all customers and guiding men to a healthier lifestyle founded on self-confidence.
Tiege Hanley shipped its 1.5 millionth box in July 2022 and has over 350,000 customers worldwide.
Links:
Get 30% OFF your first box plus a FREE gift with your subscription:
http://tiege.com/wiredforsuccess
Linkedin:
https://www.linkedin.com/in/kelleythornton-ceo-tiege-hanley/
Impact of Smoking and Alcohol Use on Facial Aging in Women: Results of a Large Multinational, Multiracial, Cross-sectional Survey:
https://www.ncbi.nlm.nih.gov/pmc/articles/PMC6715121/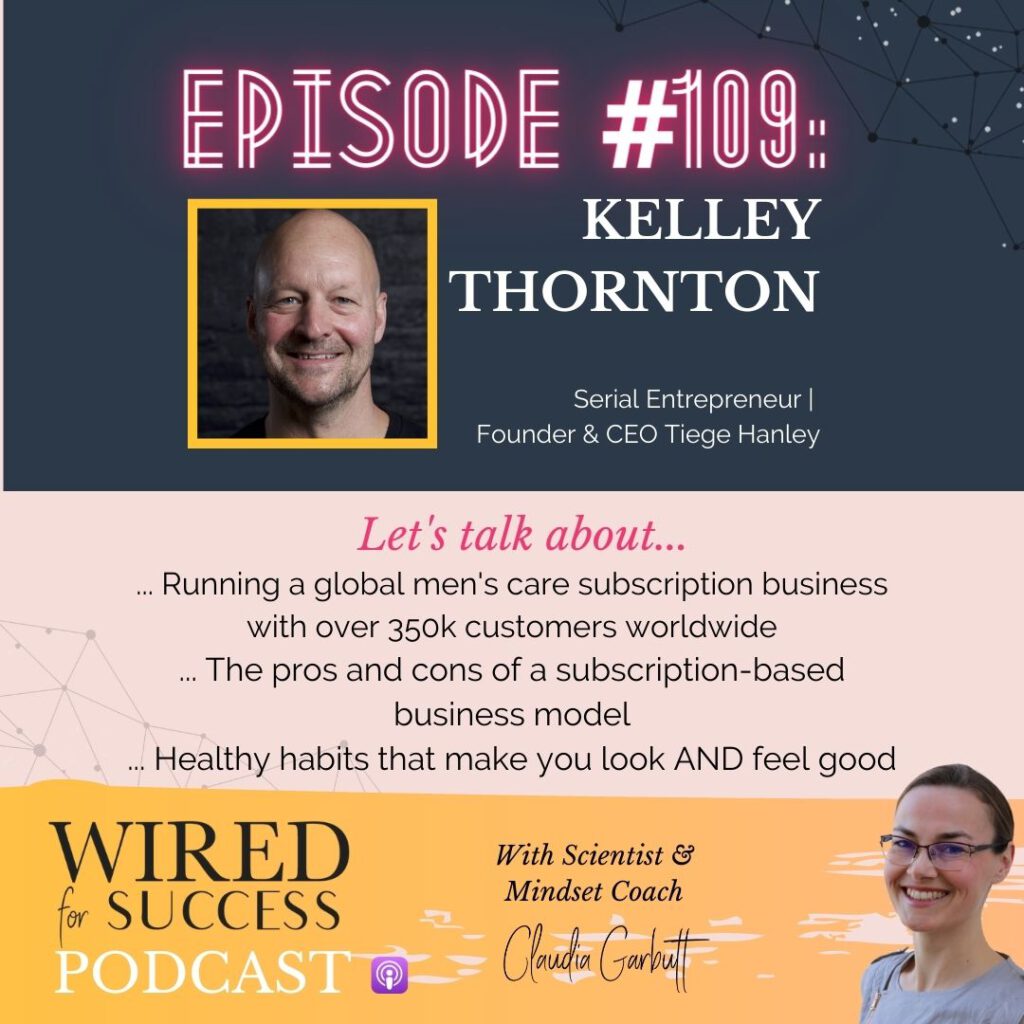 Or listen on your favorite podcast player:
https://linktr.ee/wiredforsuccess
If you enjoyed this episode, learned something new, had an epiphany moment – or were reminded about a simple truth that you had forgotten, please click the "Rate this podcast" button below and leave a review & rating. This is the easiest way to support the show & I really appreciate it.
And if you're interested in working with me, you can book a free 20min strategy session to figure out what your current success blockers are and how I can best help you.
Are you a high-ticket coach or other service-based entrepreneur who wants to launch their own Top10 podcast to increase their authority, credibility & visibility AND to bring in new high-quality leads on autopilot but don't know how to get started? No worries, I've got you covered! 🙂
Download my "Instant Podcast Monetization Guide For High-Ticket Coaches and Service-Based Entrepreneurs".
Looking for great podcast guests for your own show or great shows to guest on?
Try PodMatch, the platform that automatically matches ideal podcast hosts and guests for interviews. Like Tinder for podcasters.
Or Guestio, the app that helps content creators interview high-level guests. Gives you access to those busy, hard-to-reach, next-level guests that you want to have on your show.
Download My Prime-Your-Brain-For-Success Audio File
And Start Priming Your Brain For Success In Less Than 5min Each Day
Recent posts: