EPISODE SUMMARY
Join scientist and mindset & high-performance coach Claudia Garbutt and "rebel scientist" Sarah Turner, as they discuss the potential of targeted red-light therapy for health & wellbeing.
In this episode we talk about:
– Targeted red-light therapy for brain & gut health
– Biohacking, health optimization & longevity
– How to use CeraThrive for peak performance
EPISODE NOTES
Sarah Turner has a post graduate degree in Clinical Neuroscience from Roehampton University, London. She also has BSc degrees in Psychological Sciences, and Nutritional Medicine from Westminster University and Thames Valley University, respectively.
Sarah spent the first 10 years of her career as a research scientist in the pharmaceutical industry planning and executing experiments looking at the effects of electrostatics on physiology.
Whilst in California, Sarah became involved with the Biohacker movement, and has interviewed some of the most prolific thought-leaders, visionaries, experts in the Biohacking space.
This has led to her current understanding of the overriding role of physics in relation to biology and has fuelled her current interest in the field of quantum biology in health, photomedicine and consciousness studies.
Her main interest is photobiomodulation – that is, using specific light wavelengths and pulsed frequencies to heal the body, and promote optimal functioning, with a focus on brain issues.
Sarah co-hosts a weekly Biohacking podcast 'Rebel Scientist' where she and her co-host Russ interview a variety of cutting edge health experts with a focus on wellness, longevity and health optimization.
Links:
https://www.rebelscientist.com/
Get Sarah's targeted red light therapy device:
Save 10% on your order with the code: HABITS10
https://www.instagram.com/rebelscientistpod/
https://www.linkedin.com/in/sarah-turner-80087355/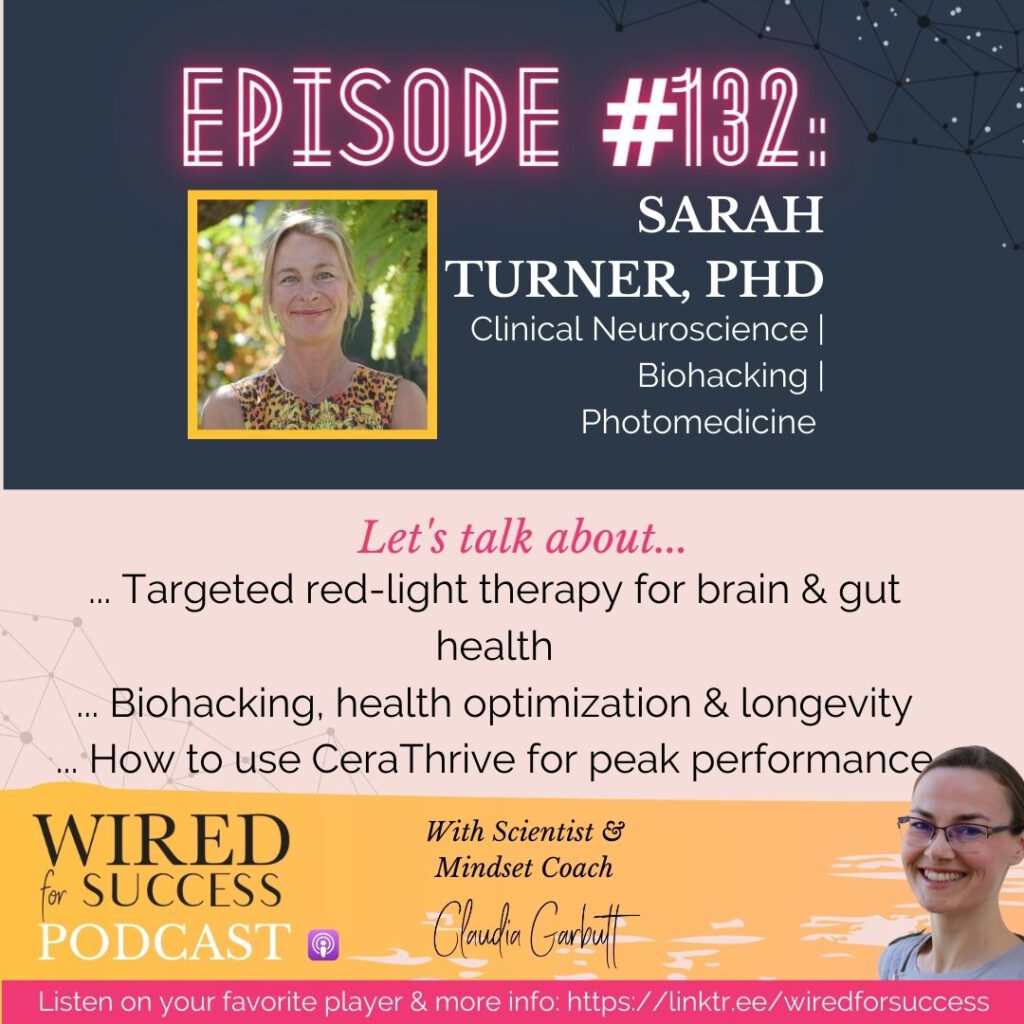 Targeted Red-Light Therapy for Peak Performance with Sarah Turner, PhD | Episode 132
To listen to the episode on your favorite podcast player, find all links here:
https://linktr.ee/wiredforsuccess
If you enjoyed this episode, learned something new, had an epiphany moment – or were reminded about a simple truth that you had forgotten, please click the "Rate this podcast" button below and leave a review & rating. This is the easiest way to support the show & I really appreciate it.
And if you're interested in working with me, you can book a free 20min strategy session to figure out what your current success blockers are and how I can best help you.
Looking for great podcast guests for your own show or great shows to guest on?
Try PodMatch, the platform that automatically matches ideal podcast hosts and guests for interviews. Like Tinder for podcasters.
Or Guestio, the app that helps content creators interview high-level guests. Gives you access to those busy, hard-to-reach, next-level guests that you want to have on your show.
Recent Posts: